If you've ever had a friend come back from a Greek holiday with a stunning golden tan, a hugely positive mental attitude and a sudden craving for salads drenched in olive oil, olives and feta, you can bet they've been to Santorini. They'll try to explain how blue the sea is, how white the buildings are, and how everyone they met was cheerful and welcomed tourists. And you won't believe them – until you go there yourself.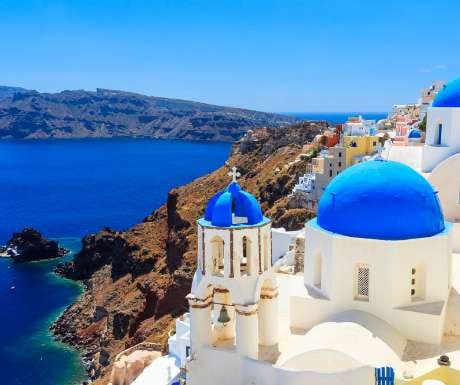 Think of Santorini, and you think of a Greek idyll; sand, sea, idyllic villages, breathtaking views and the best food you've ever tasted. All the clichés of a perfect holiday are here; it's the most perfect Greek island you'll ever experience.
Here's why.
It's the home of romance
Sorry, but two weeks in Malta isn't going to compare to 14 nights in what can only be the world's most beautiful island.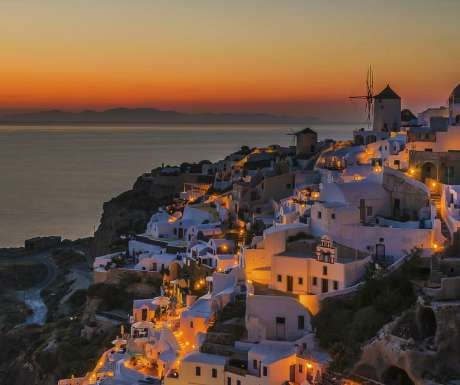 The sunsets, the wine, the beaches, the whitewashed buildings – this is, quite simply, a place where romance wins over common sense and practical matters. If you're loved-up and on holiday with someone you care about, this is the place for walking around, hand in hand, ooohing and aahing over all the couples posing for pictures after getting married.
The sunset at Oia
Imagine a gold-dipped coin sinking into a hazy, colourful sheen of pinks, blues and greens. Beautiful, no? Well, that's not exactly what the sunset at Santorini is like, but it's pretty darn similar.
People come here by the coachload to watch the sun set into the sea at Oia. Unless you arrive early, it's tough to find a good spot, so don't be surprised if you turn up and everyone else has had the same idea. You can grab a drink and a meal nearby, but the prices have been ramped up accordingly. Our suggestion? If you want to avoid the crowds, the views from Firostefani, just down the road, are almost as good, as there are far fewer people around.
The delicious food
I don't say this lightly – there's something for everyone here. Whether you're a strict vegan, veggie, you love your meat or you're a seafood fan, you'll eat well and healthily for decent prices (except in Oia, where they can get away with charging an arm and a leg). Fish and seafood are big business here, but well-known Greek staples like moussaka, the famous Greek salads and saganaki are also readily available.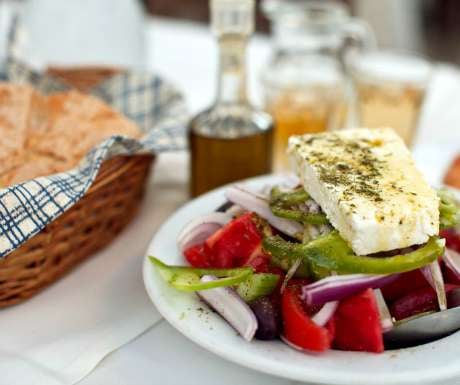 If you're after fabulous food at cheaper prices, head to Perivolos. Sea Side do excellent seafood (you'll often see chefs hanging out freshly-caught octopus to dry in the sun on the beach), and Popeye Taverna is great for kids – the traditional tomato balls and risotto are hugely popular here. Terra Nera is a big hit with nearly everyone who visits Perivolos – excellent service, cold beers and their famous baked feta are just three reasons why.
The local wines
Hot, dry climates produce good wine, and Santorini's no exception; its low levels of rainfall coupled with volcanic soil make the island's grapes sweet, ripe and perfect for wine. Most wineries in Santorini are found in Mesa, Exo Gonia, Megalochori and Messaria. Large vineyards surround the wineries, which you can visit on your own, but it's better (and more fun!) if you take a tour. Top tip – don't drink too much before lunchtime. You'll regret it.
If you want to taste some of the best local wines, Santo, with its stunning views, is where the tourists tend to go, but it's worth looking at other, smaller, local vineyards where the produce is just as good. Gaia, Canava Roussos and the Sigalas Estate is Oia are great places to taste some vino. For wine newbies, Hatzidakis is a good bet; their range includes four white dry wines, one dry red and Vinsanto, a sweet and lovely dessert wine which goes well with tiramisu.
Finding God (sort of)
You'll find that Santorini has no shortage of churches; Greek Orthodox is the main denomination here, along with a sprinkling of Catholicism. Religion is big – you'll find that most people have a small chapel inside their home, and although most people are hugely spiritual and very respectful of religion, they'll never try to force it upon you.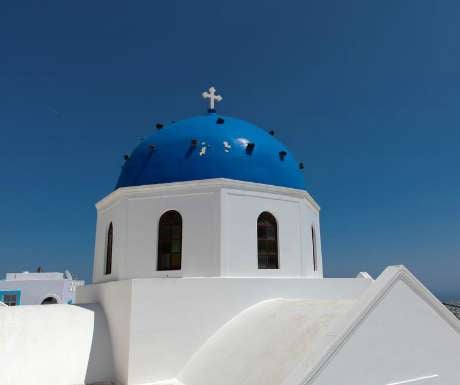 Community and family are cornerstones of Santorini life, and the villagers all work together to help build each resident their own chapel, and all are the well-known combination of white, each with a sky blue roof. Why are they blue? Well, the sky is blue, and that's where God is – so it brings the people closer to God.
Remember to always be respectful when in places of worship – Santorini locals are a friendly, fun bunch, but they like to see their places of worship treated well. Cover shoulders, chests and legs, be quiet, and don't eat, drink, or listen to music on your headphones.
Vicky Anscombe is Editor-in-Chief at Columbus Direct.
If you would like to be a guest blogger on A Luxury Travel Blog in order to raise your profile, please contact us.