Bali is a curious destination. An island of nearly 6,000 square kilometres featuring incredible geographical contrasts, and culturally at odds with the larger nation in which it resides, Bali is known the world over as a spiritual getaway. But the island of Bali is disturbed; rampant commercialism, consumerism and development in the Bukit Peninsula, a small area comprising the regions of Seminyak, Jimbaran, Uluwatu and Nusa Dua at the southern tip of Bali, has led to gargantuan cookie-cutter resorts largely indistinguishable from one another, Western bars and acclaimed yet blase restaurants and beachclubs dotting the overpopulated seaside, wiping away much of the region's storied culture. In short, the region bears only very thin strands of relevance to traditional Balinese culture, much of it masked over by a Western façade. And upon my last visit a year ago to central Ubud, long considered Bali's arts hub, it was disheartening to find Pandora jewelry and Ralph Lauren fashion retail outlets replacing family wooden carving joints and local arts stores. While every previous trip to Bali has always been enjoyable, with this culturally stagnant backdrop, I wondered if I would ever find 'real' Bali ever again.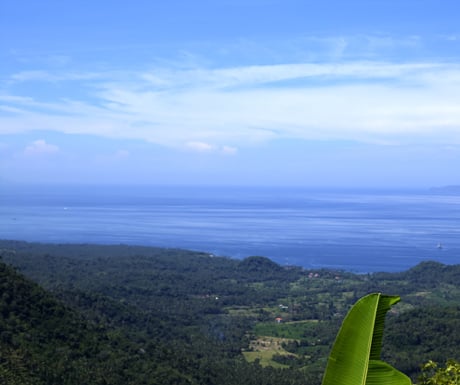 But 'real' Bali does exist in little pockets around the island. It is one of life's ironies that sometimes it is left to the uber-luxe resorts to truly engage a destination and do it justice. Amanresorts, arguably the world's most luxurious hotel group, found space back in the early 1990s on the coast in faraway Manggis near Karangasem, traditionally considered the cultural-centre and the old regency of Bali, and built Amankila. This acclaimed resort opened in 1992 on the east/north-east side of the island – one of Amanresorts' three luxury havens scattered around various parts of Bali, and one of five in Indonesia.
Giving rise to its name, Aman (meaning peace in Sanskrit) and Kila (hill in Balinese), the resort's 30 stilted free-standing suites all interconnected by an intricate system of elevated walkways, cascade gently down the lush Indrakila hillside, with the backdrop of the majestic, daunting, yet dormant volcano of Mount Agung in the background. Designed by Ed Tuttle, who also designed the very first Aman – Amanpuri in Phuket – this masterpiece of architecture and design embodies the elegant Aman ethos of understated luxury – nothing at this resort is over-the-top, gauche, or kitsch, and yet everything is very well appointed. And as Amanresorts often are, there isn't an angle from where it doesn't look spectacular, even aerially.
Upon arrival at our home for the next three nights, we take a moment to enjoy Amankila's signature three-tier pool, one which we will enjoy time and time again. Local inspirations at the resort abound, this three-tier pool draws from the rice terraces from neighbouring villages. Each level has large bales (Balinese cabanas) at either side of the pool providing a perfectly relaxing vantage point. The resort has a distinctly natural fragrance: a subtly light yet refreshing aroma that wafts from the series of frangipanis and tuberoses that surround sections of the resort.
Our suite is one of Amankila's three signature suites: the Kilasari suite. The 302-square-metre suite, perched high on the hillside, enjoys shrouded views of the sea and mountainside. A 12-metre long infinity pool is the highlight, framing the ocean beyond. The expansive outdoor terrace features four sunloungers, and an outdoor bale with lounging space that juts out from the thatched-roof hut that's part of the main living space. Inside, a canopied king-size bed with a windowside divan, a spacious bathroom with twin vanities, separate shower, an indoor shower and a soaking tub complete the perfect Amanresorts experience: spacious, private, simple yet elegantly appointed. The materials are primarily locally made, such as the coconut-shell tables and rattan chairs.
The resort's gradual cascading culminates in a beautifully landscaped beachclub, featuring a cafe that serves light meals at lunch, and a picturesque 41-metre long private pool lined on either side with sunloungers and coconut trees to provide shade. It is at the beach club in between its green surrounds and coconut groves that we find ourselves most at home, with the audible sound of the waves from the beach, and evidently where we spend most of our time.
Just a minute's walk from the beach club sits Amankila's private stretch of beach: the softest volcanic black sand shimmering and glittering in the afternoon sun, with bales and sunloungers shaded by carefully manicured shrubbery to allow for privacy. A variety of activities are on offer, from hiring kayaks or catamarans to snorkeling expeditions.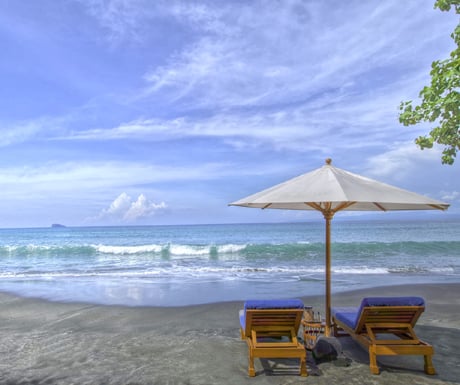 Mankind's lust for greed rears its ugly head here again: a picturesque location spoiled only by a handful of oil tankers in the distance (there's an oil refinery further along the coast). Unfortunately, irresponsible disposal methods means the trash from these oil tankers can occasionally wash ashore – something Aman's staff works tirelessly to rectify this issue by cleaning the beach and the coastal sea immediately around the resort: a manual effort that requires 20 staff or more over 30 minutes of hard labour to effectively implement a literal sweep of the area. I'm told that Amankila does regular sweeps in the early morning, late morning, afternoon and evening. In a way, it is a relief to know Amankila is not 'perfect', but the staff's dedicated efforts tell me otherwise.
One evening, we are treated to a Balinese dinner in a privately set up bale at the resort's natural lawn-helipad, with spectacular 360-degree views of the sea, the valley and Mount Agung. A smorgasbord of dishes, cooked on the spot on a roaring flame by the side of our bale, are presented: soto ayam, a light yet spiced chicken and noodle soup, five types of satay skewers including the most succulent prawn, a spicy salad with more than a hint of sambal (a local relish) and a main course of fish grilled in banana leaf are presented to us over the course of the long evening, as the sun sets in the background. The evening ends with dadar gulung, a Balinese crepe with palm sugar and coconut, and a few glasses of wine. The dinner is a real treat, with every dish a hit, and a few standouts.
Cultural and local integration is a large part of what makes Amankila special. Prior to our dinner that night, we visit Amankila's local berry farm and duck farm, the former of which Executive Chef Shane Lewis expects will also start growing more herbs to be sourced locally. The two farms are set apart, between a 45-minute to 1-hour drive from the resort itself, set within a local village and employing a local staff who help passionately maintain it. On the way, we also come across Amankila's countryside bale, high up in the valley, which can also host private lunches and dinners.
Executive Chef Shane Lewis does an incredible job elevating the resort's food offerings. As with many other Amanresorts, the focus is on the local ingredients and the local techniques, and not overtly on the presentation (which is elegant but not unnecessarily fancy). Even something as simple as breakfast is elevated, other than my personal staple of scrambled eggs on toast with sausage, a true highlight was the fluffy banana pancake with honeycomb butter.
Afternoon tea is a ceremonial affair in Bali, but do not expect scones and a cuppa Darjeeling here at Amankila. In keeping with the resort's local tradition, village girls create ornate flower offerings for guests who indulge in the afternoon tea session, provided complimentary, served by the locals. We taste coconut, palm sugar, rice and walnut cakes along with a local tea that is best with honey and ginger – a real delectable treat that is also filling upon second or multiple servings.
To harp on about Amankila's space and luxurious offerings would be to lose the very essence of this resort. It is not in its architectural perfection or its seaside location where this resort excels, but in its people and its surrounds. A large majority (some say up to 95 percent) of the resort's opening day staff still work at Amankila today, having stayed with the resort since its inception – showcasing an incredible family-like atmosphere that this home exudes.
Whether it is anticipating a visit to the pool or the beach and neatly tucking in every corner of a towel into the sunloungers and placing our sunglasses on the table or folding our clothes so as not to wrinkle them, or understanding and relaying information from an earlier throwaway conversation about our preference for mangosteen (and arriving back at our suite to find a fruit bowl full of them), or appropriately filling our cookie jar with our favourite type based on which one we had consumed more, Amankila's staff goes well above and beyond what is expected, even of a top luxury hotel, and are a credit to the Amanresorts brand.
There are a hundred examples, and each is served with a welcoming Balinese nod and a warm smile to match. Welcoming every guest as if you are welcoming him or her into your very own seeps through Balinese culture, and it is particularly prevalent in the smaller villages. There is no 'brand facade' that the staff put on as a mask, it is simply a way of life for them.
The local villagers, too, make up a part of what Amankila is all about – the village revolves as much as the resort as the resort does around the village. They partake in local resort activities, from offering tea ceremonies to performing traditional dances that depict popular mythical children's tales, choreographed and performed by aspiring dancers. They passionately help keep the beaches clean.
Around the resort and further inland, the area of Manggis is still quiet, still quaint. Towards the north, the regency of Karangasem hosts some of Bali's most stunning palaces and temples, including the water palaces built by the kings who once ruled this land. Towards the rising mountains and further up the valley sit villages where time passes as it always has, incongruent to the rush around it. Each village goes about its way of life. The local and regional temples and shrines that the local villagers frequent offer a respite for them, where the daily religious ceremony is the most important act of the day.
Amankila is a special resort – perhaps Bali's best kept 'secret'. The Amanjunkies, a group of travellers who fiercely follow Amanresorts around the world, know it well from having visited or from hearing faint whispers of legendary tales from those who have. For others, the region of Manggis remains largely unexplored. I hope that more visitors to Bali catch a glimpse of the real Bali, but if Manggis' fate is to be a soulless and cultural wasteland that has befallen some of this beautiful island's regions, perhaps it is best left untouched, explored only by the very few who want to wander a while, living in a lap of luxury, so Manggis can retain its charm.
Disclosure: Special thanks go to Hong Kong Airlines for making this trip possible.