Medieval Bologna is home to one of Europe's best-preserved town centers, full of graceful terracotta porticos, majestic towers and landmark churches. It also has the oldest university in the western world, which almost begs to be explored via a walking tour. However, during a recent girlfriend getaway visit, I was there with just one purpose in mind, I wanted to learn how to make traditional Italian food like my Jewish grandma never did.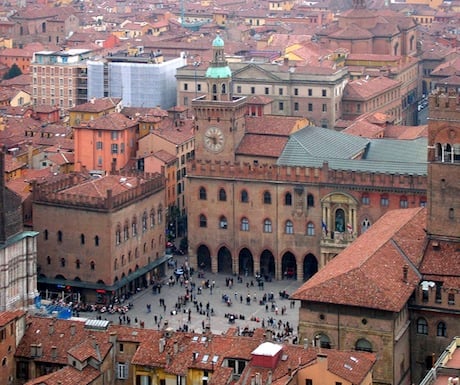 Follow my trio of tasty stops for a culinary do-it-yourself introduction to some of Bologna's best eats.
1. I started at ground zero, learning the basics at Cultura Italiana Bologna Cucina, a cooking school that offers a variety of courses at every level, from rank amateurs such as myself to professional chef preparatory classes.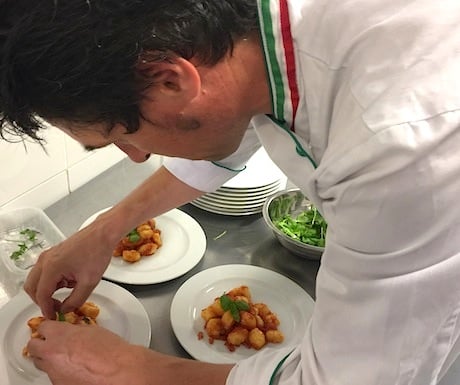 We were cheerily greeted by Chef Luigi, our English speaking, fun-loving (but he could be a strict taskmaster when appropriate) instructor for a hands-on pasta making class.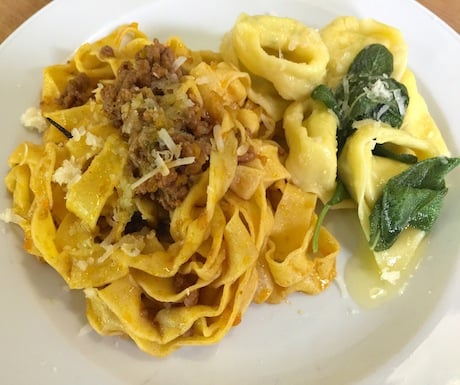 In just a few hours he taught us not only the proper cooking techniques but also some excellent chef tricks, organizational skills and easy-to-follow tips for creative dish presentations that enabled us to turn out a wildly impressive Bolognese meal consisting of: a scrumptious Tagliatelle al ragu Bolognese (classic meat sauce), Potato Gnocchi with tomato sauce (Tip: it is important to form the gnocchi the same size so they will cook evenly), and traditional Tortelloni (Tip- sometimes the ricotta cheese in the dough is too moist. To correct, add a handful of dried breadcrumbs to the dough.) I've since wowed my friends at home with my bowls of homemade tortellini in brodo (broth)!
2. Dessert required a short drive to Anzola dell'Emilia, a small town on the outskirts of Bologna, where we would learn the art of making artisan gelato at Carpigiani Gelato University.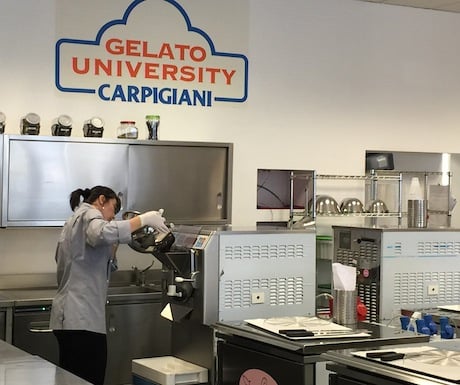 The company was started by the Carpigiani brothers in 1944. It quickly became the leader in the production of high-quality machines for gourmet gelato. Over the next few decades, interest in gelato spread across the world, resulting in sales of their equipment to over 110 countries such as Australia, Latin America and China. After paying thousands of dollars for these professional machines, many of the buyers wanted to further their gelato making skills. This led to the creation of Gelato University in 2003, the world's first university dedicated to artisan gelato. Although most of the students either own or plan to open a gelato shop, just regular folks are welcome also. Their most popular class is the one month, Become a Gelatiere, where distinguished master gelato makers teach students the secret of producing perfect gelato, which must have consistent flavor, structure and texture, as well as the business side to becoming a successful gelato entrepreneur.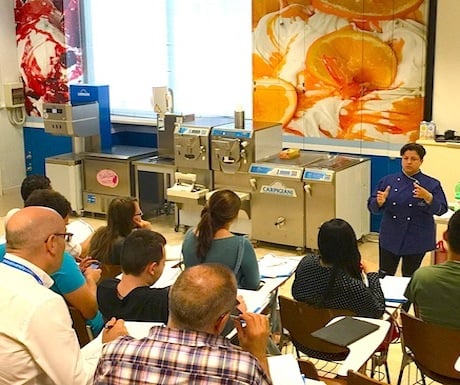 One thing we were quick to note was to call this frozen treat "ice-cream" instead of "gelato" was tantamount to calling the Pope, "dude"! A Cliff Notes recap of the major difference is that gelato is fresher, contains less fat, which gives a more intense flavor profile, incorporates less air into the finished product which results in a creamier texture. Also, gelato can weigh in at half the calories of a premium ice cream.
We began our "crash-course" with a tour of the fabulous new interactive ice cream museum, which tells the riveting history of gelato starting from ancient times when Egyptian pharaohs ate flavored snow-cream out of silver challises. Other exhibits include 20 original machines, video interviews with gelato luminaries, a wall filled with colorful cone boxes, and an amusing array of Italian advertising campaigns.
Since a taste is worth a thousand words, we headed next door to the gelato shop, where locals queued out the door, patiently waiting to buy a scoop of their favorite flavor or perhaps sample one of the exotic seasonal specialties. We didn't want to make complete pigs or ourselves so we delicately stopped after about 10 samples each. They were all intensely delish, but I think my favorite would have to be the toasty hazelnut flavor, or the pistachio. But, I also really liked the coffee flavor and the banana was so clean tasting. No time to dawdle, we quickly donned our gelato making uniforms and retired to the lab to make fresh strawberry sorbet. Easy-peasy, we hulled the strawberries, carefully measured out the sugar, water, lemon juice and natural stabilizer. Next we poured it into the machine, which really took over from there, churning out (if I do say so) possibly the world's tastiest strawberry sorbet. The final glory was when I received my Carpigiani Gelato University graduation certificate.
3. Grabbing one last cone for the road, we barely had time for a quick change into our hunting gear before heading to the hills of Savigno, about a 45-minute drive from Bologna. We were going in search of the "Great White"…. truffle, aka Tuber magnatum pico which grows in the forested area. Unfortunately, our charming guide, truffle hunter Maurizio Lorenzini, did not speak a word of English, nor did his truffle dog, Macchia. Since it wasn't truffle season, it really didn't matter very much. We still had a great time romping through the woods, where Maurizio had previously hidden some truffles so we could watch Macchia in action. When he finally sniffed out a big one, it was hard to tell who was more excited, the guide, the dog or us.
We brought "our findings" back to our dinner spot, Trattoria Amerigo dal 1934, a rustic, Michelin-starred restaurant hidden in the tiny municipality of Savigno, which turned out to be the stuff culinary dreams are made of: exceptional local food (the ingredients are collected from the courtyard, the hen house, the vegetable patch, the fields and the woods) an excellent wine list, talented chef, a casual cozy atmosphere and a reasonably priced tasting menu.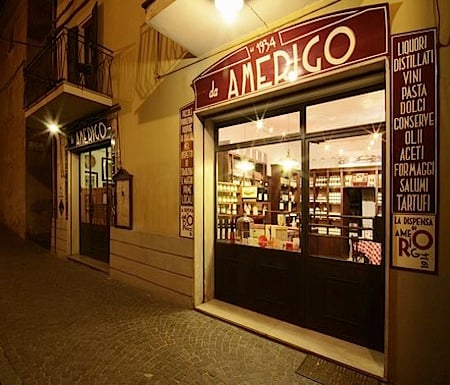 We were graciously welcomed by the owner, Alberto Bettini, who gave us a tour of the rambling rooms, while filling us in on the family background. He told us that in 1934 Amerigo and his wife Agnese (Alberto's grandparents) opened a trattoria and small grocery store, which even then emphasized quality ingredients. Alberto inherited his cooking skills from his mother and grandmother, who were working as classic chefs at the trattoria. In 1996, due to popular demand coupled with seventy years of experience by three generations of hosts, the family created Amerigo 1934, an impeccably packaged line of the finest, all natural, traditional food products.
Alberto paused to point out the colorful mural that covered the upstairs dining room wall. It had been painted by "local boy done good" Gino Pellogini, a Hollywood painter/set designer who had worked on"2001 Space Odyssey", "The Birds", and "West Side Story".
Our tasting consisted of a parade of stellar yet simply presented dishes that I will long remember for their authentic countryside flavors. The standout dishes were: Battuta al Coltello (carne crudo dressed with olive oil, sea salt and truffles) and truffled potatoes topped by a perfect poached egg.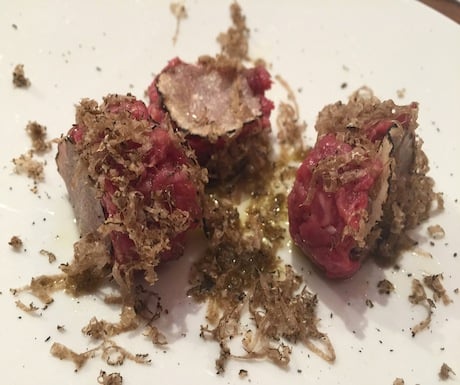 Happily sated, I only wish we had know beforehand that (it figures) our gracious host also owns the Locanda Amerigo, a warm, antique-filled, five-room guest house found right down the lane, thus eliminating the drive back to the city.