Whether you're spending a few days in Tokyo as part of a longer trip, or taking a short city break – at some point you're bound to want a change of scenery. Luckily, there are several excellent day trip destinations within easy reach of Tokyo, and it really couldn't be easier to incorporate them into your itinerary. The following five options are our favourites, allowing even the briefest of holidays to incorporate a balance between hectic city life and laid-back, rural charm. Without a little bit of both, you've barely scratched the surface of what Japan has to offer!
1. Nikko
Just two-and-a-half hours north of Tokyo by train, Nikko might as well be a million miles away for all the resemblance it bears to the capital. Disembarking from the train, you will find yourself in a pleasant town surrounded by mountain scenery, from whence it is a 20-minute walk (or a short bus ride) to Nikko's main attraction: the temple complex surrounding Toshogu.
In a country renowned for its Zen minimalism and appreciation for simplicity, Toshogu gives an ostentatious two fingers to convention. The final resting place of Tokugawa Ieyasu, the founder of Japan's last great shogunate, the dazzlingly ornate architecture and bright colours of this famous mausoleum have a tendency to polarise opinion – but whether you call it spectacular or overblown, you cannot fail to be impressed.
If you have time after wandering Nikko's temples and shrines, the surrounding national park – including forested walking trails, stunning waterfalls and the beautiful Lake Chuzen-ji – is also well worth your time.
2. Hakone
Hakone is one of our favourite Japanese destinations, and as the home of some of Japan's best ryokan inns and hot spring baths, it is one of the best places to experience traditional Japan without venturing too far from the capital.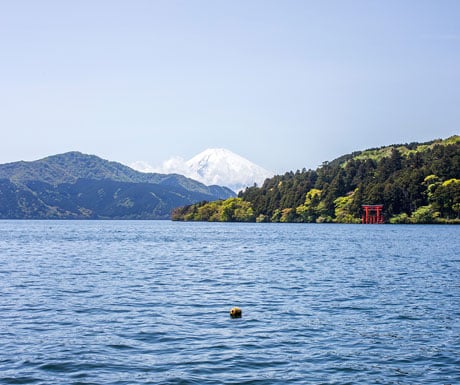 There is an easy-to-follow loop route that most tourists follow when visiting Hakone, which takes you through Hakone town, across beautiful Lake Ashi (in a pirate ship, because why not?) and up a cable car to Owakudani, where black eggs boiled in the bubbling hot springs are rumoured to reward the eater with long life. Other attractions that you might like to check out on the loop are the Hakone Checkpoint Museum, which gives an insight into the area's feudal past, and the outstanding Open-Air Museum, packed with sculptures by international masters.
Overlooking all is spectacular Mount Fuji – although for much of the year she is shrouded in clouds!
3. Kamakura
You'd never know it to look at it today, but the sleep coastal town of Kamakura was once the de facto military capital of Japan – between 1192 and 1333. Those days are now long gone, but Kamakura's illustrious history has left it with a legacy of beautiful temples – and, most importantly, its monumental Great Buddha. An icon of Japan, this giant bronze statue was cast in the mid-13th century and stands at an impressive 13.35 metres (43.8 ft) tall, framed by trees.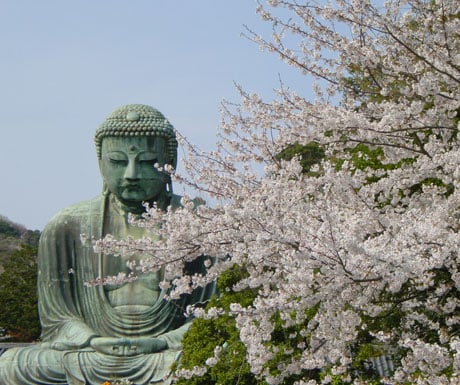 Less than an hour from Tokyo by train, Kamakura has many charms to reward the day visitor. A walk through the hills surrounding the city is well worth your time, and will introduce you to some of the area's numerous temples and shrines. The beach also makes a very pleasant change from the city – especially if you're visiting Japan during the considerable heat of the summer!
4. Mount Takao
Just 50 minutes by train from central Shinjuku, Mount Takao technically lies within the bounds metropolitan Tokyo – but it's like no image of Tokyo you've ever imagined. This forested mountain has been considered sacred for over a millennium, and is criss-crossed with various hiking trails all leading toward the summit. Here, visitors are rewarded with spectacular views over Tokyo and its surroundings, including Mount Fuji if the weather obliges.
Mount Takao is one of the best places to escape Tokyo's crowds for the day, but you are well advised to visit on a weekday if possible – or you might find that you've brought the crowds with you! If you are lucky enough to be in Japan for the spring or autumn, it is also one of Tokyo's most popular spots for cherry blossom and autumn leaves.
5. Yokohama
The final destination on our list, Yokohama, is a little different from the others. As Japan's second-biggest city, you certainly won't find peace and tranquillity here – in fact, Tokyo and Yokohama are so close together (just half an hour by train) that they essentially function as one massive unit.
Despite this, you will find that Yokohama has a rather more laid-back atmosphere than its neighbour, with its wide pedestrianised streets, pleasant harbour area and spacious city centre. During Japan's long period of isolation, this was one of the few places where foreigners were allowed to reside, and Yokahama's cosmopolitan past is reflected in its preserved Meiji-era Western-style buildings, and vast Chinatown district – one of the largest of its kind in the world.
Alastair Donnelly is Director at InsideAsia Tours.
If you would like to be a guest blogger on A Luxury Travel Blog in order to raise your profile, please contact us.