Nalli Gosht is an exotic dish from Lucknow in Northern India – one of the most famous and delicious of Lucknow's traditional Nihari dishes. Nihari translates to 'morning' in Arabic and refers to an ancient tradition among the Nawabs of the Moghul Empire who would rise at dawn for the first prayers of the day and partake of Nihari food. To create the dish, the gosht (lamb) is slow-cooked overnight in a unique blend of spices using traditional earthenware pots. Using this method means the meat is beautifully tender and the spices add a divinely subtle flavour that penetrates right down to the marrow of the lamb. In the morning, the dish is finished with ghee to take the bite out of the chilli and tempered to evenly spice the flavours. The Nihari dish is finished with a garnish of coriander leaves, fried onions, green chillies, juliennes of ginger, lemon and slices of white radish.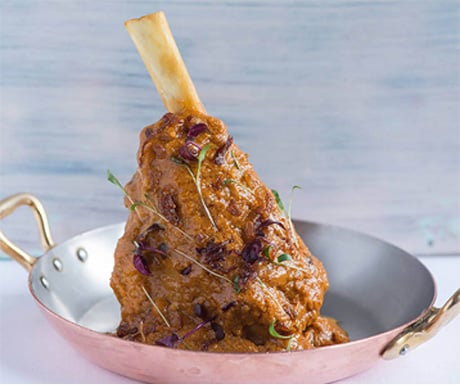 Ingredients
4 lamb (leg) shanks
4 tablespoons vegetable oil
4 sticks of cinnamon
4 pods of cardamom
6 cloves
3 medium onions, sliced
3 tablespoons ginger & garlic paste
1 teaspoon rurmeric powder
1 tablespoon chilli powder
2 teaspoons cumin powder
2 tablespoons coriander powder
4 tablespoons yoghurt
3 ripe tomatoes, chopped
1 teaspoon garam masala powder
1 bunch coriander leaves
Salt
Directions
Wash the lamb shanks and leave to drain.
Peel onions and slice finely, rinse the tomatoes, chop finely and put aside.
Heat oil in a large saucepan; add the cinnamon, cardamom, cloves and sauté for half a minute; add the sliced onions and sauté over a medium heat – stirring occasionally until golden brown.
Add the lamb shanks and cook over a high heat for five minutes, stirring constantly.
Add the ginger & garlic paste, stir well for a couple of minutes and add the turmeric, chilli, cumin and coriander powders and salt, sauté for a further five minutes. Add yoghurt and sauté for a further 5 minutes over a high heat.
Add the chopped tomato, stir and allow to simmer for 5 minutes or until the oil separates from the masala.
Add enough hot water to cover the shanks and bring to the boil, cover with a lid, simmer and cook until the lamb is cooked (approximately 1 hour). Take the dish of the heat and gently remove the shanks (using a pair of tongs) and strain the cooking liquid.
Cook the strained liquid for a further 10 minutes or until reduced to the desired consistency and check/add seasoning.
Finally, add the cooked shanks back into the sauce, cover and simmer for a further 15 minutes.
To serve, sprinkle garam masala powder (optional) and chopped, washed coriander leaves and serve hot.
Thank you to Shoeb Haider from Zaika of Kensington, London, for the recipe.
If you have a recipe you would like to share with  A Luxury Travel Blog's readers, please contact us.