Utica, Illinois, just 90 miles from Chicago, was hovering beneath the radar except for people living within a two-hour drive. Then, the tiny town of Utica exploded on Flipkey (an offshoot of TripAdviser) besting vacation venues in Dubai, Barbados, Sri Lanka, India, Costal Africa and other well-known places. In the same time period, Utica had a 1,300 percent increase in Web traffic.
Utica has a population of 2,052 friendly folks, a wine bar, a museum, and a few quaint shops along one block. But why Utica of all places? The only credible answer is that Utica, Illinois, is home to Starved Rock State Park and its many hidden delights.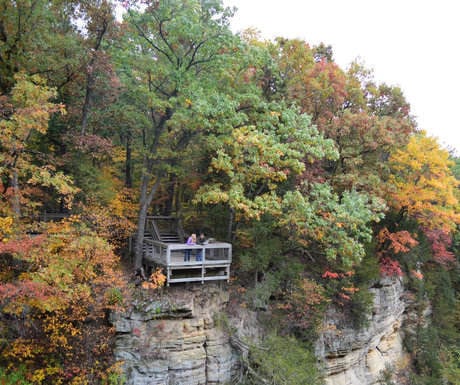 Leaf peepers can hike, climb, stroll, amble, use wheelchairs, climb aboard a trolley, ride a paddle boat, or follow a guide to see the park's trees flaming like bonfires. Then they can warm up beside Illinois' largest two-sided fireplace in the great room decorated with artifacts from local Indian tribes. Eating here can be as simple as a burger in the café or a solid meal in the dining room. Comfort foods are among the most popular: pot roast, beer-battered walleye, smothered chicken, and gorgonzola meatloaf. For die-hard carnivores, they offer prime beef in all the popular cuts.  The ice cream and fudge are made in-house with flavors changing with the seasons.  Staying over, because there is always something else to do even if it is just enjoying the bountiful Sunday brunch, guests can choose between the historic inn with furniture crafted from old barns or pioneer-type cabins with luxurious amenities.
Brides can choose among the park's many beautiful sites to exchange vows: shady canyons, dramatic waterfalls, sunny cliffs overlooking the Illinois River, meadows, and even indoors. Receptions in the Great Room hold 200 guests, and all arrangements from catering to photography can be made through the Starved Rock lodge wedding experts. The bride can arrive at the wedding venue on one of the park's trollies, setting her wedding apart from the cliché limo.  Need a wedding gown? One thoughtful bride left her gown for future brides to wear on their special day. According to the staff, the dress seems to fit about every young lady who tries it on.
Pelicans in America's Midwest can be observed at zoos – or in the wild at the Park. After Hurricane Katrina blew them off their migratory route, white pelicans joined 200 other species of migratory birds that make Starved Rock a stopping off place on their way. The churning waters beneath the damn offer fresh food, and the surrounding forests provide safe places to rest for the onward journey. To see the pelicans, visit during April or October/November when seasonal migrations are in full flight. A few bachelor pelicans have taken up residence nearly year-round.
Speaking of the Deep South, another species migrated here: a chef. Ron McFarlain opened The Cajun Connection in the late 1995 just several miles from the park. His authentic swamp-to-table menu was a local secret that is now catching on with Chicagoans who want a taste of New Orleans without the airport hassle. This is the Midwest place for Southern Po'Boys, oysters, 'gator, etouffee, frogs' legs, and Andouille sausage. Most folks stick around for a serving of apple-bread pudding, pecan or key lime pie. Ron's "hurricane" is a special blend of New Orleans' famous libation and will make your spirit sour like a Starved Rock eagle.
Surrounded by the steam-ironed prairie, ice climbers find a mecca in the park. With crampons, ice climbing certificate, and enthusiasm, 100 ice climbers took on the high, frozen waterfalls in the winter of 2015. This activity is available in January and February after the rangers have determined the waterfalls are frozen enough to safely climb.
Dogs, often allowed by fine hotels and spurned by more affordable ones, are welcome at Starved Rock and enjoy their overnights in "dog friendly" cabins. The only restriction is that they weigh under 50 pounds (or look like it – no weigh-in required). The paw-shaped dog menu offers baked treats, ice cream, beef patties, and chicken filets. Lady OMG, pictured here, is a frequent guest and is committed to staying under the weight limit.