With new hotels, resorts and luxury travel opportunities opening all of the time, there's a risk that your bucket list becomes so long that you'll need to give up your 9-5 and hit the road full time just to work your way through it. This may be possible for some but for those who can't do this, a certain amount of selectiveness may be required. So while you're thinking about which things to add and which to scratch off, make sure you leave space for these 3 new South East Asian luxury experiences; it'll give you the chance to see some of the 'must see' sights in true luxury style.
Luckily, you can tick off our 3 bucket list suggestions in one luxury travel adventure, beginning in Siem Reap with Phum Baitang who promise an authentic Cambodian experience in a lush and intimate setting. Travel onwards from Siem Reap on AmaWaterways new luxury river cruiser the RV AmaDara to tick off another not to be missed experience and then reach your final destination in Ho Chi Minh City where you can relax in the outstanding luxury of The Reverie Saigon.
1. Begin your adventure with Phum Baitang and the amazing temples of Angkor Wat
Everyone should visit Angkor Wat at least once in their life; its one of those places that should firmly be on everybody's bucket list for its sheer beauty, historical and cultural importance, and it's ability to make you stand in awe at the things human beings have achieved. Whilst you're exploring the temples of the ancient Kingdom of Angkor you can base yourself in Siem Reap's recently opened luxury resort, but be warned, it may well leave you in a dilemma as to whether to venture outside to see the temples at all.
Phum Baitang has only just opened it's doors and is already a hit with us. Set in fields of lemongrass, this luxury resort echoes a Cambodian village with luxury accommodation for guests being modelled on traditional wooden stilted houses.
Each of the 45 luxury villas (25 with terrace and 20 with plunge pool) are beautifully appointed and dressed with the highest quality fabrics, picked by hand and crafted in bespoke colours for the resort.
Private plunge pools, shaded lounge areas and landscaped tropical gardens allow you to relax outside as does the 50m infinity swimming pool with views over the rice paddies and lemongrass fields.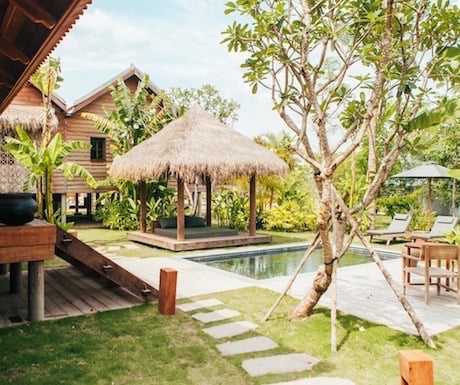 Service is attentive, personal and efficient whilst the food showcases the best that Cambodian cuisine has to offer. Sample the flavours of Cambodia with rich coconut cream curries made from a traditional kreung curry paste and intriguing new desserts made from staple local ingredients. Our waiter was able to tell us the history behind some of these dishes, meaning that the food we ate was as much of an education about the country and its people as it was a delicious gourmet experience.
2. Travel in style on the mighty Mekong with AmaWaterways newest addition, the RV AmaDara
Leaving Siem Reap behind, head to the Tonle Sap river to pick up AmaWaterways newest luxury river cruiser the RV AmaDara. Adding to a well established fleet in both Europe and South East Asia, this new vessel will transport you down the Mekong in style, giving you a glimpse of both Cambodian and Vietnamese life as you've probably never seen it before.
Whilst sailing you'll enjoy everything this new 124 passenger luxury river vessel has to offer including superb service from staff who go above and beyond, an outside balcony (all rooms have these), a swimming pool, beauty salon and spa, complimentary refreshments and local and cultural entertainment on selected evenings.
You'll see life on the river every time you look outside and the dramatic changes in the riverside scenery will be an intriguing and thought provoking backdrop during your journey.
Once ashore, you can tick off some 'must see' attractions in both Cambodia and Vietnam but you'll also gain from the experienced AmaWaterways team who have established links with communities in both countries; meaning that you'll get to see and do things that are a little off the beaten track, and are sure to create a lasting impression. A behind the scenes temple visit at Oudong, once the capital city of Cambodia, offers the chance to witness the rare public sight of nun's offering food to monks, and gives a unique insight into Cambodian Buddhist culture.
Visits to remote villages in the Mekong delta provide a chance for real human connections that will make you appreciate the best things about human nature as you hear stories from the people who live their and learn about their daily life, history and feelings.
There will be historical sights too, with humbling visits to some of Cambodia's 'killing fields' near Phnom Penh and a chance to walk around the peaceful Xeo Quyt in Vietnam. Once a Viet Cong army base housing Vietnamese Generals living in underground bunkers just 2km away from a U.S. Army base, Xeo Quet is now one of the last natural forests left in Vietnam and this beautiful park provides a real glimpse of what life was like for those living in this jungle wilderness.
The AmaWaterways 'Vietnam, Cambodia and the Riches of the Mekong' tour is one of those memorable journeys where you can immerse yourself in the culture of the region, and get spoiled with luxury at the same time.
3. Finish your journey with an opulent luxury stay at The Reverie Saigon
After the boat docks and you've said farewell to your fellow passengers (many who will now be friends) you get the chance to visit what should definitely be another bucket list destination; The Reverie Saigon, a newly opened property which is a member of 'The Leading Hotels of the World'. This is city centre opulence at its best and a chance to dissolve into your luxury boudoir and experience 6 star service from some of the industry's finest.
Think luxury bed linens, crystal chandeliers and hotel interiors designed by the best Italian interior designers. The decor isn't subtle, it's lavish, colourful and dripping in quality; you can't help but fall in love here.
Relax by the immaculate pool or head to the spa for the chance to get pampered with high end luxury spa products sourced from organic, earth friendly companies; but don't worry, your room offers this too with high quality amenities supplied for your luxury pleasure.
Eat in one of the 5 food and beverage outlets, enjoying French, Italian, Cantonese or local Asian cuisines; the food is sumptuous and perfectly executed, as are the surroundings and the ever attentive service.
These 3 new South east Asian luxury experiences for you bucket list are there waiting to be ticked off; whether it's a luxury 'green village' stay at Phum Baitang while visiting the famous temples of Angkor Wat, cruising down the Mekong in style aboard the RV AmaDara and getting to immerse yourself in local life, or an opulent city centre luxury hotel break at The Reverie Saigon in Vietnam's bustling capital city; these 3 newly available experiences will be sure to leave with you amazing memories and should definitely top your bucket list this year.
Paul Eyers is Founder of Vegan Food Quest.
If you would like to be a guest blogger on A Luxury Travel Blog in order to raise your profile, please contact us.