Living on a planet filled with so many wonders, you might ask: "Why visit South Africa? What is so unique about this part of the world?" South Africa is a beautiful and diverse country offering something special for every visitor. Once you have visited the country, you will undoubtedly be bitten by the 'Africa Bug' and will want to return to this magical place.
South Africa is celebrated for its incredible natural beauty. It has some of the most varied landscapes in the world; from the tropical beaches and spectacular mountains of KwaZulu Natal, to the broad emptiness of the Karoo or Kalahari Desert. The various Game Reserves virtually guarantee good sightings of a whole host of African animals and birds. What I love most here is the simple freedom, solitude, earthy smells and peace of the bush that time and again sets me free. The southern tip of Africa inspires endless adventures. This amazing natural setting is a living tribute to our roots, since it is said that South Africa is the cradle of humanity. It is a place where nature has kept its original charm, combining wild beauty with luxurious comforts. The people are the beating pulse of South Africa. It has the largest population of people of European descent in Africa and the largest Indian population outside of Asia. Visitors to South Africa will not only marvel at its staggering natural beauty, but also understand how the Rainbow Nation got its name.
Mpumalanga is famous for the private lodges and game reserves. Magnificent scenery, fauna and flora draw visitors to this region with the promise of magical mountain passes, valleys, rivers, waterfalls and forests. In Mpumalanga you can visit one of the world's most famous game reserves, climb the world's third-highest canyon and explore the world's oldest cave.
Here are my four best choices for an African safari in style and luxury!
Kruger National Park
The Kruger Game Reserve is the same size as the country of Slovenia or the state of New Jersey! It should definitely be on your list of places to visit. Thousands of animals live freely inside the Kruger, including over 500 species of birds. From the moment you enter the park, you are sharing the space with all the animals and their powerful instincts. It is an exciting environment full of sounds and smells, shadows and movements that warn of the presence of its other inhabitants.
Sabi Sands Game Reserve
Adjacent to the Kruger Park and without fences between them, Sabi Sands offers a safari experience found nowhere else in the world. Game viewing possibilities are simply unparalleled, including the much sought after 'Big 5'. The Sabi Sands is in particular well known for its amazing leopard sightings. As such, Sabi Sands offers the ultimate photographic safari one can think of. You can be certain to return home with some absolutely stunning pictures and memories. Sabi Sands Game Reserve is home to different luxury villas and lodges, each with something unique to offer.
Timbavati Game Reserve Timbavati
Timbavati Game Reserve Timbavati was in the news in the 1970's, when the first white lions were spotted in the reserve. Suddenly Timbavati became a household name around the world and the lions, as well as the man who discovered them, Chris McBride, became famed. Every now and then white lions are still born here. One of the advantages of going on a field trip in Timbavati, is that the game reserve hosts fewer luxury villas, which means fewer visitors, resulting in a less busy safari experience. In Timbavati only two vehicles are allowed per wildlife sighting. An astounding diversity of 360 bird species makes this bird-watching paradise one of the best private game reserves in the world.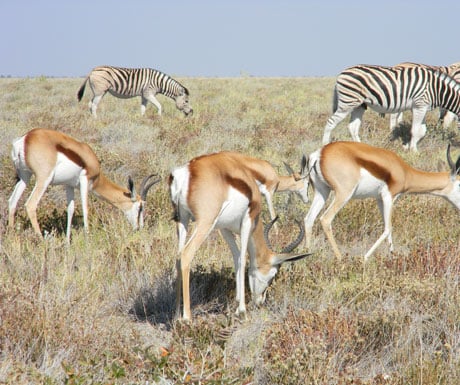 Madikwe Game Reserve
This is one of the largest game reserves in South Africa. In 1991 one of the largest game trans-location plans was taken on, when 25 different species of wildlife were introduced to Madikwe, which resulted in an animal population of more than 10,000. The game-viewing experience within Madikwe Game Reserve is unique and not-to-be-missed. Visitors may only drive through the park in their own vehicle when arriving and departing from their private luxury bush lodge. The rest of the time the game-viewing experience will be planned by your game ranger who will not only introduce you to the charming ways of the larger African game animals, but will also impart knowledge of the smaller animals, bird life or plants. You will simply be amazed at the contrasting cultures, panoramic landscapes, iconic wildlife and enthusiastic locals of these lands.
South Africa is beautiful, grand and memorable. After experiencing it, I'm sure you'll be changed forever.
Celine Renaud is Head of Sales for Leo Trippi.
If you would like to be a guest blogger on A Luxury Travel Blog in order to raise your profile, please contact us.