Historical and architectural preservation and city building codes play a big role in the level of creativity needed to design boutique hotels in cities that date back hundreds and thousands of years. Designing a contemporary hotel in old but beautiful buildings can be a challenge not only in design but also delivering a great experience for guests.  Spaces are important and not all boutique hotels are created equal.  There are dozens of boutique hotels across Spain but only a few make good use of the space that they have, especially when it come to guest rooms and bathrooms. I have chosen ten hotels that I personally think meet a higher standard of design, space and most of all excellent service.  This is my list of those that are certainly well worth a visit for any fan of boutique hotels.
Neo classic Madrid on the outside with surprising open spacious contemporary design on the inside. Hotel Urso is surprisingly spacious for being a boutique hotel in the center of Madrid. Many city center hotels often lack a sense of space and comfort all too often making guests feeling a bit squeezed for the sake of design. What I love about Urso is that it is unpretentious making one feel cozy is the winter and clean and cool in the summer.  Urso Spa by Natura Bissè  has the most beautiful indoor pool in Madrid. They also have some of the largest private terraces in the city. My best pick for Madrid.
Slightly off the beaten path in the tiny village of Villabuena de Álava in the wine region of La Rioja, Hotel Viura's cubist design seems to fit just perfectly in a very traditional landscape. This hotel has excellent service and makes for a great alternative to the famous Marques de Riscal hotel designed by Frank Gehry just a few villages away. If you love excellent wine, food, and design this little four star is well worth the journey.
Hotel Iturregi, Basque Country
The smallest on my list, Iturregi has only 6 rooms and two suites feeling more like a country villa getaway than a boutique hotel.  With gorgeous views of Txacoli vineyards and the Basque coast this hidden gem is well off the beaten path between Bilbao and San Sebastian. Attention to detail is big here. A perfect spot to be out of the city lime light.
XVIII century palace turned hotel in Seville's old quarter. Hidden away in a maze of narrow streets the Villapanes offers simple elegance in a region where the tendency is to include too many styles in the same space. The staff is young and their english skills are excellent. (also a plus in southern Spain).
The latest boutique hotel and the first five star hotel to open on Madrid's main thoroughfare Gran Via, the Principal Madrid, has already made the shortlist for 'Best Urban Hotel' in Wallpaper magazine.  Occupying a 1917 landmark building with Art nouveau and art deco details on the exterior this hotel offers lush modern interiors with the only five star service right in the heart of Madrid. If you like hotspots this is your place. The roof top terrace fills up with locals for pre disco cocktails. From here you can walk to all the important attractions and monuments.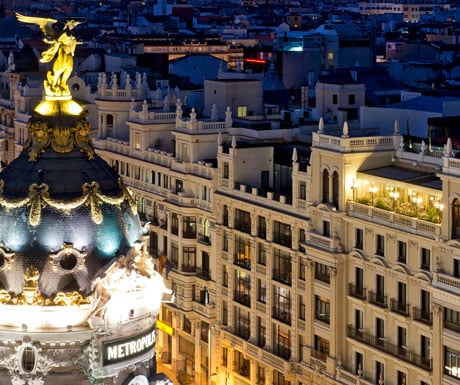 Hotel V (short for Vejer de la Frontera)  is atop one the most beautiful white washed villages of Andalusia. Hotel V makes my list because it is yet another hotel that has managed to blend historic architecture with contemporary design tastefully.  With only 12 rooms guest are well looked after here. A great spot to visit for experiencing true southern Spanish culture in  cool clean contemporary accommodations.
Atrio is a restaurant that happens to have a hotel rooms, both designed with the other in mind making one complete experience.  From design to table everything has been meticulously considered. Located in Cáceres, not far from the border with Portugal, Atrio is a welcome addition to the offering of hotels in the area and is a destination in itself. If you want to try an out of the way place in Spain and you're a foodie, this is the hotel to try.
Ca's Papá Valldemossa, Mallorca
The town of Valldemossa is surrounded by the Tramuntana Mountains which have an almost magical or mystical presence about them. Only 15 minutes from Palma de Mallorca, Ca's Papa's smart and comfy furnishings over 13 rooms, right in the center of town immediately makes guests feel right at home and very aware of the great energy that pervades the area. A mix of locally made furniture with contemporary touches work surprising well here. Experience the luxury of Mallorca in style without draining your bank account.
Perched on a hill top surrounded by vineyards with sweeping views of the mediterranean sea Torralbenc is one of my favorite places in Spain. A serene escape located between the island towns of Mahon and Ciutadella you would never know this hotel is only a four star retreat. The rooms and cottages, food and service all reflect the qualities of a five star hotel. If you want a change from the craziness on Ibiza or Mallorca make it a point to try Menorca.
Built on ancient Roman ruins, the Mercer retains architectural features dating back to the 1st century AD.  From the outside the medieval facade gives no indication of its comfortable contemporary interiors. Located in the Gothic quarter the Mercer is perfectly placed to enjoy the center of Barcelona and they have a excellent concierge desk.
Ron Otto is Onwer of Best in Spain.
If you would like to be a guest blogger on A Luxury Travel Blog in order to raise your profile, please contact us.