By
Olivier Templar-James
on Oct 12, 2015 in
Accommodation
,
Attractions
,
Cruises & Boat Travel
,
Europe
,
Going Out
,
Greece
,
Hotels
,
Regions
,
Restaurants
,
Spas & Pampering
,
Speciality Travel
,
Western Europe
As one of the most popular holiday destinations in Greece, The Island of Kos became notorious for its beautiful natural sights and beaches, as well as for its sense of hospitality, and ability to cater to even the most discerning travelers. One of the world's havens for sailing enthusiasts, Kos will definitely spoil you with its raw natural appeal, beautiful seaside and mountains that dip straight into the Mediterranean Sea.
1. Reserve a room with a private swimming pool at AquaBlu Hotel & Spa
The AquaBlu Boutique Hotel & Spa was created by a Greek businessman living in New York City who was born on the island. He has never forgotten the charm and beauty of his hometown. With a passion for forward-thinking design and beautiful art, he turned his hotel into one of the most stunning accommodations in Kos. This is a great place for couples that are looking for a classy, discreet and private stay. It is also perfect for those on their honeymoon, as they are able to book a room with a private swimming pool, giving them a true feeling of exclusivity. This just adds to the high-class standards that the hotel sets. The Spa is wonderful with its indoor swimming pool and 5 Mondes Spa treatment,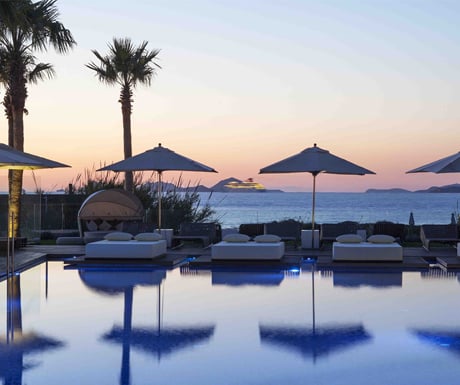 2. Have a wonderful romantic dinner at Agios Theologos Kefalos
Greek food is well-known throughout the world: the Mediterranean and the unique produce it brings, along with Kos' unique settings of seaside and mountains make for a truly unique culinary tradition that can be sampled at one of the Islands best restaurants. Particularly well-known for its grilled fish delicacies, Agios Theologos Kefalos is a true mecca for seafood lovers and traditional meld such as Revani, a homemade cake made directly by the owner's wife, adding a family touch to the menu. As you enjoy a world class meal, the amazing view on the sea will provide an unforgettable atmosphere that you'll treasure throughout your life: the place is incredibly romantic at sunset, and it feels charmingly alone in a marvelous spot by the sea!
3. Sail on the Aegean Sea with Istion Yachting and discover small islands miles from Kos
As the island is a true sailing paradise, it would be a shame not to experience the beauty of sailing when in Kos! It is possible to get out at sea for a day or more, renting sailing boats with a skipper, as well as your own hostess from Istion local office, one of the most reliable boat chartering companies. Istiion offers luxury catamaran rides and Benetteau Oceanis sail boats with experienced skippers who will take you to all the best spots that only people in-the-know have heard about! This is a truly magical experience, particularly when the skipper himself will teach and let you try your hand at it, looking for the best wind for a fast run! My wife and I had the chance to sail with Andy, an English skipper who showed us some of the best spots and shared his passion for sailing on the Dodecanese Sea on his great Oceanis 45. Discovering nearby islands such as Pserimos, a place with only a small population and far from being a mainstream tourist hub, was a really great experience.
4. Visit the impressive castle of Kos
One of the landmarks of the land, this structure dates back to the 14th century and it went on to become one of the most visited local attractions. This is a place where history blends in with the beauty of nature. The castle is definitely one of the most significant spots within the old town of Kos, as well as its most distinctive feature. This particular piece of historical heritage doesn't only make for a stunning marriage between man-made structures and nature, but it also highlights the depth and multi-layered background of Greek history, loved and celebrated all over the globe for its undying influence on human civilizations worldwide, on the traces of the Byzantine and Ottoman empire!
5. Stop for a lazy afternoon and a drink on Eleftherias Square and reminisce about ancient philosophy under the Hippocrates' tree
Eleftherias Square is at the core of local life: a charming place where you can stop for a drink and enjoy Greek culture. The square is really only a little way away from main tourist attractions such as the likes of Hippocrates' tree. As the third largest island on the Dodecanese, Kos is definitely one of the busiest tourist hubs in Greece, although it does not feel overcrowded at all. This is a place where you can enjoy some relaxing times, even though you will definitely find liveliness and excitement here, as this is where not only foreigners converge, but also tourists from other parts of Greece, as well as locals. I definitely treasured my stay on the island, which is, in my opinion, one of the most underrated destinations in Greece!
Olivier Templar-James is Chief Editor at Luxury Travelers Guide.
If you would like to be a guest blogger on A Luxury Travel Blog in order to raise your profile, please contact us.