By
Paolo Macchiaroli
on Oct 12, 2015 in
Accommodation
,
Asia
,
Austria
,
Caribbean
,
Central America
,
Costa Rica
,
Europe
,
France
,
Guadeloupe
,
Hotels
,
Italy
,
Maldives
,
Regions
,
Resorts
,
Spain
,
Vacation Rentals
,
Western Europe
,
Worldwide
From the blue waters of the Caribbean Sea to the white peaks of the Alps, there's no such thing as too much luxury when it comes to holiday rentals. The most exclusive properties in the world have one thing in common: their uniqueness, which reveals itself in every detail, in their styles, in the grandness and elegance of their furnishings. If unparalleled luxury is what your seeking for your next holiday, look no further: here are the top 10 most expensive vacation rentals around the world.
A stunning 1.4 hectare private island in the Maldives, Coco Privé is a unique retreat in the Indian Ocean with the best 5* amenities: a private Jacuzzi, an infinity pool, a gym with a steam room and a powder room with a small garden, indoor and outdoor showers, a cocktail bar and a wine cellar and a library, making it a dream destination for those seeking privacy and fun.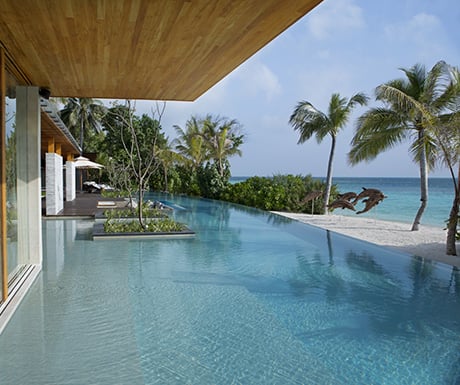 Price: up to 244,000 USD per week. 

Villa Dunes
, St. Barths
Set on 2.5 acres of natural gardens and grassy lawns leading down to the dunes of Plage de Saline in beautiful St. Barths, Villa Dunes is lavishly decorated and truly decadent and offers high tech amenities such as heated pools, a gym, an office, outdoor showers and a palapa for spa services.

Price: up to 140,000 USD per week.
Villa Blu, Ibiza
This exclusive and secluded villa is situated on a magnificent cliff with direct access to the open sea, near to the picturesque village of San Carlos with its charming farm and red country surroundings. The perfect spot for a relaxing seaside vacation, the villa is located close to some of Ibiza's best secluded beaches.

Price: up to 140,000 USD per week.
A stunning chalet set amid white alpine surroundings with unspoilt mountain views, Chalet N in Lech combines the truly authentic sense of pure nature of the Arlberg with exceptional luxury and creates a special atmosphere that makes every visit a unique experience. Here you will discover the power of peace amid glorious nature and enjoy culinary delights of the finest quality.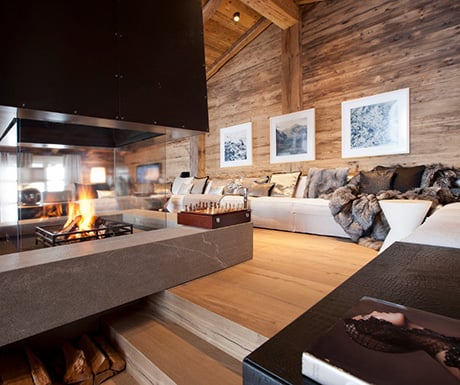 Price up to 490,000 EUR per week.
A stunning chalet with wonderful views of La Saulire, Ormello is a 1,000m² private chalet just a few steps away from the Bellecôte piste and 3 minutes from the very centre of Courchevel 1850. It boasts a massage and beauty treatment rooms, outdoor hot tub and spa, a private cinema, an indoor counter-current swimming pool and a private gym: a sports lover's delight.

Price up to 200,000 EUR per week.
Chalet Le Petit Palais
, Courchevel

An exceptional ski-in / ski-out chalet situated on the slopes of Bellecote Piste in Courchevel 1850,  Le Petit Palais is perfectly located for you to explore the Three Valleys. The chalet has been exclusively designed by an inspiring world class designer creating an opulent palace with decadent detailing and luxury finishes, expanding over 6 floors.
Price up to 200,000 EUR per week.
Villa Sand Club, St. Barths
With its beachfront elegance in supreme comfort, Villa Sand Club stands apart as a truly peerless property in the highly competitive field of St. Barths' most impressive homes. The villa's pleasing design and refined sense of style matches the high expectations set by its ideal location and strikes the perfect balance between the highest level of luxury and the openness and relaxed ambience of Caribbean beachfront living.

Price up to 250,000 USD per week.
Villa Del Mar is a typical Andalusian mansion on the shore of the Mediterranean Sea. This 6,200 square meters property showcases a contemporary but warm interior and the patios give a sense of space and elegance to the house while the botanical gardens add a bit of wilderness to the whole property.  Inside, guests feel at home relaxing in one of the five spacious luxury living rooms, in the Jacuzzi, the hammam or the sauna.

Price up to 210,000 EUR per week.
Positioned on its own private peninsula, the property combines the intimacy of having a private home with the services of a five-star hotel. The villa offers a very nice contemporary atmosphere both outdoors and indoors and everything will be taken care of with at the highest standard.   So if you are looking for an all-inclusive experience where you don't need to worry about anything, this is the ideal place to go to.
Price up to 161,000 USD per week.
Villa La Cassinella
, Lake Como
One of the most exclusive properties on the shore of Lake Como, Villa La Cassinella has been recognised as one of the most unique properties around the lake. The property is a perfect blend of 21st century amenities and classic Italian décor and offers top notch services from butlers, an international chef, housekeepers, gardeners, the concierge and the house manager.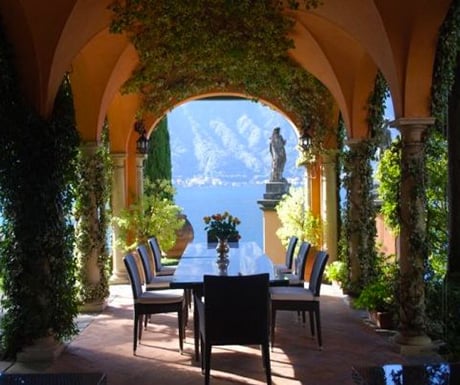 Price up to 150,000 EUR per week.
Paolo Macchiaroli is CEO of My Private Villas..
If you would like to be a guest blogger on A Luxury Travel Blog in order to raise your profile, please contact us.