Tourism to Costa Rica is buoyant and is set to increase again in 2015 and 2016. Europe especially is seeing a large rise in travellers to the sunny Central American country with an increase of of almost 20% between 2013 and 2014. British Airways is further adding to the trend by launching a direct flight from London to San Jose from May 2016. This all makes for a very happy Costa Rican economy but there are a number of other reasons why the land of 'pura vida' is full of happiness.
Happy environment
This tiny country leads by example on climate change and for 2015 so far, has created 100% of its own energy through renewable sources such as hydroelectric, geothermal and wind power.  It has committed to becoming carbon neutral by 2021.  Reforestation and sustainable timber production has long been a political focus and the forest cover has grown from a 21% low in 1987 to an impressive 52% in 2005 as a direct consequence of legislation and business incentives.
Happy flora and fauna
5% of the world's flora and fauna is found in this tiny country with only 4 million people. This number is astounding when you consider the actual land mass of Costa Rica is about the size of the north of England and is approximately 0.03% of the Earth's surface. This is in part to do with their foresight to protect huge areas of the country. 30%, in fact,  is protected national parks that will always be that way to be enjoyed in a sustainable manner. The coastline of Costa Rica is also protected, so even if people own beachfront land, there are extremely strict regulation on development.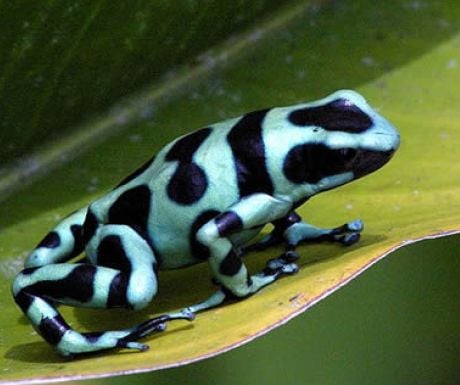 Happy nation
The army was abolished in the 1940s. To this day, Costa Rica has no army, navy or air force, no heavy weapons of any kind. There are local police forces but no national defense force. The huge amount of monies saved from no investment in defence was instead reallocated to invest in its people's welfare and education and Costa Rica has an extremely high literacy rate for Central America as well as a functioning welfare state.
Happy animals
Added to the examples above, Costa Rica recently announced that it would be closing all zoos and reintroducing all animals to their natural habitats. Unfortunately, the country is now contractually obligated to keep the doors of its two zoos open for another ten years, after a recent court ruling. Still, the news of its intentions are inspiring enough to share.
Happy people
It's not surprising given all the reasons listed above that Costa Ricans are officially the happiest people on the planet. The Happy Planet Index ranks nations based on the population's well-being, life expectancy, and the country's ecological footprint. As well as this ranking, Costa Rica ranks no. 1 in the World Database of Happiness. It's consistently right up there with its wealthier counterparts despite a per capita gross domestic product of $7,390, 68th in the world, according to the International Monetary Fund in 2010.
Being at the forefront of  sustainable tourism, Costa Rica strives to ensure staying a step ahead with all of these initiatives. It will be interesting to see how steady their growth will be in light of Cuba opening up to the USA and growth of its neighbours Nicaragua and Panama for tourists too.
Dahlia Nahome is the General Manager of Rancho Cielo.
If you would like to be a guest blogger on A Luxury Travel Blog in order to raise your profile, please contact us.