Great beaches. Shallow depths. Nice weather. Enough said why Hua Hin is one of the best family destinations in Thailand. Located on the western side of the Gulf of Thailand with only 3 hours from Bangkok, I would not say I expect to see the peaceful beaches in the city. But Hua Hin does have a lot of surprises, great peaceful beaches, the old world charm, amazing golf courses, not to mention seaside resorts that offer the sedate holiday style one could ask for.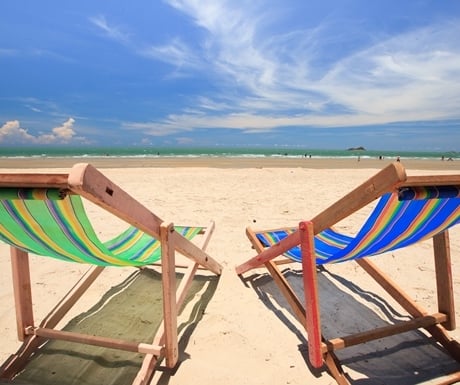 With stunning 5 km beach, the ideal getaway hides in the south of Hua Hin in an area called 'Khao Tao'. The area is just perfect for those who love to enjoy the peaceful surroundings, overseeing the splendid view through the balcony of plenty gorgeous seaside resorts. Sai Noi beach is a secluded small beach with shade of pine trees and nothing but the sound of the sea waves.
Khao Tao is always a favourite place to stay for those who appreciate the old charm and the real sense of nature that rejuvenates their souls. As the area offers a laid back and friendly seaside atmosphere with only few minutes' drive to Hua Hin town, Khao Tao is pretty much a perfect choice for a private and luxury stay. Numbers of luxury seaside resorts at Khao Tao are highly popular for its decent rate and beautiful surroundings. Accommodations vary from hotel to vacation homes. Hua Hin visitors can choose to stay in different style from Mediterranean to Mexican Caribbean resorts, all with landscaped environment among lush tropical gardens.
Yet, people in Khao Tao always appreciate the uncrowded beach that offers the feelings of luxury. It is the perfect place to enjoy a peaceful holiday in Hua Hin. You may also find Suan Son Pradipat on Khao Takiab beach located further south attractive for picnicking and that is almost about everything you should look for on your holidays.
Salinthip Niyommalai is Senior Marketing Manager at Rental for the Holidays.
If you would like to be a guest blogger on A Luxury Travel Blog in order to raise your profile, please contact us.