By
Michael Downey
on Nov 25, 2015 in
Austria
,
Belgium
,
Czech Republic
,
Eastern Europe
,
Europe
,
Events
,
France
,
Hungary
,
Italy
,
Lithuania
,
Luxembourg
,
Poland
,
Slovakia
,
Sweden
,
Switzerland
,
Travel Miscellany
,
Western Europe
Think Christmas markets and you think of Germany; from Munich to Nuremburg, from beer in Cologne to bratwursts in Leipzig, they seem to have it cornered, with many Christmas traditions having originated from our German cousins.
If however, you're looking for something a bit different but still pine for the magic of a pretty town square, with fairy lights and chilly air, replete with mulled wine and hearty snacks that will mean that Christmas jumper will be snugger than ever, Europe has in excess of 90 celebrated Christmas markets, outside of Germany.
Each offers unique and interesting alternatives to the typical festive fare, most of which are easily within reach via a direct flight or trains from a number of UK airports and London stations.
1. Strasbourg, France
Okay, okay, so its fairly near the German Border (3km!) but Strasbourg has the best of both French and German festive Teutonic traditions to draw upon, creating an atmosphere all its own.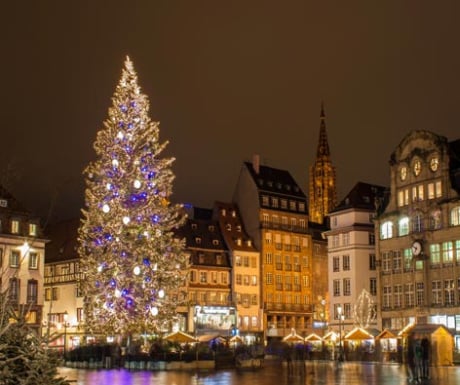 The oldest of the Christmas markets in France (since about 1570), this one will be the busiest on the list with over 300 chalets offering Christmas fare and trinkets from all over the world. These are dotted around the city's various beautiful squares, spoiling you for gift ideas for those back home.
Must-dos include a visit to the quaint 'Le Petit France' district for its gingerbread bakery and its famous three-meat 'baeckeoffe' stew.
When: 27th Nov to 31st Dec 2015.
Get there: Fly via major and budget airlines from London or via Eurostar and local train operators via Paris or Lille.
2. Prague, Czech Republic
With traditional Christmas markets (known as Vanocni trh) in four squares in close proximity, Prague is the ideal alternative market setting to shop for your Christmas gifts which include wooden crafts, jewellery and embroidered lace, all amongst a mixture of stimulating Baroque, Gothic and Renaissance architecture.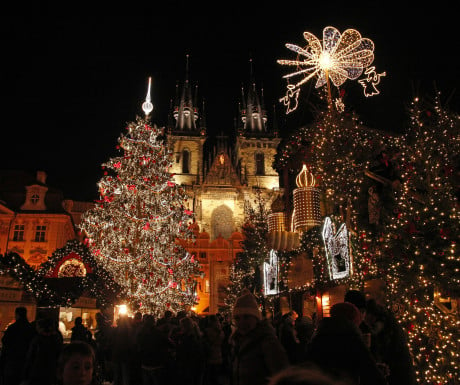 'Wenceslas Square' and 'Old Town Square' with its gigantic Christmas Tree (flown in every year from the Krkonose Mountain in the Czech Republic) set the perfect lively atmosphere to enjoy the open air concerts and short plays put on every December.
Those with a sweet tooth may want to try the "Trdelník" sweet pastry or, if in the mood for something savoury, sample the barbeque sausage (klobása), washed down with some "svařák" (mulled wine) or one of the many Czech beers on offer.
When: 28th Nov 2015 to 6th Jan 2016.
Get there: Daily direct flights via several major UK Airports or via the Eurostar from London and then onto Prague from Paris (via Cologne).
3. Budapest, Hungary
Another perennial favourite for Christmas connoisseurs with its cobbled streets, Art Noveau architecture and an East meets West atmosphere, the main Christmas market is in the beautiful Vörösmarty Square where stalls selling handmade gifts jostle with those serving traditional festive foods.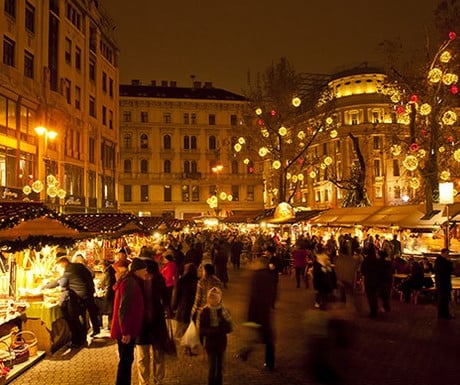 Be sure to try the traditional 'Mézeskalács' (honey cookies) and "forralt bor" (mulled wine) and make sure you pop into the Gerbeaud Café, which is transformed into a giant advent calendar every year, for the opening of the latest window (each day in December).
Don't miss out on an early appearance by Santa himself. He'll be taking time out from feeding the reindeer and dropping by on 6 December (from approximately 3 o'clock in the afternoon).
When:13th November to 6th Jan 2016.
Get there: Another easy destination to fly to directly, or take the Eurostar to Paris or Brussels with intercity train changes in Munich or Vienna respectively.
4. Krakow, Poland
From late November Krakow's traditional market square (Rynek Glowny) is awash with wooden chalets showcasing everything from high quality woollen clothing to plenty of skilfully made handicraft including ironwork and hand-painted colourful glass baubles (a Polish speciality) that make a great additional adornment to your Christmas tree at home.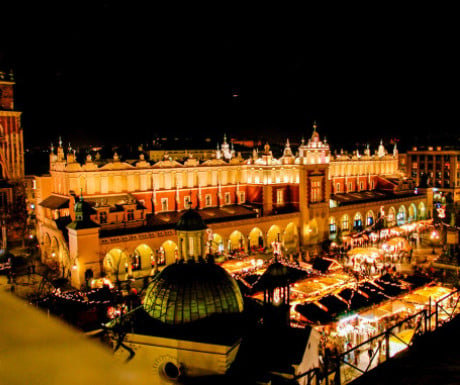 Poland's principal Christmas market offers spiced nuts and fried oscypek cheese with sausages keep out the cold, with some of the finest mulled wine (Grzaniec Galicyjski) in Europe. With ice-skating, a Nativity contest for the children and a potential blanket of snow, Krakow is a destination that should be on everyone's Christmas market bucket list.
When: 27th Nov to 26th Dec 2015.
Get there: Krakow is one of the cheapest European destinations to fly to or take the Eurostar to Brussels and Cologne then the 'sleeper' train via Warsaw or Prague.
5. Vienna, Austria
A well-known traditional Christmas market and certainly one of Europe's oldest, dating back to 1294 when King Albrecht I granted traders the right to hold a 'Krippenmarkt' (crib market) in the city, Vienna offers the perfect lavish backdrop to shop for trinkets and meander the city's neoclassical streets.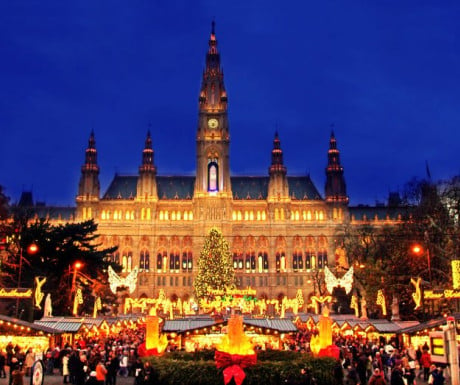 With about 20 markets all over the city, you're spoilt for choice but the most impressive has to be in front of the romantic Schönnbrunn Palace with over 50 market stalls, selling everything from traditional crafts to handmade Christmas tree decorations.
As traditional music fills the air there are plenty of calorific snacks to keep you going, including candied chestnuts and "vanillekipferl" (traditional crescent-shaped cookies dusted with vanilla sugar). Child friendly activities include Christmas workshops, street theatre and live music with adventure rides and a Christmas post office with its own 'Spittelberg' Christmas stamp, so they can send their letters to Santa.
Whilst Vienna probably won't be the cheapest market on this list, the options, together with the variety and volume of activities on offer, has to be valued.
When: 13th Nov to 26th Dec 2015.
Get there: Fly to Vienna direct from London and Manchester or train by Eurostar via Paris or Brussels.
6. Bratislava, Slovakia
A less obvious destination to visit for a Christmas market, Bratislava nevertheless pulls out all the festive stops for a great atmosphere, with carols echoing throughout the medieval streets and a multitude of festive stalls, selling everything from intricate corn husk dolls to woven textiles and ceramics.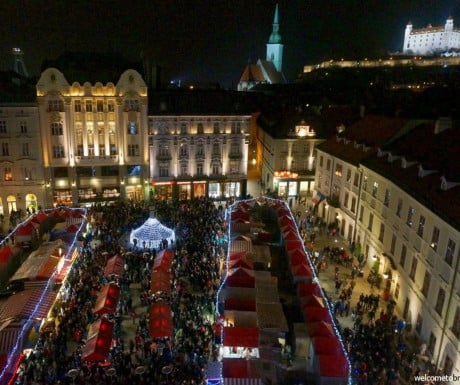 Taking place over three main squares: Hviezdoslavs Square, Hlavne Namestie (Main Square) and Frantiskanke, with large Christmas trees in each and a great ice skating rink (in Hviezdoslav), Bratislava's many illuminated buildings (including the pretty pink Primaciàlny palace), provide a unique and invigorating backdrop to browse the stalls and haggle with local vendors. 
Unique delicacies include potato crepes (known locally as 'Lokše'), which can be eaten sweet with jam and poppy seeds or kept savoury with 'Ciganska Peceienka' (grilled 'gypsy' chicken or pork), complemented by hot wines and locally produced mead.
When: 21st Nov to 23rd Dec 2015.
Get there: Fly directly to from London (STN). Comfortable but time consuming by train: Take Eurostar and a connecting Thalys train to Cologne, then the overnight 'sleeper' to Vienna and an onward train to Bratislava.
7. Bruges, Belgium
One of Belgium's most photogenic cities, Bruges hosts a truly fairy-tale Christmas market which, amongst all the expected stalls and stocking filler gift ideas, features an annual 'Snow and Ice Festival'.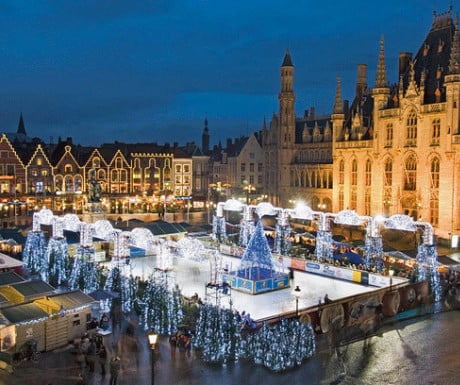 This year's theme is a J.R.R. Tolkien inspired 'Land Of The Hobbits' which runs from Nov 20 – Jan 3rd. If you fancy a go on the ice yourself, there's one of the Europe's prettiest ice rinks in the Market Square (Grote Markt) and after all this exercise, no trip to Belgium would be complete without sampling some of the local Trappist beer followed up by Belgian chocolate and waffles.
When: 20th Nov 2015 to 3rd Jan 2016.
Get there: Via Ferry, train (Eurostar) or flights via Brussels; Bruges is approx. 90 minutes from Brussels airport.
8. Lille, France
A huge 50 metre tall 'big wheel' dominates the pretty Lille Christmas market, offering fantastic views over this picturesque town in Northern France (approx. 10km from the Belgian border). In the heart of the 'Grand Place' square, an 18 metre tall tree, adorned with lights, towers over 80 chalets selling various local arts and crafts.
Soak up the 'joie de vivre' by indulging in local specialities: Maroilles cheese, macaroons and 'Babeluttes' (soft caramel confections). After all that sugar, make sure you take advantage and meander through the narrow cobblestone streets, lined with beautiful Flemish style houses.
When: 20>th Nov to 30th Dec 2015.
Get there: Only 90 minutes from London via Eurostar direct or fly to Brussels and transfer via coach or train (approx. 80 minutes).
9. Ghent, Belgium
Another Belgian entry, Ghent separates itself from the competition via its sheer array of activities. Stretching across the interconnected areas of Sint-Baafsplein, the Korenmarkt and Klein Turkije, during December the entire city centre sparkles every evening.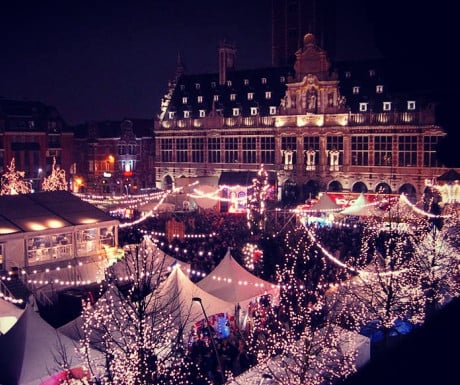 Skate beneath the city pavilion on a huge open-air ice rink, take in the medieval sights in a gigantic wheel to rival Lille's, ride the merry-go-round, watch the firework displays or take refuge from the chilliness in the 'Winter Wonderland Castle' (Castle Of The Counts), where warm festive delicacies and Christmas music restore your energy.
Make sure you try the 'Oliebollen' (aka 'Croustillons'); moreish small, Belgian deep-fried dumplings, covered in powdered sugar. Try and have just one, I dare you!
When: 4th Dec 2015 to 3rd Jan 2016.
Get There: Fly from London or Manchester or train via Eurostar, changing at Brussels.
10. Luxembourg City, Luxembourg
Another Christmas market, another enormous wheel! But what differentiates Luxembourg City's main squares of 'Place d'Armes', 'Place de la Constitution' and the 'Place de Paris' from its European competition, are the delicious indigenous and festive foodstuffs.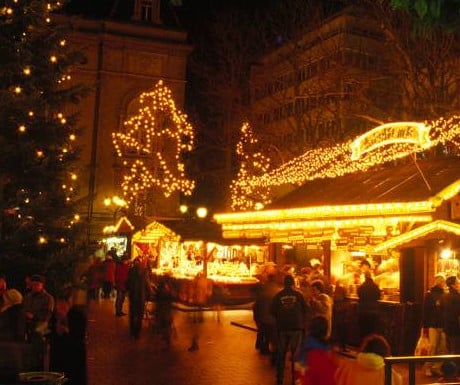 Glühwäin (hot wine), and local favourites; 'Gromperekichelcher' (potato pancakes), 'Thüringer' and 'Mettwurst' (Luxembourgish sausages) drift temptingly through the crisp winter air, competing with rich 'Kachkéis' (a cheese with a distinctive taste, similar to cooked French Camembert), Hausmacher Paté and Rendfleeschbritt (Beef broth with vermicelli).
When: 22nd Nov to 24th Dec 2015.
Get there: Fly direct to Luxembourg City or take the train via Eurostar, changing to intercity trains at Brussels.
11. Leuven, Belgium
A comparatively but exceptionally well-organised Christmas market, known as the Leuvense Kerstmarkt, Leuven (capital of Flemish Brabant), sits a mere 25km east of Brussels. In only its 28th year, one of the best-kept European secret markets, the truly fairy-tale setting is perfect, with the 'Monseigneur Ladeuzeplein' and Herbert Hooverplein' squares, offering fine festive fare and locally made gifts.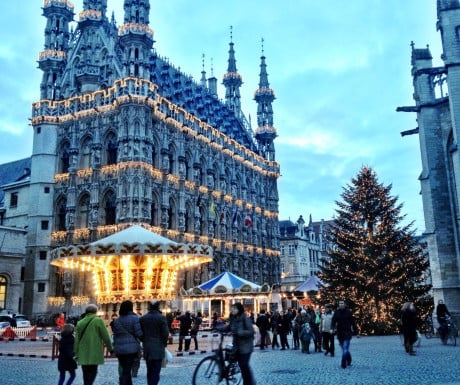 To add to the truly unique experience, you can even witness and cheer on some very competitive curling teams (often from Luxembourg) battling it out on the ice, whilst you scoff some fine Belgian chocolate.
When: 13th to 22nd Dec 2015.
Get There: Fly direct to Luxembourg City or train via Eurostar to Brussels then transfer to Leuven via local train in under 15 minutes.
12. Gothenburg, Sweden
You're all the closer to Lapland itself taking in a Christmas market in Sweden, with Gothenburg being among the best of the Scandinavian efforts with snow distinctly likely in December. The centre of the festive fun is located at Lisberg Park, with a resident funfair being impressively illuminated for the season (the trees alone are lit with over 4 million fairly lights). There's an ice rink and rides for children and adults alike with stalls selling everything from decorations to gifts.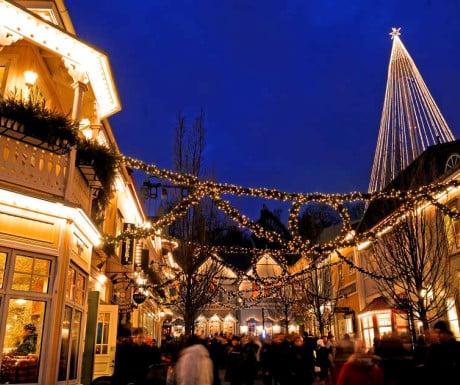 Scandinavian snacking specialities to feast on include; smoked sausage, "lussekatter" (saffron buns) and Rudolph! (reindeer burgers), whilst Pepparkakor (ginger biscuits) will satisfy the sweet cravings and the requisite Nordic glögg (mulled wine) will ensure a red nose.
When:20th Nov – 30th Dec 2015.
Get There: Fly direct from London, Manchester or Cambridge or fly to Oslo, Stockholm or Copenhagen and take intercity trains (approx. 4 hours additional).
13. Bolzano, Italy
In the shadow of the Rosengarten Dolomites comes a fantastic entry from Italy, home of some truly fantastic Christmas markets (Trento, Vipento and Aosta all spring to mind). Few German markets can compare to the backdrop afforded by Bolzano (German name: Bozen). With almost guaranteed winter snow, Bolzano is the epitome of the enchanting Alpine Christmas scene with sweetmeats and roasted chestnuts filling the fortifying and un-crowded medieval street air.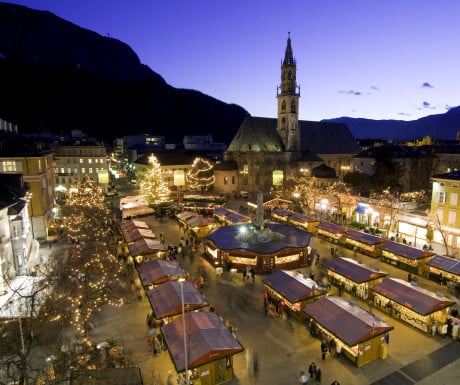 A unique shopping experience, only locally produced, handmade items are on offer here. Within Piazza Walther you can view master craftsmen at work, creating anything from wooden statuettes to musical instruments.
Despite the somewhat remote location in South Tyrol (or Alto Adige), the festival is very child friendly with a merry-go-round, puppet theatre and horse drawn carriage rides and for those with children who might be outgrowing the more cloying traditions, perhaps a sight of the partially decayed 5000 year old mummy at the South Tyrol Museum of Archaeology, will help them stay off Santa's naughty list this year.
When: 26th Nov 2015 – 6th Jan 2016.
Get there: Flights to Innsbruck, Milan or Verona with rail connections are the recommended routes.
14. Vilnius, Lithuania
Often overlooked, Vilnius is in fact a real draw for festive market fans. Less than 20km from the border with Belarus, Vilnius, in the east of Lithuania, is a capital that delivers festive atmosphere in spades.
Music is king of this celebration, with the music halls and cafes of the Old Town (and over 50 local churches) revelling with carollers and live classical concerts.
Additional entertainment for all ages comes in the form of nightly fireworks displays and a huge TV Tower, which is converted annually into a 165metre tall Christmas tree. In the Cathedral Square market, a huge 3D display, depicting a fairy-tale entitled the 'Christmas Dream' is projected onto the side of the Arch-Cathedral Basilica itself.
To keep you going, why not try some kūčiukai (small sweet pastries) often soaked in poppy milk and something truly festive; 'Kisielius', a delicious sweet cranberry infused drink.
When: 27th Nov to 27th Dec 2015.
Get there: Fly from 9 UK cities direct to Vilnius via a number of airlines.
15. Basel, Switzerland
Thought to be the largest and most beautiful of the Swiss Christmas markets, Basel began its modern market tradition as recently as 1978. Situated in the 'Three Corners' (where Switzerland meets Germany and France) Basel's atmospheric streets and evocative Medieval meets Baroque style architecture, provide an enviable setting to spend Christmas.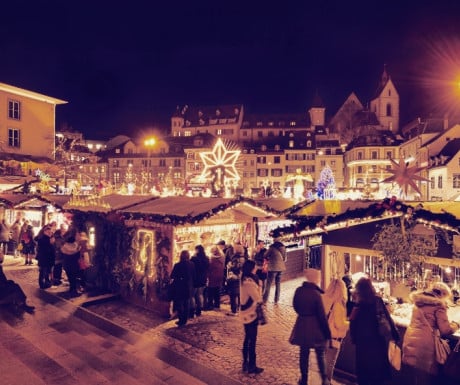 The main Barfüsserplatz and Münsterplatz 'squares' are the focus of the festive markets, with 170 festive booths selling a dizzying array of fare from spices to fossils. Be sure to walk the beautifully illuminated bridges of the Rhine or alternatively, cross the river on an old wooden ferry, carried only by the current (guided by an affixed line) into the Altstadt (Old Town).
If you need shelter from the cold, the romantic streets house a multitude of world-renowned museums and galleries – the central Fine Arts Museum (Kunstmuseum) is particularly good, with most offering extended opening hours during December.
When: 26th Nov to 23rd Dec 2015.
Get there: Fly direct from London or via rail by Eurostar, changing in Paris (Gare De Lyon).