Hard to pronounce (and even more difficult to spell), the capital of Madagascar is for many visitors just a stopping point en route to the lemur-filled jungles and spectacular beaches of this Indian Ocean island nation. But the crumbling streets of Antananarivo that cascade down the hillside are more than worthy of a few days exploration. From fortified palaces to lemur sanctuaries, here are five of the best ways to experience Antananarivo.
1. Wander the fortified Rova palace amidst Tana's evocative haute-ville
Dominating Antananarivo's highest hill in the midst of the historical haute-ville, the Rova fortified palace was built in the early 17th century as the political base for the Kingdom of Imerina. Over successive generations of rulers it was altered and added to, including the outer stone fortifications built in 1867, but the interior remained largely wooden and a controversial fire (and believed act of arson) almost completely gutted the complex in 1995, just before it was to be inscribed on the UNESCO World Heritage list. Extensive renovations have taken place and it is today a fascinating place to wander, with ruins scattered throughout the grounds, together with impressive stone tombs housing the country's most famous monarchs, and it boasts magnificent views across Antananarivo below.
2. Go early-morning bird watching in Antananarivo's industrial suburbs
Bird enthusiasts shouldn't miss a visit to Parc de Tsarasaotra, located on the outskirts of Antananarivo, where a number of endemic and threatened bird species have found sanctuary. It is a designated RAMSAR wetland of international importance, with Malagasy kingfisher, little grebe and pond heron among the residents of its water-filled landscape. The site also harbors its own history, with the remains of a palace built in the late 19th century for Queen Ranavalona found amidst the birdlife.
3. Explore the turbulent history of Madagascar at the Musée Andafivaratra
The former house of the late 19th century Prime Minister, Rainilaiarivony, this spectacular pink baroque palace, cornered by imposing bell towers, has been transformed into the Musée Andafivaratra. It was from here that Rainilaiarivony exercised power alongside three successive queens until the French invasion of 1894. Independence in 1960 saw it transformed multiple times from an army barracks to a school of fine arts, and later serving as a presidential palace. After a fire in 1976 it was beautifully restored into its present day form and is now home to an intriguing collection of royal memorabilia and gifts collected throughout Madagascar's history, many of which were rescued from the 1995 fire at the Rova.
4. Go shopping in the open-air markets of Andravoahangy
Situated a short ride out of town, the Andravoahangy open-air craftsman markets are the place to come for locally made handicrafts and souvenirs. With everything from leather goods to wooden carvings, spices and basketry, it is a vibrant atmosphere of colorful vendors and friendly banter with the local Malagasy. But come with your bargaining skills at full strength as initial prices are wildly inflated!
5. Lemur spot within the city's fringing forests
Located just to the southwest of Antananarivo, the Parc de lémuriens à Madagascar was founded in 2000 to provide a refuge for lemurs, many of which were confiscated as pets. Today its rich forests of pine and bamboo house in excess of 70 endemic Madagascan plant species and nine different lemurs, which roam freely within the botanical gardens and are gradually being rehabilitated into the wild. Witness its twice daily feeding sessions and visit the vivarium which is home to iguanas, radiated tortoises and the island's famed chameleons.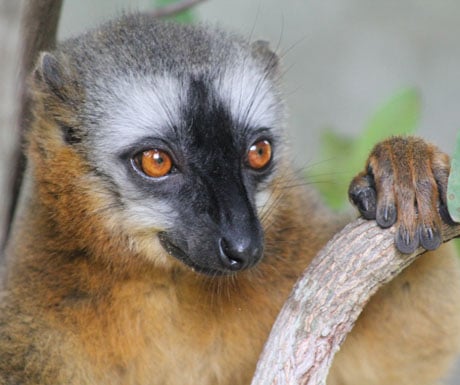 With tranquil Lac Anosy at its center, "Tana" has been the staging point for royal conquests, colonial rebellion and wildlife protection initiatives that have shaped the Madagascar we see today. While the island has so much to offer adventurous travelers, only skipping through its historical, political and social capital is missing a huge slice of this spectacular country's story.
Javier Luque is a Co-Founder and Director of Your African Safari.
If you would like to be a guest blogger on A Luxury Travel Blog in order to raise your profile, please contact us.