When I first got to Madrid in 2002 I have to say I was not particularly impressed with what was on offer at Christmas time but Madrid has come a long way since then and this year is no exception. In addition to all the monuments, museums, and activities in Madrid, the city is packed with great things to do whether with or without kids. I have never seen so many different activities on offer in Madrid.
Christmas lights, markets, ice skating, international christmas festival and more. One big difference in Spain regarding the Christmas season is that it is a week longer than in most of Europe and North America, January 6th is celebrated as Three Kings Day with great anticipation.  It is really as big, if not bigger, than the 25th for all the kids.  Three Kings Day is the day they open most of their presents; they even have a big parade in which the three kings ride into town and make their way down to Plaza Mayor.
Here are my top things to do and see in Madrid for Christmas 2015.
International Christmas Fair of Cultures
The cultural center on Conde Duque will celebrate the holidays from around the world, from 17 to 22 December, with the colors of diversity. It will be the celebration of the Christmas International Fair of Cultures. In collaboration with the embassies in Madrid of more than 40 countries around the world and foreign cultural institutes. Traditional dances of Christmas and Chinese New Year, Palestine or Israel, carols from Guatemala, Ecuador and Ukraine, with the festive cuisine of Argentina, Lebanon and Ireland. It will also have a special storytelling, from Japan, China, India, Africa, Latin America.
Light Festival
This year, the Madrid Río (river) is participating as a venue to celebrate Christmas. At 6pm on December 26, 27 and 28, a Luminous Gymkhana will be held, a synchronized activity in which the river area will be lit up creating a moving light show. It is an evening break in which design, culture, leisure and sport are united in the urban environment.
Address: Paseo de la Chopera, 6 y 10
White Bouncy Castle, by William Forsythe
For the first time this year at Madrid's Cibeles Palace, the American dancer and choreographer William Forsythe is coming to the Glass Gallery and bringing his White Bouncy Castle, where participants are the dancing stars. No spectators here, since the participants themselves create their own unique ways of dancing as they enjoy the weightlessness of bouncing. The bouncy castle has a sound piece composed specifically for the show, and a carefully crafted lighting system designed by the New York choreographer.
See the Christmas Lights
Hours of the Christmas lights in Madrid 2015: light are turned on daily at 6:00pm and are on until at least 10:00pm.Thursday to Saturday they are on until at least 11:00pm. On Christmas Eve until 3:00am and Midnight Christmas through New Years. Until 6:00am
Dec 26, Jan 1 & 6 until 12pm
Dec 31st from 6pm to 6am Jan 1st
Jan 5th 6pm to 3am
The Navibus: Christmas Lights City Bus Tour
One of the newer additions to Madrid's Christmas activities is the "Navibus" (Navi is for Navidad, which is Christmas in Spanish)  This bus takes you on a tour of all the Christmas lights throughout the city.  The bus departs and finishes at the same stop: on Calle Serrano, in front of number 30 between Goya and Jorge Juan (across from Plaza de Colon, Jardines del Descubrimiento). A bus leaves every 5 to 7 minutes; the tour lasts about 45 to 50 minutes and costs 2 euros per person. The route will take you through these areas: Serrano, Plaza Independencia, Calle Alcalá, Plaza Cibeles, Gran Vía, Plaza Callao, Jacometrezo, Plaza Santo Domingo, Calle San Bernardo, Calle Velazquez, Calle Ortega y Gasset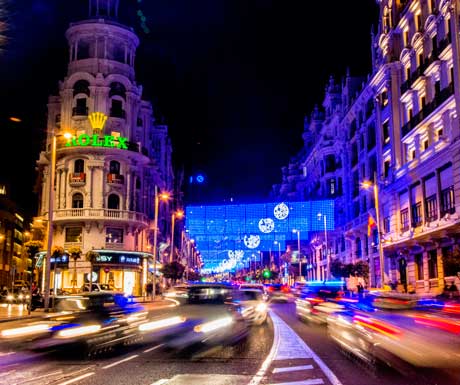 Christmas Markets
Plaza Mayor has the market that has been around the longest, but now you can find some kind of market in almost every plaza offering Christmas ornaments, lights, food, artisan products, crazy colored wigs and costumes for kids (I still do not quite understand why), jewelry, candles, and gifts. There are markets in Plaza España, Santo Domingo and this year there is a artesian food market in the Plaza de Opera.
Hot Chocolate and Churros
Churros and chocolate is always popular, but during Christmas it's one of those long running traditions.  The lines are always long but if you love chocolate, it's worth the wait!
San Ginés. Established in 1894 on Pasadizo de San Gines, no. 5
La Mallorquina: C/ Mayor, 2.
El Riojano: C/ Mayor, 10.
If you find yourself up on Plaza Castilla, there is a churros stand on the southeast corner of the rotunda that has great churros and chocolate. One of my favorites and no line.
Ice skating
Madrid has several temporary ice skating rinks around the city.  You can find them in Plaza la Luna. 5 € / per hour (Mon-Fri) y 7,5 € / an hour (Sat-Sun, Christmas Eve and New Years)
Cortylandia at El Corte Ingles
A traditional right of passage for every Spanish child is to visit the five story animatronic Christmas display at the department store El Corte Ingles on Calle Preciados.  I originally happened across it my first year by walking along a side street, hoping to avoid all the Christmas foot traffic near Callao.  Suddenly I found myself surrounded by hundreds of families with the small children anxiously awaiting the big show that happens every hour on the hour.
Christmas Display at El Corte Ingles: Calle Maestro Victoria
Monday to Friday: in the morning, 12, 13 and 14 hours, and by the afternoon,18.30 and 19.30 and 21 hours
Saturdays, Sundays and public holidays: in the morning, 12.30, 13.30 and 14.30hours, and by the afternoon, 17, 18, 19, 20 and 21 hours.
New Year's Eve
On 31 December in the afternoon, Madrid hosts the traditional San Silvestre Vallecana marathon, with an increasingly large number of participants and sponsors. The marathon starts in the financial district, on Calle Concha Espina, next to Paseo de la Castellana (tube: Santiago Bernabéu), going past some major tourist sights like Puerta de Alcalá gate, the Cibeles Fountain or Paseo del Arte (Art Walk). The finish line for pros is at the Vallecas football stadium, home to the Rayo Vallecano football team in the Vallecas district. Amateur racers finish in the vicinity of the stadium. It's an attractive course, the first 8 of the total 10 kilometres going slightly downhill.
Every year, on New Year's Eve, everyone comes together in Puerta del Sol to greet the New Year while eating grapes, one grape to each of the 12 midnight chimes from the Real Casa de Correos clock.
The origins of the 12 grape tradition are disputed but according to the most popular, in 1909, winegrowers in Levante had a surplus of grapes so the growers gave them to the population for free. They said those who ate the grapes on New Year's Eve would be prosperous the following year. Now more than a century later, people across Spain gobble down their dozen grapes, one for each of the coming months.
Three Kings Parade
On the Epiphany (6th January), Spanish children traditionally wake up to find the reward to their last year's behavior: presents for the well-behaved, charcoal for the naughty. These are left in their homes by the Three Wise Men from the East, who travel the streets of Madrid the day before in a spectacular parade. The parade begins at Plaza de San Juan de la Cruz at 6.30pm, going down Paseo de la Castellana to Plaza de Cibeles, where they deliver a message to all Spanish children at 8.45pm.
Ron Otto is Onwer of Best in Spain.
If you would like to be a guest blogger on A Luxury Travel Blog in order to raise your profile, please contact us.