It's fair to say that British tailoring is enjoying something of a renaissance. Since the first catwalk shows of the London Collections in 2012, British menswear brands have been wowing the fashion set and bespoke creations are once again the suit-du-jour. So, in the spirit of the season, we thought we'd pick out our 7 best suits to style your occasion like a modern British gentlemen. From classic thoroughbred designs of Savile Row to more contemporary bold alternatives, we've delved into this season's best British black tie…
In British tailoring terms, Savile Row is the royal mile of black tie attire, a street lined with a number of stalwart British brands that have been measuring-up the cream of society for centuries. Huntsman have been based here since 1849, crafting their bespoke high-quality suits for everyone from heads of state to Hollywood A-listers. This year however, we're particularly taken by the black notch lapel suit, complete with Huntsman's statement sharp shoulder and one-button fastening – it's ideal for making a sophisticated entrance at any black tie dinner party.
Another Savile Row icon, Gieves & Hawkes are often considered the ones responsible for establishing Savile Row as we know when they opened shop at No.1 back in 1913. Today, they remain a cornerstone of the British style scene and this handsome navy suit in an exploded Prince of Wales check wool is a more subdued but distinguished choice that can cross easily from day to evening.
If you're looking for something different to the black-suit-and-tie, there are plenty of alternatives out there for the cosmopolitan British gent. Richard James for example, a more recent addition to Savile Row's ranks, quickly set the bar for contemporary tailoring with his innovative designs. This season's Transandine Collection takes inspiration from the pioneering feat of British railway engineering in the mountain peaks of South America in the 19th century. With this number's gold-flecked earthy tones and rich texture, you can similarly cut a stylish path through the crowds at any party.
For those who really want to make an entrance, Tom Baker should be your go-to designer. The house style may be a classic London cut but the bold colours, vibrant textures and occasionally outlandish designs are a bit more British rock-n-roll. Every suit in the 2015-2016 Autumn/Winter collection reflects Baker's distinct personality but if it's a unique NYE look you're after, then the Blue Shimmer Jacket with black satin lining is sure to catch everyone's eye.
One of the most renowned of all British brands, we couldn't resist adding a Burberry number to our black tie round-up. The contemporary approach most high-end designers seem to be making when it comes to black tie is the slim-cut tux, and this mohair slim-fit Burberry version creates a stylish silhouette. Suave, sophisticated and expertly cut – it's embodies everything iconic about the brand and great British style.
If we had to define the style at Charlie Allen we'd go for quintessential British dapper. Relaxed and elegant, the soft-edged suits from this third-generation Savile Row tailor are for the men that put classic sophistication over making a statement. Made-to-measure with the finest British materials and attention to detail, every British dapper needs The Evening Suit in their wardrobe. A one-button contemporary dinner suit with peaked lapels and buttons covered in satin, it's a timeless choice for any formal do.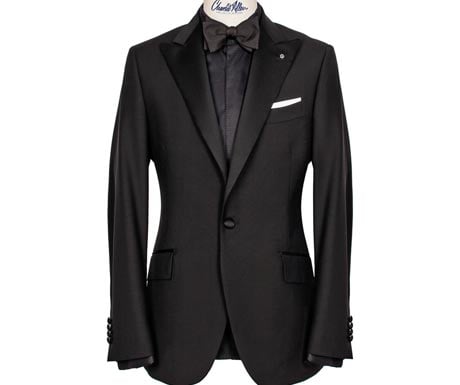 Of course, you don't always need a suit, or even a black tie in today's world. With fewer style rules restricting formal evening etiquette, if you're after something truly flamboyant then anything goes. Duchamp's Evening Edit range features a selection of velvet tux jackets that are just that and this gold paisley print reinvents the traditional tux in a show-stealing way but at the same time still manages to exude British gentleman chic.
Nicole Harley is Editor at The Epicurean.
If you would like to be a guest blogger on A Luxury Travel Blog in order to raise your profile, please contact us.