By
Hilary Stockton
on Dec 19, 2015 in
Accommodation
,
Air Travel
,
Attractions
,
Going Out
,
Hotels
,
Leisure Travel
,
New Zealand
,
Oceania
,
Regions
,
Speciality Travel
It's no wonder New Zealand forms the backdrop for The Lord of the Rings films–its dramatic, breathtaking scenery needs no special effects to look otherworldly. It's a long way from everywhere except Australia, Fiji and a few other places, but the trek is worth it. Here are five can't miss experiences when exploring New Zealand:
1. Flight to Milford Sound from Queenstown
Milford Sound is a beautiful fjord and a must-see, if you stay in Queenstown or Glenorchy, where Matakauri Lodge is a top luxury pick. Given the significant rainfall, try to visit in February, when on average there are about 13 rainy days per month, rather than the 18 on average in October.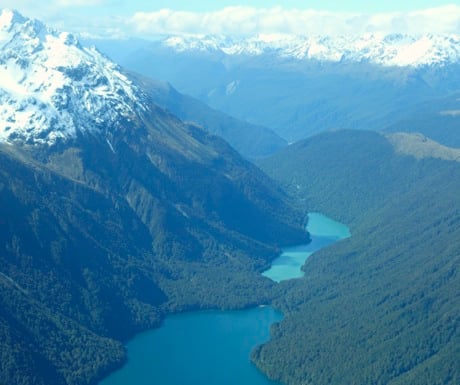 While Milford Sound cruises are heavily promoted and we did enjoy seeing the waterfalls and wildlife up close, the highlight for us was actually our flight to and from Milford Sound, as the aerial view of the fjord, glaciers and alpine scenery was spectacular.
We took a flight, but another option is to do a private scenic helicopter tour of Milford Sound that includes a glacier landing on Mt Tutoko glacier and nature walk, or combine the cruise with heli-touring and also land on a West Coast beach, by the Tasman Sea.
2. Otahuna Lodge, Christchurch
New Zealand offers a number of luxury lodges, with just a few rooms and suites and gourmet dinners and breakfasts included in the tariff. A truly exceptional lodge that should not be missed is Otahuna Lodge in Tai Tapu near Christchurch. The former estate of Sir Heaton Rhodes, it's registered on the New Zealand Historic Places Trust and has been painstakingly restored by lodge owners Miles Refo and Hall Cannon, with just seven suites, each with its own working fireplace and the comforts of custom linens, deep soaking tubs, and in season, fresh picked flowers from Otahuna's garden.
A true highlight at Otahuna is the cuisine, masterfully created by Chef Jimmy McIntyre and his team utilizing the bounty of Otahuna's organic gardens to supply most of the vegetables, fruits, herbs, and even prosciutto and pancetta from Otahuna's heritage breed pigs. Each course was expertly paired with a New Zealand wine, and our dinner at Otahuna was truly our best meal in New Zealand and one of our most memorable meals ever.
Don't miss a chance to wander Otahuna's gardens, which include a great lawn, Dutch Garden, the Potager Garden where vegetables and herbs are grown, the Daffodil Field, and woodlands as part of its 30 acres.
3. Wreck diving and reef diving, North Island
North Island offers some excellent wreck diving, specifically The Rainbow Warrior near the Cavalli Islands, and The Canterbury in the Bay of Islands. If you're not deep water certified, reef diving is also enjoyable in the Bay of Islands. As a fish reserve, the fish will happily come and feed on fresh sea urchin from your hand (the sea urchins aren't protected, as there's an overabundance of them). In addition to the fish, anemones and corals, highlights include giant eels, eagle rays, and the occasional penguin.
The perfect place to stay while going diving or sailing in the Bay of Islands is Eagles Nest, just outside Russell. Unlike other lodges or hotels, Eagles Nest comprises five stand-alone luxury villas, each with stunning ocean views, ranging in size from the  one bedroom First Light Temple, perfect for a honeymooning couple or a romantic getaway, to the three bedroom Eagle Spirt and The Eyrie villas, each with their own infinity pool and jacuzzi, up to the 4-bedroom Sacred Space and the presidential villa, Rahimoana.
Rahimoana is on 44 acres of headland, with its own helipad, a 25 meter infinity pool and jacuzzi, a path leading down to the private beach, spectacular panoramic views from inside and outside the villa, and its own gym and movie theater lounge. Use of a Porsche is included, as is a daily meal of choice prepared by a private chef, not to mention a wine cellar stocked with New Zealand wines and French Champagne.
5. Kayak or swim with dolphins
Hector's Dolphin is a unique species found only in New Zealand, and is the smallest dolphin, with adult dolphins only 4-5 feet in length. Your best chance to see them up close is to swim with them at Akaroa (Black Cat Cruises say that swimming with the dolphins which are wild, is possible on 83% of cruises), though you do need to be a strong swimmer and not too prone to sea sickness, or to go kayaking at Kaikoura and potentially see Hector's Dolphins there.
Have you enjoyed any of these experiences in New Zealand?
Hilary Stockton is the CEO at TravelSort.
If you would like to be a guest blogger on A Luxury Travel Blog in order to raise your profile, please contact us.