South Africa is laden with beautiful beaches, all of which have something unique to offer, from stunning views of Table Mountain to a wealth of water sports available. But which are the best beaches worth your consideration? We've put together a list of the top 10 beaches in South Africa to help you out.
Ballito
Dubbed the "Dolphin Coast", you are likely to spot dolphins frolicking along the coast when you visit Ballito Beach. The beach is also home to various surfing competitions; an experience always worth investigating. Of course, you can simply recline on the soft sand and drink in the sun.
McDougall's
Located in the Northern Cape Province, a region famous for its deserts and wildflowers, McDougall's beach is great for enthusiasts of water sports. Indulge in a spot of kayaking, scuba diving and windsurfing at this beach which also enjoys picturesque sceneries.
Blouberg
Blouberg beach has a view that won't fail to entice you time after time. Settle on the powder-soft sand and gaze out towards Table Mountain – what could be more picturesque than that? This beach is ideal if you fancy getting away from it all and relaxing.
Camps Bay
Perhaps one of the most notorious beaches in South Africa, Camps Bay is home to golden sands, blue waters and a brilliant nightlife. Spend the day soaking up the sun before heading down the strip, where a myriad of bars, clubs and restaurants await you.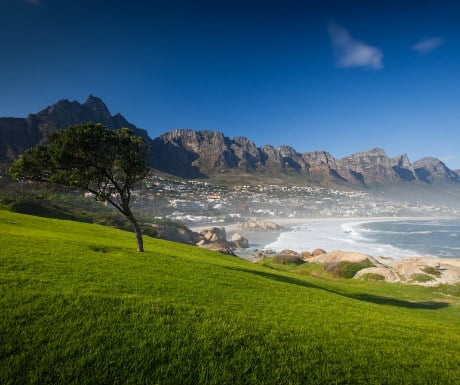 Boulders Beach
There is one feature that defines this beach: penguins! Years ago, a colony of penguins decided to make their new home on Boulders Beach, and that is where they've remained to this day. Located in the Cape Peninsula, you can see these birds in their natural environment.
Umhlanga Rocks
Umhlanga enjoys a relaxed atmosphere throughout the year, making Umhlanga Rocks the ideal place to visit for a soothing getaway. The beach also hosts a pier and boardwalk, and is located a stone's throw away from the decadent Oyster Box Hotel.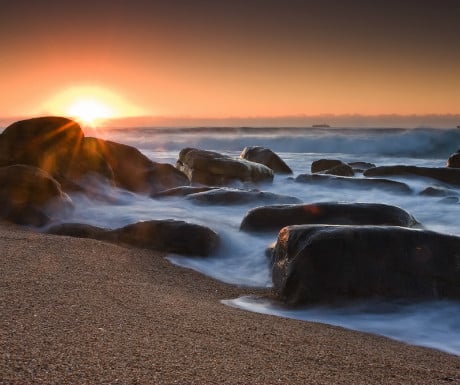 Cape Vidal
Featuring picturesque sceneries and a lively atmosphere, Cape Vidal is perfect no matter what time of the year. Lovers of water sports will savour the beach's low tide, whilst animal enthusiasts will treasure the opportunities to spot the rich marine life nearby.
Margate
Margate beach is ideal for both children and adults. The south side of the beach is generally livelier, appealing to the young ones, whilst the north side is quieter and usually frequented by adults. Either way, this beach is perfect no matter what your age.
Clifton
Clifton is a beautiful stretch of beach, filled with dramatic landscapes and the sound of waves crashing against the rocks. Whether you want to relax on the sand all day or explore the nearby Cape Town, the choice is yours.
Plettenberg Bay
Enjoying gorgeous views and dazzling blue waters, Plettenberg Bay is the perfect day out. Located in the Western Cape Province of South Africa, Plettenberg Bay boasts silky smooth sands that you'll love sunbathing on.
Image #3, #5, #7 and #8: Shutterstock
Matthew Coe is Online Marketing Manager for Wanderforth.
If you would like to be a guest blogger on A Luxury Travel Blog in order to raise your profile, please contact us.