Where better to spend Valentine's Day than the land of steaming hot springs, luxurious kaiseki cuisine, enchanting ryokan inns and exclusive skyscraper hotels? Whether you're after traditional charm and rural seclusion or Michelin-starred restaurants and cocktail bars – Japan has romance to suit all comers. Here are just a few of our favourite places to spend the big day:
Kinosaki Onsen
Hot spring bathing is more than a much-loved pastime in Japan – it's practically the national religion. Hot springs (known as onsen in Japanese) are so important that entire towns have grown up around them, and Japanese people will travel hundreds of kilometres just to visit a particular bath. Kinosaki Onsen is just one of these places, where the willow-lined riverside, lantern-lit bridges and traditional streets provide a romantic escape from the flashing neon and concrete edifices that have become so synonymous with modern Japan.
For the full experience, you must stay at one of the local ryokan inns, where you'll be given a traditional yukata bathrobe and wooden geta sandals so you can clip-clop your way between the town's seven bathhouses.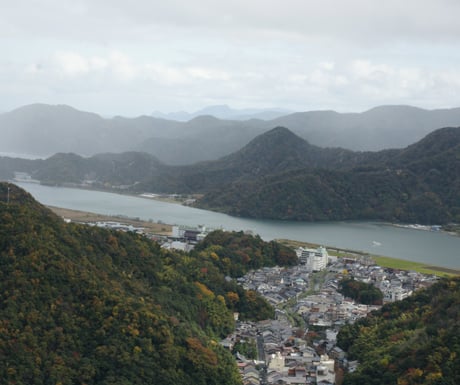 Kyoto
Kyoto is the gatekeeper of Japanese culture and history; the place in Japan where the coexistence of tradition and modernity is most apparent. It's no secret that this is one of the most fascinating destinations in Japan, and there are plenty of romantic ways to spend Valentine's Day in the old imperial capital.
You might like to visit Kiyomizu Temple, where couples walk blindfold between two "love stones" to determine their future fortunes – or perhaps take a rickshaw ride through the traditional streets of the Gion district. If you're a newlywed (or even a not-so-newlywed), why not renew your vows at a traditional Japanese wedding ceremony, complete with elaborate wedding kimono and a professional photoshoot?
Miyajima
Just across the bay from the more famous Hiroshima, Miyajima is a very different place to spend Valentine's Day – with traditional streets, thick forests, and a peaceful and enchanting atmosphere after the tourists go home at night. In our opinion this is one of the most romantic destinations in Japan, so grab a glass of Chablis, sit down to a plate of the local aphrodisiac – freshly caught oysters – and watch the sun go down over Itsukushima Shrine's floating torii gate: one of the most beautiful views in the country.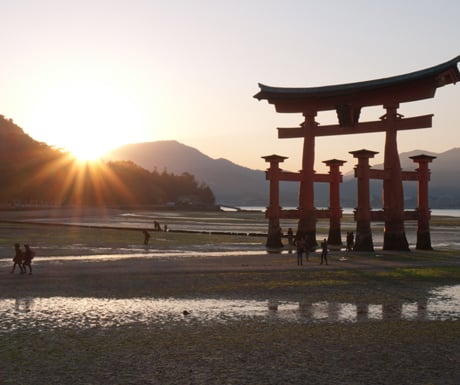 Yakushima
Sparsely populated and covered in primeval rainforest, Yakushima Island isn't what most people imagine when they think of Japan, but it's a captivating destination to spend Valentine's Day. Relax in a hot spring looking out over the sea, spot deer in the woods and monkeys swinging through the trees, and stay at secluded Japanese-style accommodation complete with outstanding cuisine. Yakushima has everything you need for a romantic getaway for two.
Tsumago
It may be a cliché, but in this case it's true: a visit to Tsumago really is like going back in time. In this beautiful former post town, the locals have worked together to keep back the modern world, maintaining their traditional buildings and a sense of old-world charm. There's not an awful lot to do here, but that's part of the draw – book yourself a night in one of the local inns, hole up together and enjoy the peace and tranquillity of the Kiso Valley and its surroundings.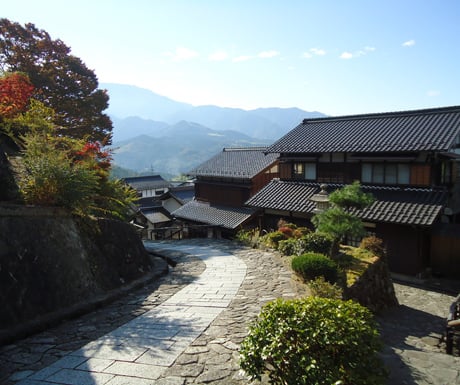 Tokyo
Yes, yes – everyone knows about Tokyo. It may not be off-the-beaten-track, it may not be unknown, but there are some ways in which Tokyo simply can't be beat. Spend the evening sipping cocktails at the top of one of the city's luxurious skyscraper hotels, looking out over the twinkling lights of one of the planet's largest cities, and we're sure you'll agree that this is a truly spectacular place to spend Valentine's Day.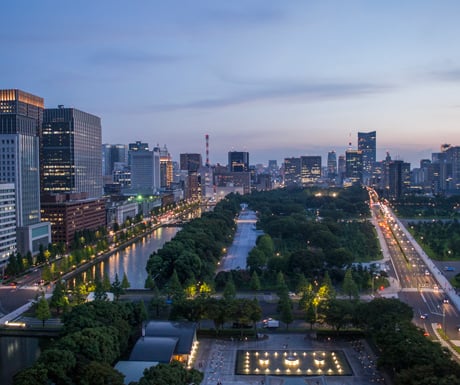 Alastair Donnelly is Director at InsideAsia Tours.
If you would like to be a guest blogger on A Luxury Travel Blog in order to raise your profile, please contact us.