The best place on Earth to watch whales
Majestic North Pacific Humpback Whales, or Kohola as they were known in ancient Hawaiian, begin their migration from Alaska to the Hawaiian Islands around September of each year. While the exact number of Humpback whales visiting Hawaii is unknown, it is estimated to be as high as 21,000. And while their main reason for coming to the islands is to mate and give birth in our warm tropical waters, many of these friendly and curious creatures choose to spend their visit off the coast of Maui due to its unique topography and lack of predators. In fact, the waters off of South Maui and West Maui are home to the largest populations of Humpback whales in the world.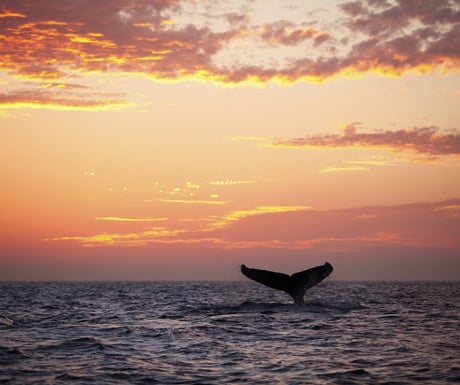 Maui whale watching facts
Maui County is comprised of four islands: Maui, Molokai, Lanai, and Kahoolawe. Their close proximity to one another creates a shallow basin that is about 300-feet in depth. Humpback whales prefer shallow waters and actually spend most of their lives in water that is 300-feet in depth or less. Humpback whales have few natural predators but among them are sharks and killer whales, which feed on sick, injured, or young humpbacks. There are few orcas in Hawaii, as they prefer colder waters. In fact it is estimated that there are only about 400 orcas in the entire Hawaiian archipelago. Did you know that Humpback whales fast while they are visiting Hawaii? That may be hard to believe, but it is true. There aren't very many bait fish in Hawaii because of the lack of phytoplankton, which Humpback whales feed upon. During their stay, which can be anywhere from 4 to 6 months, they live off of their blubber and can lose up to 25% of their weight.
The average water temperature of the water surrounding the Hawaiian Islands averages out to about 75 degrees Fahrenheit (roughly 23 degrees Celsius). Because of its moderately warm temperature Hawaiian waters are the perfect environment for Humpback whales to raise their newborn calves, which are born without the protective layer of blubber and need the warmth to survive. Maui is by far one of the best places to experience whale watching, from both land and sea. Whether you decide to whale watch from sun-drenched South Maui, balmy West Maui, or the tropical North Shore you are certain to have your breath taken away by these gorgeous mammals. If you go on a whale watching tour don't forget to bring your camera (charged up and with plenty of space on your SD card) because these social creatures love to mug for the camera.
Fun Humpback whale facts
The gestational period for Humpback whales is between 11 and 12 months. For the first 6 months of a Humpback calf's life it will gain about 100lbs (45kgs) a day. This is due to the fact that they live entirely off of their mother's milk, which is among the richest milk in the world at nearly 50% fat. Humpback whales have special blood that contain myohemoglobin, a substance that assists in holding oxygen in the blood then delivering it to wherever it is needed the most.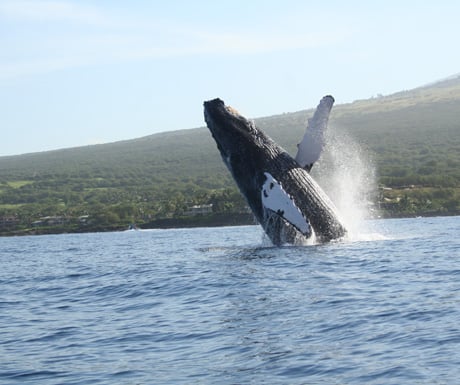 Whale watch boat tours are consistently a "must do" activity for visitors to Hawaii. Because there is such a demand to see North Pacific Humpback Whales up close there are many different types of boat tours available. You'll have to decide what type of boat tour you're interested in and where you'd like to leave from before you can embark on your Maui whale watching adventure.
Whale watching on Maui by sea
Many boats leaving from Maalaea Harbor will offer whale watching and snorkeling journeys. The whale watching only tours last a couple hours while the snorkeling tours are between 3-5 hours. Most Maui boat tours conveniently leave from Maalaea Harbor and they offer the most amenities of any on Maui. Whale watching on board Leilani while you enjoy Maui's famous sunset over dinner and cocktails is a must do. Maalaea is about a 30-minute drive from Lahaina and about 10 minutes from Kihei.
While many tours take place on yachts, some companies offer whale watching tours that utilize kayaks, outrigger canoes, and stand up paddle boards. All of these tours leave from both South Maui and West Maui, so once you've decided on a tour all that is left is to decide which side of Maui you want your adventure to occur on.
For those looking for a bit more adventure a raft might be more your speed. A Whale Watching Tour utilizes an agile raft that has an onboard hydrophone for you to listen to the Humpback whales as they communicate. Their groups are more intimate in size as they limit each tour to a maximum of 24 passengers; however, it should be noted that due to the daring nature of the tours it's not recommend their tours for pregnant women, people with back or neck problems, the elderly, and children under the age of 8. Kihei is about a 40 to 50-minute drive from Lahaina. The companies and tours listed above are just a sampling of the many different options available for a whale watching adventure on Maui. If you aren't comfortable with boat tours or simply prefer to stay on dry land, there are many spots where you can whale watch from land, ranging from your hotel room balcony to scenic lookouts. When you are whale watching from shore, be sure to look out for the plumes of water that seem to shoot out of the ocean. Those plumes are known as spouts, and Humpback whale spouts are typically tall and column-shaped.
Whale watching on Maui from land
Whale watch from your hotel or vacation rental balcony. Whether you're staying in South Maui or West Maui many hotels and vacation rentals are conveniently located on beachfront or waterfront properties. While you won't be able to see the whales up close, you have the perk of watching them from your private balcony. That takes the saying 'a room with a view' to a whole new level. Papawai Scenic Lookout in Lahaina is a popular location for whale watching from land. This lookout is a pull off from Honoapiilani Highway (Hawaii Route 30). It is a perfect location for watching the sun gently set into the horizon while you watch Humpback whales tail and pectoral slap or spout water as they surface for air. The flow of traffic through the Papawai Lookout is pretty steady, meaning that you do not have to worry about parking. If you're planning on enjoying sand and sun at one of Maui's beautiful beaches, why not get some whale watching done at the same time? While there are numerous beaches to choose from why not do it from those famous for being "America's Best Beach"? Kapalua Beach was the first beach to receive the honor of being named as "America's Best Beach" in 1991 and Kaanapali Beach, which is West Maui's signature beach, and was named "America's Best Beach" in 2003.
If you find yourself on Maui during the North Pacific Humpback Whale's migration, you must carpe diem (seize the day) and see these gentle giants in person, regardless of whether you choose to do it from land or by sea. Due to the nature of marine life each whale watching experience on Maui is truly one-of-a-kind.
Scott Turner is the CEO at Pride of Maui.
If you would like to be a guest blogger on A Luxury Travel Blog in order to raise your profile, please contact us.
Did you enjoy this article?
Receive similar content direct to your inbox.