In desperate need of a holiday but finding work time-restricting? Intrigued to explore a new city but uncertain of where to go? Well, you have found yourself in the right place so far! We're here to keep you on track with our top tips for the best winter city break in Canada. Whether you're a culture vulture or a foodie fanatic, you can find gorgeous new cities to explore in a short space of time…
Montreal
Considering Valentine's Day is coming up and love is in the air, it is time to reveal the best romantic winter getaway: Montreal! From traditional European styles to contemporary design, the eclectic mix of architecture paints Montreal as the perfect destination for sensational romance, creativity and culture. The city welcomes visitors from all parts of the world with its dual French–English mix, creating an atmosphere full of energy and dynamism. Vying to outshine Canada's favourite cities, Montreal never fails to impress.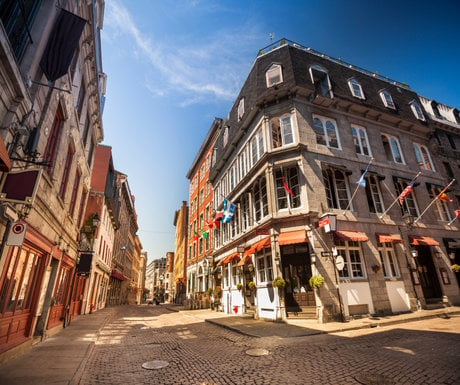 It boasts a wealth of heritage from the eighteenth-century façades found in the historic district of Old Town Montreal to the twentieth-century design of the Olympic stadium. It even features a tower that claims to be the tallest inclined structure in the world! If music is the food of love, play on. The vibrant city is bursting with musicians and performers located in the Plateau district. For a romantic stroll, head down the cobbled streets of the historic Old Town and get lost in its lively ambiance. The city's special urban setting is the perfect backdrop for the multitude of café's, food markets and charming restaurants. Cosy up under a thick fur rug and indulge in Montreal's delicacies such as foie gras poutine, pâté chinois and steamé, or treat yourself to the irresistible artisanal patisseries and boulangeries in the Mile End.
Vancouver
Visualise a city with epic skyscrapers, surrounded by a blue ocean and completed by an awe-inspiring mountain range beyond, and you've pictured Vancouver. The beauty of nature's colourful vista is complemented by the dynamic shapes that form the city. The whole aesthetic captures the eye of every visitor, making Vancouver an enchanting city to visit.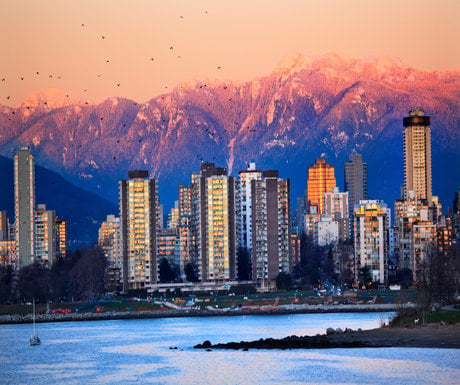 As Vancouver's luscious surroundings tempt the action packed explorer, the fresh powder atop the mountains provides skiers and snowboarders with perfect weather conditions. Indeed, Vancouver prides itself on being a perfect city for a winter break. Its array of activities offer the perfect combination of outdoor adventure ranging from snow sports to ice skating at Robson Square. With sport being at the heart of Vancouver, you cannot leave the city until you have cheered on an exhilarating, fist-pumping game at the Canucks Hockey Club.
Toronto
Renowned as the leading tourist destination in Canada, Toronto has expanded and evolved over the years to meet the expectations of every multicultural visitor. Toronto is certainly a city that engages with its guests and revitalises jaded travellers. Ascend to the top of the CN Tower to witness the panoramic view of Toronto, or keep both feet on the ground to admire vibrant fireworks as they light up the city on special occasions.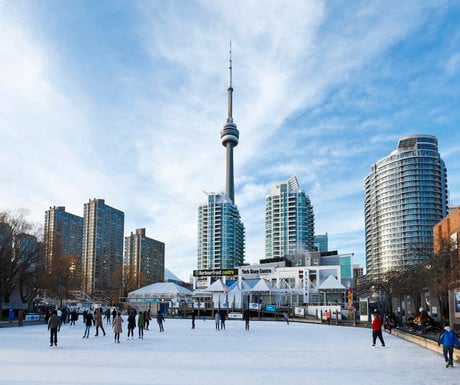 Of course, a winter holiday is the perfect excuse for some retail therapy and Toronto has it all, from vintage to designer clothing. Toronto's prominent shopping scene encompasses various outlets, from huge shopping malls to tiny boutiques, allowing you to go home with a whole new look! Head down to the Toronto Eaton Centre where you can buy practically anything imagined, or forage the Kensington market for vintage garments. Wrap up warm and head on a short journey out of the city to explore the best-loved attraction of Toronto: Niagara Falls! The magical setting of the falls is all the more awestriking and beautiful when covered with a glittering layer of frozen spray.
This month is all about escaping to a winter city. Whether it be Montreal, Vancouver or Toronto, you will be in for an incredible time. From fine dining to farmer's markets, skiing to ice-skating, or designer clothes to vintage shopping, these cities will never fail to enthral. Each city appears even more picturesque and magical with a sheen of frost and crisp, fresh air. So wrap up warm and get ready for your favourite break yet!
Kathryn Munro is Managing Director at Canadian Affair.
If you would like to be a guest blogger on A Luxury Travel Blog in order to raise your profile, please contact us.