The road to Hana is filled with mysteries. How long will it take to drive? Where should I stop? Should I go to Hana and back or do the full loop? The truth is there are as many ways to experience this road and they all depend on timing. The best way is to go is with a guide. With 617 hairpin turns and over 50 one lane bridges it's a huge relief not to be the one driving. Whether you drive yourself or take a tour everybody is going the same route. With a guide though you'll learn the history and culture of this ancient land along the way. You'll also get the benefit of local knowledge about things like where the best fruit stand or banana bread is because there are dozens of such places!
Here are some of the highlights of this road which has been voted time and again as one of the top 5 scenic drives in the world…
Hookipa Bay Lookout
Starting early on this road is the key to having a beautiful flow to your day. Start the day early enough and you'll arrive at Hookipa Bay in time to see this incredible panorama of waves, beach and mountains in the morning light. If at all possible have breakfast finished and plan your arrival here around 8am. It will set the pace for seeing all the incredible beauty that awaits just down the road…
Rainforest – Rainbow Eucalyptus
The winding and twist begins as you enter the rain forest. This happens just past Twin Falls fruit stand. You will see hoards of cars parked here but save this stop for another day. It can eat up an hour or more and the waterfalls ahead are much more impressive. Keep an eye out for the Painted Eucalyptus trees. They are worth a stop. Also slow down and relax because from now on you will be lucky to go 20mph so give up the need to pass. If you see a local behind you pull over…they are trying to get to work!
Kaumanahina Wayside
This is one of the first parks along the road to Hana with a stunning overlook of the jagged cliffs and coastline you'll be traveling all day. Also the first bathroom along this winding road are located here even though you may have been traveling for an hour or more. There's not a lot of bathrooms along the way which will become important to the ladies…trust me. The guides know where all the "good clean" bathrooms are.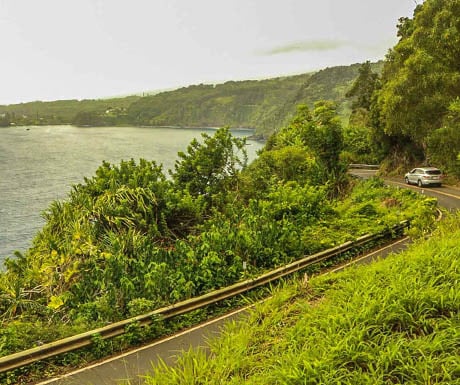 Honomanu Bay Overlook
This one is not marked but it has the iconic view of the road along the cliffs. It's on the far side of the bay just around the corner from Kaumanahina Wayside. FYI – Not all pull outs all this road are scenic. I've seen people park past a bridge and wander around looking for a trail or scenic lookout where there is none. Many of these pullouts are for letting traffic behind you pass… especially the locals! Show them some Aloha by pulling over and they may share some Aloha with you down the road!
Ke'anae Peninsula
This stunning peninsula is home to crashing waves, ancient history and some of the best banana bread on the island! It was and still is an important place in Hawaiian culture as a farming community that fed this whole side of the island in ancient times. The overlook is worth a photo stop too as the expanse of ocean and land is amazing!
Waianapanapa
One of the most popular stops along this road is this state park to see Hana's black sand beach. The park has well kept trails and plenty of info plaques and a few picnic tables. Stepping onto this beach is like stepping back into old Hawaii. It's easy to imagine how the ancient Hawaiian lifestyle flourished here in such stunning natural beauty.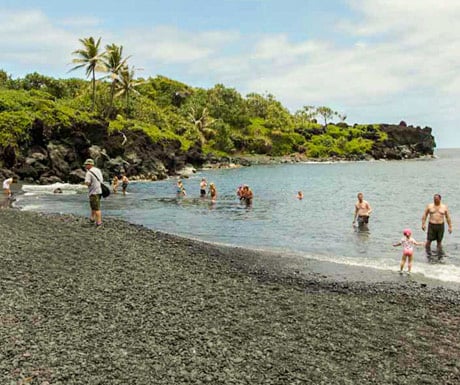 Hana Town & Bay
The town of Hana is a small community situated around a bay. There are pavilions, picnic tables and a snack shack. It may not look like much but this place is the scene of many ancient battles between Maui's chiefs and the Big Island of Hawaii rulers. The Hana Cultural Center is within walking distance of here and is filled with local history and artifacts and is worth a quick stop…when it's open.
Hotel Hana
Hana town is also home to Hotel Hana Travassa which is one of Hawaii's most beautiful boutique hotels. The local grocery store, Hasagawa's, is a treasure of rural Maui and filled with local favorites like poi and locally grown produce and coffees.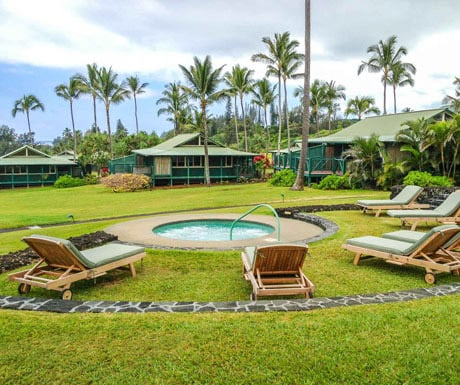 Hamoa
Located about 10 minutes outside Hana town is Maui's most highly ranked beach – Hamoa Beach. This area is also a peninsula like land mass with Hamoa beach on one side and Koki beach on the other. Parking is limited on the Hamoa side with a steep path to the beach. The swimming here can be fun but be careful if the waves are up. Koki beach is one of the more dangerous spots to swim and surf on this side as the rip current is strong. The scenery is stunning here with the small island of Alau just off shore.
Wailua Falls
The road gets narrower (if you can believe it) past Hana as it begins to wind through some of the most amazing rainforest along this road. Wailua Falls is one of the largest roadside waterfalls you will see out here with ample parking and a few local vendors offering handmade crafts and some outstanding varieties of banana bread. People do swim here but flash flooding is common. If the water is brown, don't go down! It means that flooding is happening farther up the mountain.
Pools of Oheo
This national park is often the goal of many who drive this road. It is a series of cascading waterfalls and pools leading to the ocean. The Pipiwai trail circles the pools from the ocean to the bridge. It then leads up the valley through a bamboo forest to a huge waterfall at the top. This is an hours long hike so if you are here late in the day be careful…it gets dark quickly in this dense rain forest!
Kaupo/Kahikinui
Continuing past the park the road gets even more sketchy. Pavement turns to dirt and but the hairpin turns keep coming. As you round the corner of the island here you'll begin to catch glimpses of the Big Island. Kaupo church sits on (again) a peninsula shaped outcropping of land with a gray rocky beach. The road to the church is 4×4 only so don't risk it if you're driving a car. Continue on because the next 20 plus miles is plenty of incredibly expansive vistas to stop and admire along the way. The road straightens out a bit the farther you go. If you're on a tour you may learn about the incredible history of this area as a landing and launching point for battles with rival chiefs from the Big Island. Archeological evidence suggests at one time it was the most populated part of Maui!
Upcountry Maui
From the dry barren slopes of Kaupo and Kahikinui the landscape changes to lush vegetation and finally the forests and pastures of Upcountry Maui. This is the major food growing region of Maui. Famous Maui sweet onions grow here as well as wine grapes. It is the perfect climate for growing the African Protea flowers that are shipped around the world from here. It is a truly magnificent landscape with sweeping views of Maui and the islands of Lana'i, Kahoolawe and Molokini Crater. Sunsets from up here are amazing! From here it's all downhill back to your condo or hotel, completing what for many is a 10 to 12 hour day.
Well there you have it. The road to Hana is a journey of a lifetime for many visitors as it is something not found on any of the other islands. It's unique geography has kept it much like it was centuries ago. There are many dangers out here though so keep in mind that rescues, injuries and even deaths occur along this road almost on a monthly basis. Taking a tour is your safest bet plus you will learn much about this aina (land) along the way with a guide. above all it is something you have to see! So no matter how you go… just go! It very well could be the highlight of your entire Hawaii vacation!
Scott Turner is the CEO at Pride of Maui.
If you would like to be a guest blogger on A Luxury Travel Blog in order to raise your profile, please contact us.