Budapest, the capital of Hungary, is definitely one of Europe's rising stars when it comes to quality destinations with a luxury feel. The city is one of the most beautiful capitals in Eastern Europe, featuring hundreds of thermal sources, includings the famous Gellerts Baths. The architecture of the city is also stunning, rich and diverse, recalling the country's diverse and long history, as well as its ties with both the western and the eastern culture and aesthetics. This town is not only a place where you will be able to admire some extremely beautiful sights, but it is also home to one of Europe's fastest growing fine dining movements. If you are looking to spend a great foodie week in the magical Hungarian city, you should definitely continue reading and make sure you don't miss our exciting suggestions!
1. Have a wonderful stay at the Corinthia Royal Hotel
The enchanting Corinthia Royal Hotel is a very well known institution in Budapest, because it is the true only historic hotel in history. This building is iconic and incredibly luxurious, as guests aren't only treated to the most comfortable rooms, but also to the most beautiful decor and interior design. Don't miss the amazing Art Deco Royal Spa, one of the finest places in town for a few hours of pure and unadulterated relaxation. The hotel is also a great place where to eat something truly unforgettable, as renowned chef Peter Bolyki and his enthusiastic crew will certainly great you to some tantalising modern Hungarian cuisine at the Atrium, the excellent restaurant of the hotel. The beautiful Corinthia Royal Hotel is also located in a truly premier location in the city, making it a very great choice if you are looking to have the main attractions within reach without making too much effort to travel around the city.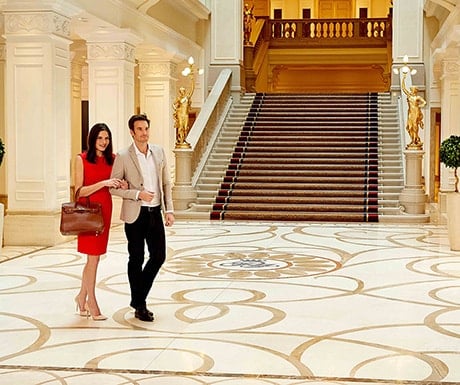 2. Enjoy some traditional Hungarian food at Gundel
Hungarian traditional cooking might not be well known throughout the world, but its incredible delicacies and refreshingly direct approach will definitely surprise you. Far from the flare of Italian cooking and from the sophistications of French cuisine, the local approach to great food is different: making the very best out of the freshest local ingredient, truly allowing to make every single meal shine for its beautiful execution. Restaurants such as the famous "Gundel" developed a great reputation in the city, not only for their excellent food, but for their mission: staying true to the creed and philosophy of Hungarian cuisine, while sharing these timeless food traditions with new generations of visitors and why not, locals alike.
3. Enjoy the finest pastries at Gerbeaud
Gerbeaud is not just a local pastry shop: it is one of the most famous coffee shops in the whole of Europe, as tourists and locals alike come visit this establishment on a daily basis in order to enjoy some fine beverage and great food within a very charming environment. Gerbeaud is immediately striking for its timeless old school decor: spacious high ceilings, lavish chandeliers hanging above the guests, as well as beautiful uniforms for the staff. You will feel like a character in an old movie, as you sample a scrumptious piece of cake or sip coffee from a beautifully decorated cup. If you stop by, make sure you try Gerbeaud's famous orange chocolate slices: exquisite, indulgent and beautifully presented.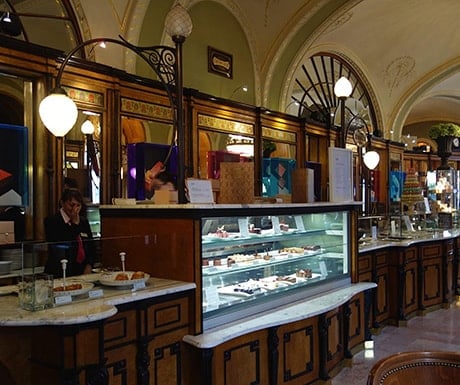 4. Have a romantic coffee date at Ruszwurm, The Sisi Pastry shop
If you are looking for a coffee shop that is excellent, beautiful and romantic, then the Ruszwurm is definitely your best bet. This place might be tiny, crammed into the heart of Budapest, but it sure enjoys a long and diverse history. This excellent pastry shop opened back in 1827, and it soon became a local favourite. It didn't take long before even expats became fascinated by the unique atmosphere in the place, and more importantly by its to-die-for slices of strudel, often hailed as the best in the city. The attention to detail, the quality baking processes and the patisserie mastery that you will find in every product sold at the Ruszwurm are nothing short of legendary: don't miss the unique poppy seeds strudel, Princess Sisi's favourite dessert!
5. Have a dinner at the marvellous Cafe Central
A foodie experience in Budapest would never be completed without experiencing a dinner at the charming Cafe Central. This place has been known for many generation as the cradle of the intellectual society and the artistic world of Budapest. As this place was notoriously always open (24/7) it attracted a crowd of journalists, writers, musicians, painters and famous actors who made the place incredibly interesting and diverse. Today, this former high society saloon is still the place to be if you are looking for excellent desserts, great coffee, as well as some earthy hungarian dishes made from the best local ingredients sourced expertly and with passion.
Olivier Templar-James is Chief Editor at Luxury Travelers Guide.
If you would like to be a guest blogger on A Luxury Travel Blog in order to raise your profile, please contact us.