When Peru travel comes to mind, you could be forgiven if a trip to Machu Picchu is at the forefront of your imagination. The reasons this breathtaking Incan citadel tops so many must see lists are numerous and varied, but whilst is most worth a visit, don't forget to take some time for the other great places that the Peru has to offer travellers. When it comes to luxury travel, getting off the beaten path is the best way to provide yourself with an experience to remember.
1. The Amazon
The Amazon is one of the last true unexplored paradises left on the planet. You'll find gigantic trees, thick forests and endless opportunities for adventure. You won't believe the sounds, either. There are howler monkeys, castanet frogs and a whole lot more. Attempting Peru travel through the Amazon may sound daunting for a luxury traveller, but there are many options available to explore the diversity of the rainforest in a comfortable manner. From the southern Amazon Basin in Puerto Maldonado you will find some great ecolodges such as Reserva Amazonica & Hacienda Concepcion by the sustainable Inkaterra brand. If gourmet dining, plush surroundings and an interactive experience are more your cup of tea, there are several boutique river cruises such as the Aqua or Delfin luxury expeditions you can choose from.
2. Colca Canyon
If you love spectacular scenery and wide, open spaces, Colca Canyon is somewhere you won't want to miss. Not all Peru travel enthusiasts make a visit to the canyon, but those who do find one of the deepest canyons on earth, which at its deepest point is nearly twice as deep as the Grand Canyon in the northern hemisphere. As well as stunning terraces and gorges, the area has plenty of culture from the indigenous people and the possibility of viewing the majestic South American land bird in flight, the Condor at the special vantage point, Condor Cross.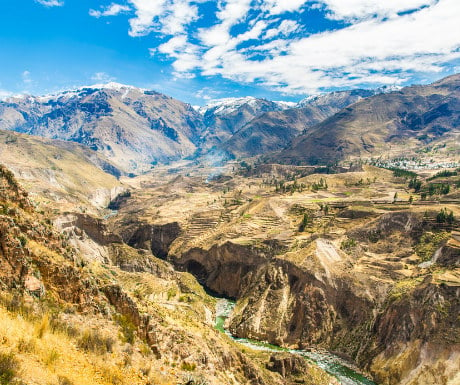 3. Lake Titicaca
Lake Titicaca is actually found and even acts as the border between southern Peru and neighbouring Bolivia. This lake is so special because at 3800 meters above sea level, it is one of the highest lakes on Earth. The Lake itself was viewed as a sacred location by the Incas, where in their culture, it was is considered to be the birthplace of the universe. Not only is the landscape here impressive, but you will find different cultures and traditions here such as that of the Uros, the villages that live on islands made of reeds. The best place to stay in Lake Titicaca is of course the premier Titilaka hotel for an exceptional and indulgent inclusive experience.
4. The Nazca Route
If you're a fan of ancient mysteries, you might have heard of the Nazca Lines, a series of gigantic geoglyphs carved into the Peruvian desert. These geoglyphs take various forms, including animals, supernatural beings and abstract designs. New research suggests that these lines, rather than being simply decorative, may have been used by groups making a pilgrimage to an ancient temple. The routes have quite a bit of interesting history, and are best observed on an overflight. Visitors to this region also spend an extra day or two exploring the Ballestas Islands wildlife Sanctuary (sometimes referred to as a mini Galapagos) and the gorgeous sand dunes of Huacachina.
5. Lima
If you are staying in another city in South America before heading to Peru, you may be even fly straight through Lima and onto Cuzco to start the trip to Machu Picchu. You should however make the effort to spend a few days to stay in Lima if you can spare the time. The capital city has undergone a resurgence of interest from travellers of late, fuelled by its neighbourhoods and gastronomic scene. Be sure to visit the Museo Larco to see a huge collection of pre-Columbian artworks. Or you could easily spend your entire visit eating! Lima is a foodie's paradise, offering plenty of traditional fare such as that made famous by the likes of Gaston Acurio and Vigilio Martinez as well as delicacies and influences from all around the world. The Bohemian district of Barranco is also worth a visit with its gorgeous art deco buildings, intriguing bars and art galleries or you can stay at the premier boutique hotel in the city, Hotel B.
Images: Shutterstock
Katherine Garces is Founder at Boutique South America.
If you would like to be a guest blogger on A Luxury Travel Blog in order to raise your profile, please contact us.