Los Cabos, Mexico might best be known for glorious beaches, hot nightlife, luxury resorts and shimmering views of the turquoise Sea of Cortez. While it's true that the ocean and beach are Cabo's primary draws for the millions of visitors who visit each year, the dramatic desert environment of Baja California Sur offers a unique setting to explore. Dry and arid throughout much of the year, annual rains brought by tropical storms can result in vibrant, green landscapes during wet months. Tucked amongst the rugged environment are local ranches, traditional villages and stunningly lush natural palm oases fed by springs. Among the most striking aspects of the desert scenery in Los Cabos are the soaring cardon cacti dotting the terrain. This cactus is the tallest species of cactus in the world, can live for hundreds of years and is an unforgettable sight for Baja visitors. If you'd like to venture away from the beach for a day-trip to see the desert backroads of Los Cabos, here are 5 great ways to explore:
1. ATV tour
If you want to really experience the desert while getting the adrenaline pumping, hop aboard an all-terrain vehicle for a guided off-road excursion to explore the stunning wilderness scenery. Many vendors offer local tours, but it's best to choose a reputable tour operator focused on safety as well as fun. Amigos Cabos Moto Rent is a recommended operator. Their excellent guided tours will take you through mountainous landscapes, along rugged dusty trails and through spectacular dry arroyos culminating at breathtaking Migriño Beach. Another great local tour operator, Rancho Carisuva gives you the opportunity to ride a 450 Honda ATV over trails through the desert to a breathtaking overlook with views of the Pacific Ocean. Accompanied by their friendly, professional guides, you'll catch glimpses along the way of the region's unique flora and fauna.
2. Outback and camel safari
Although you wouldn't expect to see camels in Baja Sur, a new variety of camel riding tours offer a one-of-a-kind way to take in the views of the desert ecosystem. These hardy animals are well-known as desert denizens in other parts of the world, so they adapt extremely well to the climate and environment of Los Cabos. The respected team of Cabo Adventures offers a great Outback & Camel Safari which combines an off-road tour aboard open-air 4×4 Unimog vehicles, a nature walk to learn about the local ecosystem and an unforgettable camel ride along the beach dunes. Along the way you may catch sight of caracaras (a spectacular regional bird of prey), vultures, foxes and deer – and maybe even a whale in the Pacific Ocean!
3. Mountain biking tour
If you're a biking enthusiast, you can't go wrong with the Mountain Biking Tour led by Cabo Adventures. Upon arriving at the ranch headquarters for the tour, you'll meet your guide and learn about the amazing flora and fauna of Baja. This area is rich in wildlife, including hawks, roadrunners, ospreys, quail and deer. You'll be outfitted with a bike, helmet, gloves and water before setting off on this memorable ride through the desert trails.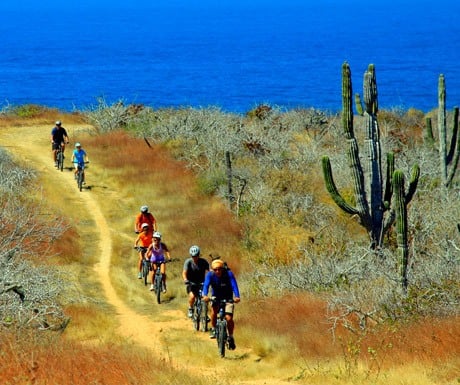 Julie Byrd is the Vice President of Sales for CaboVillas.com.
If you would like to be a guest blogger on A Luxury Travel Blog in order to raise your profile, please contact us.