By
Spencer Groves
on Aug 17, 2016 in
Africa
,
Asia
,
Florida
,
Indonesia
,
Malaysia
,
Maldives
,
Mauritius
,
Mexico
,
Middle East
,
North America
,
Oman
,
Regions
,
South Africa
,
Sri Lanka
,
Tanzania
,
United Arab Emirates
,
USA
When choosing a holiday, do you ever struggle to decide whether to embark on an action-packed adventure, or default to a lazy beach-based getaway? Go for a snappy city break, or relaxed romantic retreat? Or how about – both? Combine two, three or even four destinations for a once-in-a-lifetime holiday – there's nothing quite like it to satisfy all of your travel cravings. When you start thinking about multi-centre holidays, the possibilities are endless. We've selected 6 of our favourite multi-centre holiday combinations – where you'll be able to tick off a bunch of those 'bucket-list' experiences.
4 nights in Abu Dhabi and 10 nights in the Maldives
Cultural (and actual) capital of the UAE vs utopian desert island paradise.
Start in Abu Dhabi; visit some of the city's swanky new celebrity-architect designed museums and galleries (including the Louvre – due to open at the end of the year – and National Museum). Abu Dhabi is also a shopping hotspot; scour the souks and haggle for bargains, or seek out designer boutiques at Abu Dhabi Mall. Thrill seekers: ride the fastest rollercoaster in the world at Ferrari World Abu Dhabi.
A short 4.5 flight from Abu Dhabi to Male lands you in the Maldives; the perfect place to unwind and recuperate after a busy few days of sightseeing in Abu Dhabi.
In the Maldives, you have access to some of the planets' best snorkelling and dive locations. The region's  impossibly beautiful beaches and pure waters are unlike anywhere else in the world. Top that with swoon-worthy water villa accommodation at some of the finest 5* resorts on earth and you've got the perfect antidote to hectic urban living.
3 nights in Dubai and 7 nights in Sri Lanka
A luxurious playground vs Asia's best kept secret.
Admire the record-breaking architecture and audacious feats of human ingenuity in Dubai; shop till you drop at the world's biggest mall; stay on the world's biggest island shaped like a palm tree; snowboard down the world's first indoor black run at Ski Dubai; brave the world's largest waterslide at Atlantis' Aquaventure waterpark; remark on the view from the top of the world's tallest building; gaze wonderingly at the world's largest display of dancing fountains (trust us, this is more exciting than it sounds) and dine at some of the world's finest restaurants.
A quick plane ride (4.75 hours) takes you across the Indian Ocean to Sri Lanka.
In a complete contrast, Sri Lanka is unspoilt and un-crowded. Explore the lush rainforest interior and discover the dazzling beaches along the coast; uncover 2000+ years of culture at Sri Lanka's eight UNESCO heritage sites; enjoy an authentic fiery curry; go on a wildlife safari to spot elephants, primates, leopards and all manner of birdlife. It's less than 5 hours away, but a million miles from the excesses of Dubai.
3 nights on a South African safari plus 7 nights in Mauritius
Awe-inspiring animals vs vibrant island idyll.
There's no better place to see wildlife than on a safari in Africa. It's possible to see all of the 'big 5' in South Africa: lions, elephants, buffalos, leopards and rhinos. Kruger National Park has a range of luxury places to stay; choose a five-star private lodge for ultimate comfort, or experience tented accommodation if you're feeling more intrepid. Luxury tents contain proper beds and bathrooms – think 'glamping plus' rather than 'camping' (although if creepy crawlies give you the heebie-jeebies, you still might want to stick to bricks and mortar). Lots of other outdoor adventure activities are on offer in South Africa; zip-line tours, white-water rafting, hiking, mountain biking to name a few – and head to the coast for whale and dolphin watching.
Zip over to Mauritius, off the east coast of Africa (roughly 4 hours from Johannesburg airport) for a week of pampering.
With a host of upscale, luxury resorts and some amazing beaches to rival those found in the Maldives, Mauritius is an excellent place to soak up the sun. There's the chance to continue the animal spotting theme, with a dolphin watching boat trip, or explore the island's Jurassic Park-like scenery on quad bikes. Or simply spend the week teetering between the resort's spa and the beach – the choice is yours.
3 nights in Miami plus 7 nights in Cancun (Mexico)
Art-deco wonderland vs resort-based bliss.
Glamorous Miami is the party-capital of Florida – always on the look-out for a good time. With a plethora of bars and restaurants, a famed beach and colourful nightlife scene, Miami is a Mecca for bohos and arty types. Foodies rejoice; people from all over the world have made their home in Miami, meaning there's plenty of variety, with hundreds of decent eateries offering dishes from almost every nation. If you happen to be awake during daylight, don't miss the chance to get up close and personal with alligators in the everglades.
A quick 1.5 hour flight lands you in Cancun, Mexico – home to glitzy hotels and world-class sandy beaches.
Once in Cancun, you'll probably want to spend most of your time in resort – given the vast amount of facilities and entertainment on offer. Relax on the white sandy beaches; use up all your resort credit in the spa; make the most of the unbelievably turquoise waters by trying out a new watersport and dance the night away to salsa, R&B or disco in the hotel zone. If resort fever strikes, escape on an excursion to explore some ancient Mayan ruins.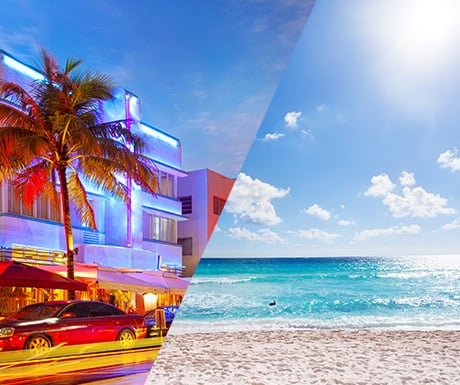 3 nights in Oman Muscat plus 7 nights in Zanzibar
Arabian adventures vs laid-back island vibes.
Muscat, the capital of Oman, with its amazing mountainous backdrop and low-rise traditional Arabian architecture, is a particularly picturesque part of the desert – and home to some great five-star resorts including The Chedi, Muscat.
Away from the hotel, there's lots to see. Shop for pashminas, leather and jewellery in the souks; marvel at the remarkably ornate Sultan Qaboos Grand Mosque, and stroll along the Corniche at sunset for breathtaking views. Aspiring photographers should take an excursion to the seemingly-endless desert for some incredible photo opportunities.
Fly south (6.5 hours) to Zanzibar, one of Africa's finest beach destinations, which works well as a relaxing end to your holiday.
Bordered by the Indian Ocean, Zanzibar's beaches are powdery soft, and stunning, bordered by palm trees. The island has a laid-back vibe, with a colourful history and a blend of African and Arabic culture. Water-based activities are big news; take a sunset boat cruise, learn to windsurf or explore the offshore coral reefs on a diving excursion.
3 nights in Kuala Lumpur and 7 nights in Borneo
Concrete jungle vs actual jungle.
Both these destinations are in Malaysia, but if you didn't already know that, you'd never guess. Although you're technically visiting one country on this twin centre holiday, the two sides of Malaysia offer radically different experiences (hardly surprising, given the large expanse of South China Sea that separates the two regions).
Kick off your holiday in the city of Kuala Lumpur. Renowned for its gleaming skyscrapers, lush parks and extensive eating options, it's a colourful place brimming with wonderful things to do, see, try and buy.
Whizz over to Borneo (a 2.5 hour flight away) to get in touch with your wild side.
Famously home to orangutans, Borneo has some of the most bio-diverse rainforests in the world. Grab your fedora and explore the jungle (a good guide is essential), or visit a local village to learn the ways of the region's indigenous peoples. There's a choice of five-star hotels to add an extra dimension to your holiday, like the excellent Shangri-La Rasa Ria.
These are just a few possible combinations. A recent study voted 'travel' as the UK's #1 aspiration; so which destinations and experiences are on your bucket list? Share your ideas in the comments below.
Spencer Groves is Commercial Director at letsgo2.
If you would like to be a guest blogger on A Luxury Travel Blog in order to raise your profile, please contact us.