Everything about the Amalfi Coast embodies la dolce vita: the stunning scenery at every twist in the road, the beautiful and passionate people, luxurious hotels, that turquoise coloured water, and endless sumptuous food. Let alone the history and culture that oozes from practically every marble stone. However we are not the only people to have cottoned onto these fabulous selling points of this stunning coastline. Therefore, depending on what you are after, it is important to time your visit. For example, if you want to get away from the crowds then September could be the perfect time for you. And the below 10 reasons really help to sell September's case. But if you want it in short, the weather is still splendid, water warm, all attractions and museums still open and prices are not peak prices anymore.
1. Climb Vesuvius
Climbing one of the 9 trails to the summit of Vesuvius will be less hectic, much cooler and mist free if you go in September. You will be rewarded with hiking through the beautiful UNESCO Biosphere Reserve and then fantastic views of Naples below once you get to the top.
2. Visit Pompeii
Obviously the incredibly popular Pompeii, ruined in AD79, will be freer from Summer holiday tourists allowing you more space to bask in the history and impressive preservation of ancient Italian life and culture. A top tip: the queues are quieter after 1pm.
3. Charter a private yacht
Many would say the best way to soak up the splendour of the Amalfi Coast is to charter a private yacht, enjoying a tailor made tour of the towns and secret coves whilst sipping on chilled Champagne and savouring an Amalfi style picnic (FYI Italian picnics blow all British picnics out the water, excuse the pun). The beauty and exclusivity of this sort of tour can feel much more intense if you are one of only a few boats making your way along the rugged coastline and stopping off at virtually private beaches.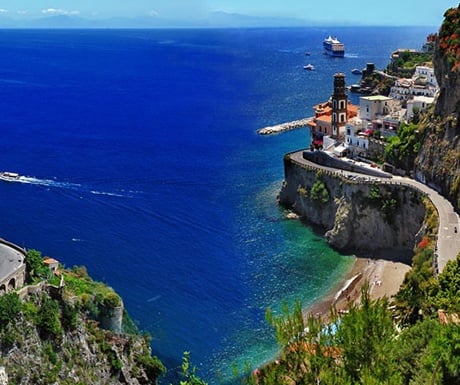 4. Take a walk
Tread the ancient mule tracks linking the coastal towns, Praiano to Positano, high above on the lofty mountaintops; also named the "Path of the Gods". The route is 10km town to town, amongst lemon groves, dusty olive trees and wild orchids. Again, the heat is less intense in the Autumn making this sort of physical activity more pleasant and enjoyable.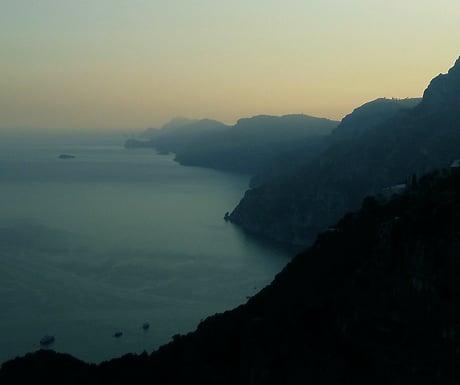 5. Fine dining
All these activities call for watering and sustenance; the Amalfi Coast is not short of Michelin stars and fine dining establishments. Booking can mean months in advance during peak season, so to allow flexibility and spontaneity, visiting in September will hopefully avoid the intense rush for the best spot on La Sponda's renowned balcony or Al Mare's private beach platform.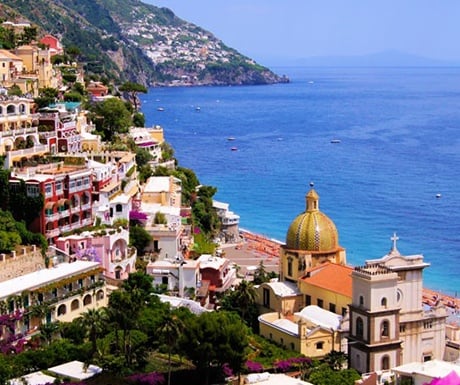 6. Enjoy the open road
The "road of a thousand bends", wrapping itself to the sheer cliffs with astonishing views of tumbling villages splashed with rainbow colours and serene azure water below can get congested during peak season. This can really slow you down, especially since some stretches of the road are only one car width wide. Clearer September roads allow you to scooter or drive the wending roads at your own pace with plenty of stops to enjoy the incredible views.
7. Guided tours
Guided tours of the towns, historical sites, art and culture along the coast are a fabulous way to learn a bit more about the rich & fascinating history of this corner of the world. Smaller group sizes are always a plus and you are more likely to have those statues and frescos in clear sight later on in the Summer.
8. Savour local producers
Local producers can have a bit more time to give you friendly, in depth descriptions and histories of their craft; whether it be tangy sweet limoncello, creamy smooth ricotta or fior di latte, all made in small workshops hidden away from the glitz and glamour of the beaten track.
9. Attend a classical music festival
Visiting in September will also mean being able to attend the world-renowned classical music festival in the beautiful, lofty town of Ravello. To really embrace it's other-worldly feel, stay the night in the town and let the mystical hazy views of sunset over the tranquil waters hypnotise you… with Campari in hand, relishing the Italian good life.
10. An aperitif, perhaps?
With all that you could have accomplished so far on your trip you will be in need of an Aperol aperitif (or three) to unwind. And in September you are usually in with a better chance of getting the best seats at the trendy bars with panoramic views. Why not try a Hugo Spritz at Franco's Bar in Positano or a Negroni at Hotel Santa Caterina's Bar La Terrazza – saluti!
Diana Cherry is Director of Operations at Oxford Private Travel.
If you would like to be a guest blogger on A Luxury Travel Blog in order to raise your profile, please contact us.