By
Julian Carter-Manning
on Sep 15, 2016 in
Accommodation
,
Adventure Travel
,
Africa
,
Botswana
,
Camping
,
Hotels
,
Kenya
,
Regions
,
South Africa
,
Speciality Travel
There are few more spectacular sights than the African night sky and sleeping outside under its blanket of millions of stars is a truly magical experience. The African bush has little light pollution, which makes star-gazing all the more spectacular – it seems that the African sky has several times more stars than the sky most people are used to! There is no noise pollution either, save the rustles and calls of nocturnal animals to connect you with nature and lull you into a peaceful sleep. Several safari properties offer this memorable experience, but increasingly the emphasis is on enjoying it in style and comfort – luxury treehouses, raised sleep-out decks, or star beds attached to your sumptuous suite. It makes a wonderful romantic addition to a honeymoon, or an unforgettable highlight of any safari.
Here are our top 5 picks of the most luxurious sleep-out experiences in Safari Africa:
1. Lion Sands Game Reserve, South Africa
There are actually three luxury treehouses at Lion Sands, each with double bed, full bathroom facilities, and stunning views over the vast African plains. All are elevated above ground and have a radio for you to communicate with the main lodge.
The original bush bedroom, the Chalkley Treehouse, is built in a leadwood tree on the original site where hunter Guy Aubrey Chalkley once set up his camp to escape roaming predators. The experience begins at sunset with a picnic and sundowner drinks overlooking the plains and their resident wildlife. The treehouse is lit entirely by twinkling hurricane lanterns for an incredibly romantic atmosphere.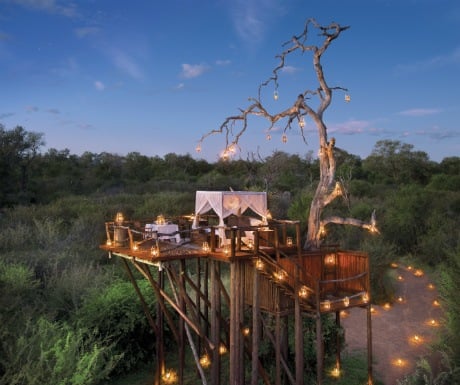 At Ivory Lodge, there is the stylish Kingston Treehouse. Constructed from wood and glass and featuring a palette of black, white, purple, and grey shades, this is a very sophisticated sleep-out option. It is designed to accommodate two people and features a four-poster bed, perfect for a little romance. Guests can even enjoy a champagne-and-tapas dinner come sunset.
If you are travelling with youngsters, we recommend the Tinyeleti Treehouse. This is situated on the banks of the scenic Sabie River and is sufficiently spacious to sleep two adults and two children. As the treehouse is open air, you will feel very close to nature throughout the night, listening to animals coming to quench their thirst at the river. As at the Chalkley, the Tinyeleti is lit by lanterns, which really enhances the experience.
2. Ol Donyo Lodge, Chyulu Hills, Kenya

Rather than enjoying a one-off night under the stars, at Ol Donyo Lodge you can sleep out for every single night of your stay if you so wish. Each of the luxurious suites has its own rooftop star-bed, which is accessed from the verandah, offering complete privacy and superb views over the main waterhole and beyond to Mount Kilimanjaro in the distance. The beauty of this arrangement is that all facilities are available in your suite just below – lounge, verandah, indoor and outdoor showers, double washbasins, toilet and bath… and your bed, should there be a sudden breeze or rain shower.
3. Loisaba Star Beds, Laikipia, Kenya
The two star beds at Loisaba, called Kiboko and Koija, are designed for a maximum of four people each, so they are well suited to families. The Kiboko is just 20 minutes from the main lodge and has a beautiful setting amidst a rock kopje with views of a waterhole. The Koija is half an hour from the lodge and is cantilevered above the rushing waters of the Ewaso N'giro River. Both star beds consist of a handmade wooden platform, covered in part by a thatched roof. You can opt to sleep beneath the roof or to roll your bed into the area of the platform that is open to the night sky. The accommodation includes an en-suite bathroom with shower. You will be looked after by Maasai warriors from Laikipia and Samburu, who will cook for you in a traditional kitchen. Loisaba is an excellent option for adventurous souls.
4. The Malori Sleep-Out Deck, Tswalu Kalahari, South Africa
Comprising 100,000 hectares of semi-arid grassland and open savannah, Tswalu Kalahari is South Africa's largest private game reserve. The word 'Malori' means 'dreamer' in Tswana and a stay here is a truly dreamy experience. The raised deck includes a king-size bed made up with Aldoni linens and the option of camp beds for children. There is a couch too, as well as a table and chairs. A thatch overhang and blinds offer shelter from the elements if required, and a lighted walkway leads to a comfortable WC and shower room. Towelling robes and slippers add a little luxury to your stay. Come sunset, it's time to sink sundowners while your guide prepares a tantalising bush meal. The views from Malori are panoramic, stretching across miles upon miles of rippling plains.


5. Abu Camp, Okavango Delta, Botswana
Abu Camp is famous for its herd of habituated elephants, who you can accompany through the bush on rides and walks. For the complete elephant experience, you can also sleep-over with these gentle giants, on a large raised star bed that overlooks the elephant boma. What more relaxing lullaby than their low rumblings and snores to lull you to sleep? The sleeping deck is also equipped with a bathroom and open shower on the lower level, for complete comfort away from your room. This is a truly unique experience – luxury, stars and elephants to boot!
Julian Carter-Manning is a Co-founder and MD at Yellow Zebra Safaris.
If you would like to be a guest blogger on A Luxury Travel Blog in order to raise your profile, please contact us.