Part of the pleasure of modern travel is that it can be arranged at short notice to take advantage of any opportunity. If you are ready for a short Autumn break with a theme then why not take the excuse that is Halloween and head to Transylvania, fictional home of Count Dracula and very much a Gothic Delight.
How
If you are short and time and want to avoid Bucharest, and the additional nights that would entail, then the best portal into Transylvania is Cluj Napoca Airport. This connects with a number of European cities including options in the UK and Eire. If you like to keep things simple then you could arrange a tour through a local operator. Otherwise, review the local operators' programs and then book the services you prefer directly.
Route
The sites listed here all sit on a simple loop heading first south and east to Brasov before turning north to Baia Mare via Bistrita. This will be your base for excursion to Sapanta and Ieud if you so choose. It would take a week to enjoy the whole loop but you could easily plan a shorter break and focus on just the north or the south.
Bran Castle
Often mistakenly identified as Dracula's Castle, Bran has enough visual and historical interest to be a major attraction for any visitor. The stronghold dates back to the 14th Century and was originally intended to provide protection for passing commerce. In 1920, Queen Mary, the niece of Queen Victoria of Great Britain, turned the castle into a beautiful summer residence. It is said that her heart was enshrined in a mountain nearby.
If you choose this option then plan on having lunch here as the local cheeses are renowned. The Peasant Citadel at Rasnov makes for an additional attraction on your way to Brasov if time permits.
Brasov
Brasov is a medieval Saxon city set amongst an almost complete ring of pretty mountains. The preservation here is incredible generating an atmosphere which will send you back hundreds of years. Ideal for the romantic and photographers alike.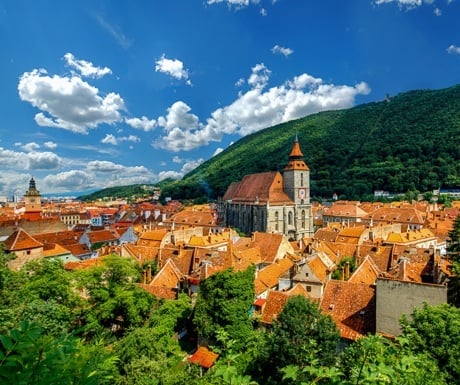 The most famous landmark of Brasov, the Black Church, is the largest Gothic edifice in southern Europe and dates back to 14th century. It was renamed after the great fire of 1689, a result of the Turkish Wars, that charred its walls.
Nature lovers might be tempted to take a Bear-watching Experience from Brasov; an opportunity to see brown bears in the wild.
Sighisoara
Established as a frontier town with the aid of Saxon warriors and artisans, Sighisoara features here because Vlad the Impaler (apparently the inspiration for the character Count Dracula) was exiled here – as well as for its well-deserved UNESCO listing. It will be worth planning at least two nights here so as to have time to wander the medieval streets and soak up the best of a bygone age.
Dracula Castle
There is now a 'Dracula Castle' hotel at Borgo Pass, the exact location given in the book. A stay here could well be the highlight of your trip with plenty of themed activities to delight guests. One night will probably be sufficient, especially for the nervous. After checking in you will be invited to meet the Count. Beware – this is reportedly a secret and very scary event.
The 'Merry Cemetery', Sapanta
You could continue the Living Dead theme with a visit to Sapanta up on the Ukrainian border. In the cemetery the gravestones are noted for their colourful decoration; scenes that reflect some aspect from the lifetime of the deceased. Many of these are accompanied by simple but ironic lyrics. Try to arrange a translator so as to be able to really get a handle on local wit and, perhaps, find out how this custom developed here.
Ian Ford is Operations Manager at Photo Tours Abroad.
If you would like to be a guest blogger on A Luxury Travel Blog in order to raise your profile, please contact us.