I've come across some wonderful interiors in my time, indeed part of my remit is to find luxurious chalets for discerning guests, so I'm always ready to be blown away when I enter a ski chalet. Some are absolute wolves in sheep's clothing and you could never guess on entering what wonders you are about to behold.
The thing about most Alpine ski chalets is that the exteriors are invariably constructed mostly from timber, sometimes with a few sections of local stone, for good measure. I can pull up to a grand looking place and it's almost always impossible to guess at the direction the designers took when dressing the interiors.
Another thing that always surprises me is the spaciousness of the interiors, sure the chalets can look grand and impressive from the outside but it's always a 'Tardis' moment for me when I actually get inside. I guess it's something to do with the generous glazing, the sometimes huge floor to ceiling windows and the way the light seems to flood in.
So, with all that in mind, what a surprise it was when I was invited to look over the most expensive chalet in the Alps, located in Verbier, currently on the market for a whopping CHF55mm (£36mm). What I wasn't expecting was turn of the century French & Italian decor and furnishings, that's a new one on me. It's aristocratic in feel and if royalty owned a ski chalet in the Alps it would most probably look like this. It's more like a mansion than a chalet, it's positively palatial. Set out over five floors the total area is 3000 m2, that's hard to visualise but trust me, this place is huge.
This chalet really is the proverbial Wolf. I baulk at actually calling it a chalet, it seems wrong. 'Chalet' just doesn't do it justice and yet there it is, the exterior is wood clad just like a thousand other alpine residencies. From the inside looking out you would expect the exterior to be built from the finest Portland stone, the stuff that Christopher Wren used to construct St Paul's cathedral and with which William Talman used to fashion Buckingham Palace. Yes, it's some mismatch but to be fair a five story build in Portland stone would have the Swiss burghers choking on their Toblerone, so wood clad it is.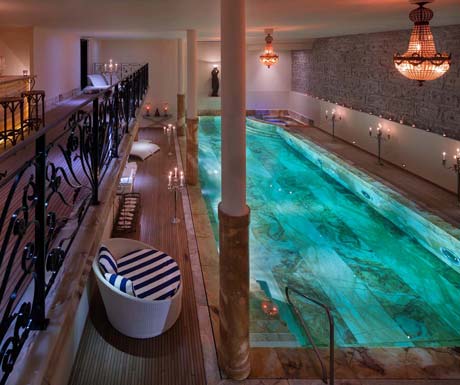 It has to be said that the interior isn't to everyones taste and can come across as quite ostentatious but you can't fault the ambition. It's a one off. Take the 15m Onyx swimming pool for instance. I've never come across it's like before in any chalet I've ever visited. It's arguably the largest indoor pool in Verbier and almost big enough to hold Olympic events, I jest, but it's impressive. I don't know who the major influences were for the original interior designers but they were thinking outside the box as far as Swiss alpine decor is concerned.
Did they pull it off? Well yes and no. They achieved their overarching ambition to produce a regal European residence, no question and as for facilities, I exaggerate not when I say I've been to Swiss villages with less to offer. There's a nightclub, a hairdressers, the aforementioned indoor pool, a study with extensive library, a bar, a gym, a cinema, a bingo hall . . . no, not really a bingo hall, just making sure you're paying attention.
The chalet is advertised as sleeping 18, you could probably accommodate twice the number. When you factor in the stunning views and the fact that it's situated in one of the world's foremost ski resorts, it's got a hell of a lot going for it. So if you happen to have £36m down the back of the sofa and a yen to live like the aristocracy in your own private hotel, go for it.
Rebecca Taylor is Director at SkiBoutique.
If you would like to be a guest blogger on A Luxury Travel Blog in order to raise your profile, please contact us.