I am not a big fan of generic luxury hotels. I rarely travel for the sake of a hotel but some are an exception. If a property genuinely speaks to the region, says something about where it is and is an interactive place to be then I'll travel to experience it. In short: it's when it has a local character of its own. Luxury is not a pre-requisite, though it's certainly not a disqualification: it could be outstanding local food, interesting architecture, wonderful hosts, delightful staff, an extraordinary location or a combination of all the above and more.
This is not an exhaustive list and it's highly subjective but these places are all outstanding examples of the sort of hotels that add to the experience of a journey, rather than (just) providing an indulgence or some pampering along the way. I've included very different types of hotels, to show that character is distinct from size or style.
Ahilya Fort, Maheshwar, India
There are a great many converted fort hotels in India, ranging from the sublime (the Umaid Bhawan Palace in Jodpur) to the ridiculous (too many to mention, great fun, but more 'Fawlty Towers' than Oberoi). They often have magnificent locations, as they were built to give the local nobilities a commanding view and presence in the surrounding region: all the better to control their subjects and tax passing traders. They also wanted to entertain visitors in magnificent style and that tradition continues to this day. Some hotels have it all and Ahilya Fort is one of them: glorious location? Check. Off-the-beaten-track? Check. Owned and managed by a noble family with a glorious sense of traditional hospitality? Check and check. It's also a superb hotel in the conventional sense: comfortable, stylish without being ostentatious and you'll find great food and drink. Glorious and well worth the somewhat arduous journey to get to the very heart of Madhya Pradesh.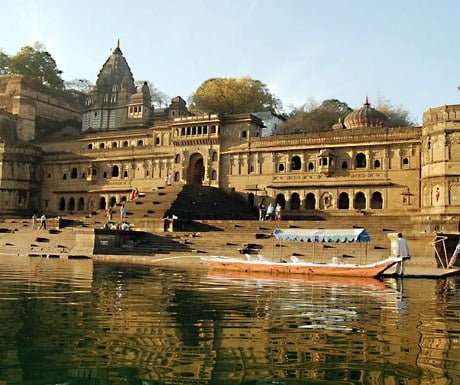 The Mudhouse, Anamaduwa, Sri Lanka
I must first declare a bias: the co-owners are old friends of mine, and one, in fact, is my business partner at Experience Travel Group. That said, I mentioned this was a subjective list and to me, The Mudhouse more than justifies its place. I could rhapsodise about the peace that comes dropping slow besides the private lake but I shall limit myself to just one reason the Mudhouse is so special: There is a highly unusual open all access policy here. Guests are allowed, in fact, encouraged, to wander at will around the very large grounds and can go 'backstage' at any time and see how it all works. As a guest you feel part of this extraordinary project to operate a living beating eco-system not just for the benefit of the guests – but including them.
Sofitel Legend Metropole, Vietnam
In complete contrast, some grand traditional city hotels just feel right, and the Metropole is one of them. Located just on the edge of the labyrinth of lanes and alleys which make up the old city, the Sofitel is the grand old lady of Vietnam, evoking a lost era of Indochinese society but long since adapted by the proud and subtle Hanoians and still setting the standard for understated grandeur. You're right in the heart of the action, yet inside is an oasis of peace and with a pianist playing Rachmaninoff, you'll find yourself transported, willing or not, inexorably back to the 1920's and the French Indochinese era.
Ariyasom Villa, Thailand
What do you get if you cross a grand old aristocratic Bangkok family and a long-standing Four Seasons General Manager? Ariyasom Villa would seem to be the answer. Highly unusual in being a genuine 'boutique' hotel in the heart of Bangkok, Ariyasom is a beautifully personable hotel in a town of huge, impersonal high rise monsters. The owners will point you in the direction of Bangkok's best food and drink and pass the time of day with you and you're guaranteed comfortable and stylish surroundings.
And the best part? The restaurant "Na Aroon" is mind-bogglingly good. Generally I'd never advocate eating in a Bangkok hotel restaurant. Get out and eat on the street – it's where all the best food is I'd cry. But I'll make one exception for Ariyasom. Eat here whether you stay or not – the vegetarian cuisine is unusual (in the extreme) for classical Thai cooking and is superb.
Jeeva Beloam, Indonesia
When I first went travelling in Asia, 21 years ago, as a fresh faced 19 year old, I got stuck for weeks on a little stretch of Koh Phangan in Thailand. Myself and every other backpacker at the time. We stayed in simple beach huts, with great food, a few hours of electricity each evening, the jungle at our backdrop and an incredible beach up front, almost completely undisturbed by the horrible motor boats which are such a noisy blight on many Thai beaches these days.
To cut a long story short, I've always looked to recapture this experience and now older – with less time, higher standards and the need for basic comforts (those beach huts were very basic and very sweaty…) I've struggled to find it.
Until I discovered Jeeva Beloam in a remote corner of Lombok. Simple but stylish beautiful ventilated beach huts, an empty turquoise sea at the front, jungle at the back and a laid back social atmosphere and brilliant, friendly staff.
Oh yes…
Sam Clark is CEO at Experience Travel Group.
If you would like to be a guest blogger on A Luxury Travel Blog in order to raise your profile, please contact us.