Top 5 shock city secrets!
You can never know a truly great city, as the world's finest metropolises are ever-morphing, ever-changing enigmas, unable to be captured in one moment in time. That is exactly what makes them great – they're unexpected, unpredictable, and entirely fascinating. Here are 5 secret tips that will help you uncover the best of your favourite cities. 1). Little Venice, London Revered English author Samuel Johnson said that when "a man is tired of London, he is tired of life; for there is in London all that life can afford." No words could be truer today. For centuries, the British capital has been the heart of the
UK
, of Europe, and of the world. So why is it that when you think of a trip to London, quaint waterways never come to mind? The city does, however, boast an impressive range of beautiful canal-side walks from Stratford to the picture perfect Little Venice. West London's answer to Italy's waterside city offers a tranquil walk through some of London's most elaborate barges, with views of the London Zoo, some of the city's most desirable streets and plenty of cafes to sit down and enjoy the view.
2. Brooklyn Night Bazaar, New York Brooklyn is New York's hippest borough, so it'd be a shame to not experience the living, breathing epitome of New York cool. The Brooklyn Night Bazaar is open Fridays and Saturdays from 7pm – 2am, and offers an unrivalled selection of fun from food, drinks, markets, games and live music. Housed in a former Polish catering hall, the bazaar offers a 400-capacity music venue and over 50 vendors selling anything and everything, as well as a permanent restaurant offering tasty Southern treats. On top of this, you can opt for a more active night by making use of the city's first (and only!) entertainment complex that merges ping pong, mini golf, arcade games and karaoke. There's no cover charge, and there is hours of fun to be had!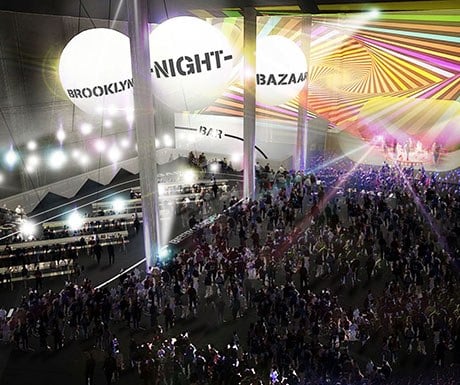 3. Caveau des Oubliettes, Paris Paris is famous for many things, but its top notch jazz clubs aren't always on the "must-see" list of all those visiting. It's true that the opulence of Paris is nowhere to be seen in underground jazz venue Caveau des Oubliettes, but rather an authentic slice of the lively Parisian music scene. The space resembles a cave, which provides stellar acoustics for the intimate live performances. Watch on as seasoned pros jam to jazz and locals sit demurely watching, sipping on wine. What this revered jazz club lacks in décor it makes up for in quality of music – it's been going strong for generations, with Orson Welles and Jean Sartre among past patrons.
4. Trattoria Etruria 39, Rome Of Italy's gifts to the world, none are as evident as the cuisine. From plates of pasta to the perfect pizza, Italy's cuisine is arguably the world's favourite and it only gets better once you step foot in the country. Here, food isn't just something to fill you up – it's an expression of love from the locals, and everyone is invited to the romance. But finding a traditionally run Roman kitchen can be tough, which is why you have to head straight to Trattoria Etruria 39. You'll appreciate the chequer tablecloths covered in paper placemats, the loud hustle and bustle of Italians clinking glasses and enjoying the perfect pasta and laughter from the kitchen as this family-run restaurant makes some of the best food in the city. Like most authentic Roman restaurants, the menu changes daily based on seasonality but, if available, the carbonara is to die for.
5. Spectacular Sunrise, Bangkok Feel the energy of Thailand's capital city by diving head first into its renowned cuisine, taking on its energetic street life and exploring its wild party scene. Welcome to the city that doesn't dare to blink. Or does it? While this city is famed for its undying vibrancy, there's nothing better than embracing the early morning serenity of sunrise at Lumpini Park. Watch the skies turn pink over the city as you perch yourself in the gloriously lush city park, and lookout for the locals – a friendly group of birds, turtles and lizards will join you for this magically mellow moment in a city known for its non-stop buzz.
Filip Boyen is Chief Executive Officer of Small Luxury Hotels of the World.
If you would like to be a guest blogger on A Luxury Travel Blog in order to raise your profile, please contact us.
Did you enjoy this article?
Receive similar content direct to your inbox.