The Three Valleys in Meribel France is the largest connected ski area in the world. As such the expansive mountain range that is the Alps, arguably has some of the very best in skiing and snowboarding runs in Europe. The Meribel Valley is the central valley and attracts visitors of all ages due to the varying levels of runs. It's particularly well known for the sporting events it hosts and in 2015 Meribel saw the finals of the Alpine Ski World Cup.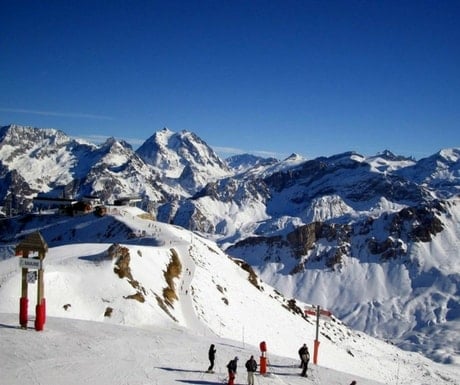 1. The Three Valleys is seeing the best early snowfall in living memory
Part of the world-famous Three Valleys ski area, Meribel has recently been powder-coated with some fortuitous preseason snow, giving the resort a base of snow that will be there for weeks and weeks to come. There hasn't been such a big and early snowfall in the past few years, which makes us very excited indeed.
If you are lucky enough to be arriving pre-Christmas, you can be quite positive about the Ski conditions. The slopes will be meticulously maintained and skiers and snowboarders alike should be in their element.
2. Christmas & New Year in Meribel is awesome!
Festive cheer is the order of the day in the Three Valleys. Don't be surprised to find skiing Santas and the odd Santa's Little Helper on the slopes, dressed in full red suits that seem to get more extravagant each year. We love Christmas in Meribel and in our opinion there is no better way to enjoy the festive period.
Every year the resort is transformed, making Christmas in Meribel a spectacular and magical affair that will be engrained in your memories forever. The typical stress associated with Christmas at home can for this year at least be taken away, as you are taken care of by your very own chalet host and chef. They take the worry and stress out of the preparation, cooking, and best of all the cleaning. You only need to worry about how you want to enjoy your Christmas break.
3. Treat yourself! It's a holiday you won't forget…
The catered chalets in Meribel are a mix of traditional, contemporary and luxurious. Taking into account the levels of snowfall over the past couple of weeks, makes for an interesting proposition regardless of your experience or ability.
4. A stress-free Christmas is the best type of Christmas
Imagine Christmas morning, a fresh coating of snow from Christmas Eve and the day ahead free from the usual Christmas Day stress. The realisation that none of that exists, shortly followed by a lovingly prepped breakfast and pre-lunch ski on the well maintained slopes should moisten your appetite for a winter holiday in Meribel.
5. Celebrate twice: from Russia with Christmas love
The firework displays in Meribel at New Year are spectacular and can be seen from pretty much everywhere in the resort. La Chaudanne's New Year's Eve party has been known to go way into New Year's Day and the 2015/16 party was no exception.
A huge open air disco took place and some were left partying the night away while others took the opportunity to get an early (ish) night to take advantage of the quiet slopes on New Year's Day. If you are looking for a perfect time to tear up the empty slopes, then this could be your best opportunity.
In Meribel there are a large number of Russian visitors, and this means not only do we get one celebration, but we get an extra celebration with the Russian Christmas celebrated on 6th January. This means only one thing for the fireworks organisers… more fireworks!
If you want us to make your Christmas and New Year extra special this year, then spend Christmas 2016 in Meribel, France.
Anne Wooley is Owner at Ski Cuisine.
If you would like to be a guest blogger on A Luxury Travel Blog in order to raise your profile, please contact us.