When the world was yet to discover the charms of this beautiful city, many people associated Lima with only fog and gray skies. While it's true that the Peruvian capital has a very particular climate – influenced by the cold Humboldt Current and the Andean mountain range – this is by no means the only feature of this Andean city.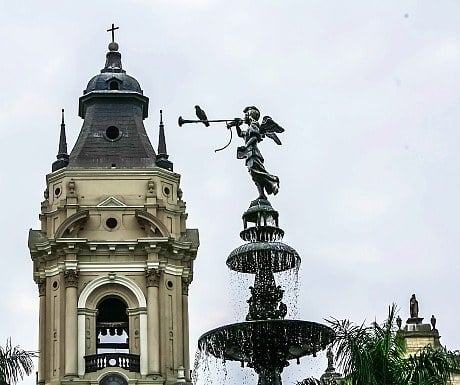 Lima is culture, history, architecture, cosmopolitanism and of course excellent cuisine. In fact, this city, declared World Heritage in 1988, was the only one of Latin America included on National Geographic Magazine's list of ten world culinary destinations. With more than 8 million inhabitants, Lima is the largest city in Peru. A well preserved and quite safe city, it is located on the coast of central Peru and gifted with many tourist attractions. If you decide to discover the charms of this city for yourself, the following are seven of the most luxurious hotels in Lima for accommodating your stay. Avail yourself of the comfort and services of these hotels as you experience one of the most interesting cities in Latin America!
Arts Boutique Hotel B
Located in the middle of the city's bohemian district, the Arts Boutique Hotel B is the perfect place for modern explorers wanting to taste the magic and mystery of Peruvian culture, as well as its rich history, nature and geography.
The hotel previously served as a beach shelter during the presidency of Augusto Legua, in 1920, hence its historical atmosphere. It is also nestled in a perfect setting, surrounded by galleries and artist workshops, and boasts an excellent collection of art for the exclusive delight of guests. The hotel has 17 rooms, of which seven are new and 10 recently renovated. All are very spacious, have beautiful views and maintain the classic spirit, but with all the comfort of a luxury hotel.
In the restaurant, bar and lounge you will find delicious Peruvian food, which has become internationally famous. The traditional service combined with an innovative touch, as well as the ancestral Peruvian ingredients in fusion with traditional flavors, are the basis of this delectable food that can be tasted in Hotel B's restaurant. In the lounge bar there is a fine selection of South American wines and Peruvian Pisco sour, which can also be enjoyed with a meal on an adjacent terrace.
A landscaped and enclosed central courtyard separates the old part of the hotel from the contemporary one. This space, with aromas of jasmine and fig, is perfect for an alfresco breakfast or for enjoying a light lunch or dinner. In addition, there is a private, outdoor lounge where you can enjoy striking views of the elegant El Barranco district and the Pacific Ocean.
Belmond Miraflores Park Hotel
If it's true that there is no more accurate an assessment of a hotel than those made by its guests, then the Belmond Miraflores Park Hotel is a hands down winner. According to comments made on Traveler's Choice, this is one of the "Top 10 Hotels in Peru."
There are many reasons for this recognition, including the 82 boutique rooms overlooking the Pacific Ocean, the hotel's three world-class restaurants, its luxurious spa facilities and fitness center, and the friendly personalized attention provided at Belmond Miraflores Park Hotel.
The hotel is located close to the financial district, as well as near the Larcomar Mall and Entertainment Center, where you can find several of the best shops in Lima. It is also within walking distance to the city's historic district, where tourists can expect to find charming churches and museums containing many of the treasures of the ancient Incas.
As for the rooms, these possess all the comforts of a luxurious hotel, while at the same time embodying an air of simplicity and comfort that is reminiscent of a home. The most luxurious accommodations – the Presidential Pool Suite – even has a private terrace and pool. Situated on the top floor, from here you can appreciate and enjoy the true glamor of this hotel.
In addition, the hotel is recognized as one of the best places in Lima to try dishes that fuse Peruvian and Japanese food, as well as creative delights prepared with seafood.
Country Club Lima Hotel
High ceilings with wooden beams, ornate chandeliers, over 300 original pieces of art and luxurious details in each corner are part of this hotel, one of the few recognized as a part of the "Cultural Heritage of Peru." The sophisticated Country Club Lima Hotel is located in the famous San Isidro district, the financial center of Lima, surrounded by elegant embassies.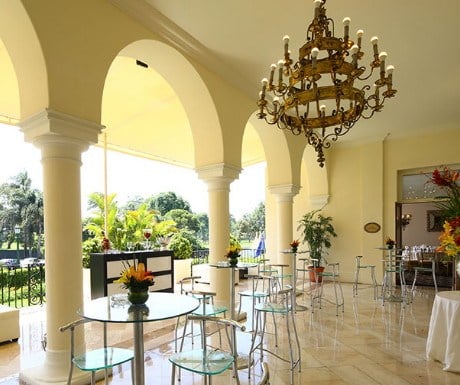 Its 83 rooms and suites are comfortable and cozy, with balconies and garden views. Many rooms feature marble bathrooms and relaxing Jacuzzis. All facilities are first class, and the hotel's Perroquet Restaurant has earned SUMMUM Awards as the best hotel restaurant for five years in a row.
In addition, the hotel has an exclusive golf course, a swimming pool, a spa and a rooftop terrace. An English bar – where you can sip an authentic Pisco sour – and a cafe with live piano music complete the picture of this hotel, which is the best option for those who want to combine comfort and elegance in a classic and historical setting full of fascinating details.
JW Marriott Hotel Lima
Luxury and all kinds of amenities in a luxurious 25-floor glass tower with wonderful sea views. In a single sentence, this would be a way to summarize what this hotel of the famous Marriott chain offers in Lima.
Rated as one of the 25 best hotels in South America by the nearly 300,000 travelers participating in the Condé Nast Traveler Readers' Choice Awards, the JW Marriott Hotel Lima is located in the elegant Miraflores residential district, which situates guests in an excellent center of the city's commercial, cultural and recreational activities.
The cuisine is another of the strong points of this hotel. In the informal atmosphere of the "La Vista" restaurant, you will discover the best of Peruvian food, as well as international dishes. In addition, the JW Sushi Ceviche Lounge specializes in Peruvian seafood with an Asian twist.
The hotel has 300 rooms, framed by the bright blue sea and the views of the coast of Lima, dotted with futuristic buildings. For those who like the most eye-catching luxury, the hotel bathrooms are marble, while the rooms feature ergonomic chairs and elegant designer bedding, robes and slippers.
Just in front of the hotel are the famous pre-Inca ruins of Huaca Pucllana, while only a few minutes away is the ultra-modern Larcomar Mall. The hotel also has its own exclusive shops, a spa, luxury restaurants, and a lounge-bar, and of course room service 24 hours a day.
Westin Lima Hotel & Convention Center
"Sleep well, eat well, and feel good." This is the slogan at the stately Westin Lima Hotel & Convention Center, where everything is designed to achieve those goals.
Details such as 250-thread-count white sheets, custom mattresses, pillows and luxury duvets are just some of the ingredients for those who equate luxury with a perfect break.
The culinary revolution has also stopped here, as innovative Peruvian fusion cuisine and seasonal ingredients are the basis of several of the specialties that are served in the hotel's restaurants. The star is the healthy menu at SuperFoodsRx, which was designed by a group of doctors and nutritionists to serve delicious, healthy and low-calorie choices. The children's menu, also designed by a group of professionals, follows the same line of intelligent nutrition. In addition, private dinners, meals delivered to your room, delicious international wines and cocktails are served from and in the Insitu Bar lobby lounge.
A full spa with body and mind treatments, in addition to a gym located on the second floor of the hotel, allow guests to unwind from the routine and enjoy their stay.
Sheraton Lima Hotel & Convention Center
Situated 10 minutes from Lima's main museums, shopping malls and the city's exhibition parks is this luxurious Sheraton hotel. The perfect blend of comfort and hospitality – for feeling at home, but surrounded by luxuries and attentions – is the icing on the cake of this five-star hotel.
The Sheraton, which has a modern architectural style and light-filled spaces, features an outdoor pool, a nightclub, two restaurants, a tennis court, a gym, a sauna, steam rooms and massages, and a 24-hour spa. As you will see, the concept goes far beyond a place to sleep or eat after a day of sightseeing or work. The hotel itself is a destination where guests can find entertainment, relaxation and fun. Maybe that's why some guests rate it as an "oasis" in the middle of the downtown bustle.
The Sheraton Lima Hotel has 431 rooms, each with Wi-Fi, a balcony and a flat screen TV with satellite channels. Of course there is 24-hour room service, as well as a bar and a cafeteria.
Swissôtel
While in Lima, you'll find that this classic Swiss hotel provide a quiet, cozy and warm atmosphere of soft music, flowers, delicate carpets in each hall, comfortable sofas, and much more.
For those who prefer a comfortable and discreet style – departing from the old-fashioned concept of ostentation – this hotel is the best option. It also offers all kinds of comforts, personalized service with environmental commitment through a sustainable operation, which all maintain the same spirit of the small hotel that started this chain in Switzerland in 1980.
Swissôtel has been rated as the best hotel chain operating in Latin America and the best business hotel. It meets high standards of quality and features a business center and gift shops, as well as laundry, bellhop and concierge services.
The culinary experience here is an example of this hotel's high quality. Swissôtel Lima has not only one restaurant, but five within its facility. One of them – La Locanda – is a five-star restaurant specializing in Peruvian-Mediterranean fusion food. Dishes prepared with the best cuts of meat, fresh fish and select pastas are the basis of a menu that offers a gourmet variety, with careful presentations. In addition to the variety of desserts, wines and spirits are a separate chapter, as an expert sommelier will guide you so that you can select your choice among a fine collection of drinks to achieve the perfect pairing.
Considering South America and Lima Peru? Then consider one of these gems when traveling to the "Land of Hidden Treasures".
Alfonso Tandazo is President and CEO at Surtrek Tour Operator.
If you would like to be a guest blogger on A Luxury Travel Blog in order to raise your profile, please contact us.