Vibrant Split, stunningly located between mountains and island speckled sea, is one of Croatia's most diverse and alluring cities. Roman ruins, museums and cathedral's rub alongside flashy terraces and a thriving Riviera, creating an enticing fusion of modern and medieval. At its centre are the remains of UNESCO World Heritage Site, Diocletian's Palace and atmospheric old town, filled with small bars, restaurants, boutique shops and natural wonders at every available twist and turn along the cobbled streets and courtyards of the fourth century. There's little wonder why travellers stay longer than their 'stop-over' intentions, enchanted by the magical sights and beautiful ambience. Here are five very good reasons to visit Split.
World Heritage Sites
Croatia's historical sites are some of Europe's most distinctive and the renowned ancient town of Split is home to one of the oldest and largest of them all. Spectacular Diocletian's Palace, built by the former emperor has been residing behind the old town walls for some 1700 years and boasts an impressive Roman square with plenty of attractive ancient columns and steps, tastefully accessorised with small red cushions for premier viewing. The most common sights are wedding photographers and at nightfall instrumentalists, who perform to the large crowds that gather for casual drinks with an unbeatable atmosphere. A bell tower completes the centre piece, which can be climbed for fantastic roof top views and at the foot there's a basement hall filled with jewellery and cool souvenir markets. Circling the square are dimly lit maze-like passageways with lots of tiny restaurants and cafes serving quality local dishes and plenty of seafood specials to liven the pallet.
Access to beaches
Crystal clear turquoise sea and calm swimming bays provide a welcome respite from all the usual walking and posing next to must-see attractions. Popular Bacvice, just a stone's throw from the crowded old town offers weary tourists shaded sunbeds and a well-located terrace serving ice cold bottled beer along with an intriguing glimpse into local traditions. The lively ball game picigin is especially notable, were groups of bronzed Croatians spend hours smacking a small ball back and forth while remaining knee deep in sea water amongst the throngs of swimmers and sun-seekers lined up along the shoreline. Away from the action, a larger complex offers fancier dining experiences and for later, clubs to continue the party vibe until the early hours. If that sounds a bit excessive, there are plenty of scattered quiet beaches and pleasant coves, Kasjuni being one, with a lovely pine tree backdrop and café nestling under Marjan Hill.
Island hopping day trips
Exploring the Dalmatian island peppered landscape is a must on any travellers itinerary – and within skipping distance to Split there are four outstanding islands that deservedly receive the most attention. Brac and its widely publicised glimmering white pebbled beach, Zlatni Rat, jutting out to sea and quaint town of Bol is an easy first iconic landmark to tick off the island hopping list. Equally famous is neighbouring Hvar, known for its glitzy old town with striking resemblance to beautiful Dubrovnik and all-night celebrity laden parties, while mysterious Vis and ancient walled Korcula make for an altogether low key experience, but one rich in historical sites and crystal clear coves. To escape the crowds altogether, private speed boats can take you to the most alluring unspoilt swimming bays off the beaten path.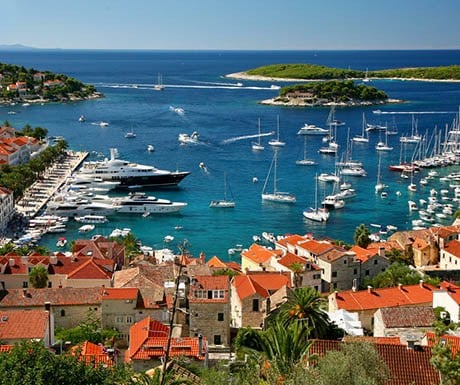 The buzzing Riviera
Split's long and modernised seafront promenade Riva, is a bustling part of town used exclusively for strolling, people watching and usefully, sheltering from the hot Adriatic sun. Half a day can easily be spent sipping cappuccino alongside locals, while taking in the remarkable surroundings of dazzling white umbrellas, shiny floor tiles packed with plush armchairs and more strikingly, the enormous grey crumbly walls belonging to World Heritage Site, Diocletian's Palace. The Riva's contrasting blend of modern and old makes for an impressive sight and the secretive narrow arches nestled among the cafés, an exciting first entry into the old town. All around are small stalls and lots of colourful lavender, plucked freshly from the nearby islands, which occasionally fills the air with a pleasant flowery scent, enhancing what is already a unique and most indulgent experience.
Romantic sunset view points
A visit to Split – or any destination isn't complete without climbing to the top of a hill for that all-important panoramic view. Marjan Hill, an unmissable landmark, accessed from the western end of the promenade, fulfils all beauty spot expectations and reassuringly offers outstanding scenery – from start to finish. Pretty cobbles with pleasing tropical greenery and a sprinkling of nice looking cafes make the entrance one of the cities most enticing. While a few minutes further, dozens of larger stone steps lead on to sweeping views, revealing the luminous ocean and ancient town below with fascinating details of its tall cathedral spires, orange haphazard roof tops and puzzling narrow passageways. The best time to go is just before sunset, after the hottest part of the day when the fresh air and lovely Café bar Vidilic with a fabulous terrace and good looking aperitif menu will be most welcome.
Split's network to the islands and long Roman history means that it will continue to remain a busy destination to rival any other Adriatic port city. A day or two will scratch the surface, but a longer stay will unveil the depths of the old town and provide great opportunities to see nearby wonders of the small cultural villages and adored National Parks.