The luxury traveler to and within India has long been spoilt for choice in accommodation, with a slew of iconic city and palace hotels, contemporary havelis and wildlife tented camps and lodges operated by the ubiquitous names in the luxury travel industry – Taj Hotels and Palaces, Oberoi, Aman, Leela. India's renowned sense of warm hospitality has garnered many of the individual properties operated by these brands prestigious awards and acclaim as "the world's best" from the world's top travel publications, as well as voted for by the readers.
Taking heed from the top brands in the travel industry, India's budding hoteliers have managed to create uniquely boutique chains that have found their own niche in the market. Below are three of India's top boutique hotel chains:
Unarguably the most luxurious name on this list (several of its resorts are Relais&Cheateaux-affiliated), SUJÁN Luxury Camps & Palaces recreates the grandeur of the British Raj with a contemporary touch, replete with all the modern comforts required for a luxury traveler. Four of the five resorts the brand operates are within India (the fifth in Masai Mara, Kenya), with tented camps in Ranthambore (Sher-Bagh – India's most famous tiger wildlife sanctuary), Jaisalmer (The Serai – drawing inspiration from royal caravan sites of Rajputana on the outskirts of Jaisalmer) and Jawai Bandh (JAWAI – a tented camp in the untamed wilderness where leopards roam free), and a palace in the heart of Jaipur (Raj Mahal).
Perhaps the most decorated name on this list, Neemrana is fairly well known within India, but not as widely recognised in the global hospitality industry just yet, but it certainly ought to be! Neemrana, with its heavy emphasis on protecting and preserving history, has created 23 (and ever growing) unique properties across the landscape of India by taking properties ranging from forts, palaces, havelis, mansions, manors, primarily decrepit or in ruins, that could not make the government's grade for preservation and investing in the preservation, protection and restoration of these stunning monuments that make up India's history.
Staying true to its tagline of "we don't let history be a bygone", the brand's flagship property is, without a doubt, the picturesque Neemrana Fort-Palace, a 15th century ruin on the Delhi-Jaipur highway, a few hours drive from Delhi. Spreading itself over a hillside overlooking Neemrana, the fort's 14 layers cascade down, passing along the way hanging gardens and two pools.
Operating four resorts across India, The Serai's concept is fairly simple: pick a unique location, and 'be inspired' by the surrounds, which typically consist of nature. Using the environs as a stimulus, they've managed to create an upscale resorts that are inspired by coffee beans (Chikmagalur – on the outskirts of one of India's largest coffee planatations), the jungle (Bandipur – home to one of the largest populations of endangered tigers), the river (Kabini – housing Asia's largest herd of elephants and more than 300 species of birds), and Andamans (Barefoot Havelock  – a retreat on a pristine island designed to let you unwind). Uniquely, the brand also runs The Serai Shutterbug, an on-site photography learning experience present at each resort that encourages budding photographers to capture nature in all her naked glory.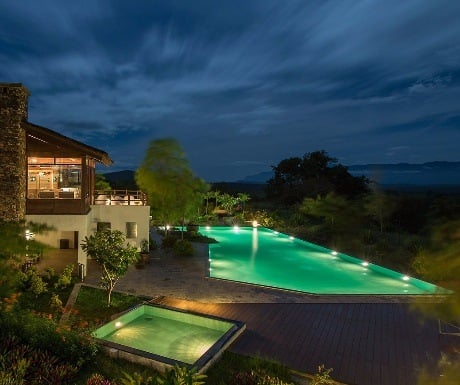 Chinmoy Lad is the CEO and Founder of The Suite Life.
If you would like to be a guest blogger on A Luxury Travel Blog in order to raise your profile, please contact us.