There are a lot of things to see and do in the Catalan Capital. Whether you want to experience the city through a local's eyes, or want to visit all the touristic sights, Barcelona is a place that will give you the best memories. Though visiting the most popular sights, such as Las Ramblas, La Sagrada Familia and La Pedrera, is essential for some, one of the best ways to experience and understand Barcelona is to spend your time like locals do. With this in mind, here are some tips for a perfect day as a local in Barcelona!
Rambla de Catalunya
Just up from Plaça Catalunya you'll find Rambla de Catalunya, not to be confused with the more visited and touristy Las Ramblas located nearby. Much like the other Ramblas, Rambla de Catalunya is also a street with a lot of shops and dining spots, but offers a far more quiet and local atmosphere with its thee-lined paths. Here you can find plenty of high street stores, as well as small, independent boutiques. This kilometre-long boulevard offers you the opportunity to experience a more tranquil side to the city while remaining in the heart of Barcelona.
If you're feeling a little hungry, or just fancy a good coffee, make sure to head to Boldú, located just off the main street on Carrer de Provença, 233. Make sure you try one of their delicious doughnuts, too. If you're ready for lunch, head to Cervecería Catalana on Carrer de Mallorca 236, again, just off the main street. This place does some of the tastiest tapas in Barcelona. This means it's also really popular, so be prepared for a bit of a wait.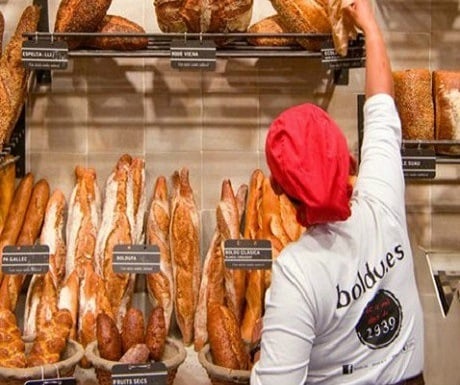 El Barrio de Gràcia
Gràcia is one of Barcelona's best neighbourhoods for experiencing the local life, and there is so much to see and do. Located just north of Passeig de Gràcia, you'll enter a whole different world when you visit this area, which still retains much of its traditional Catalan identity, despite its proximity to the very city centre. Here you'll rarely see tourists, and if you do, they've probably decided to stroll down from Park Güell, or they're going local, like you!
It's said that when discovering a new neighbourhood, one should also check out the markets. Forget about La Boqueria and all of its crowds, and be sure to visit the Mercat de L'Abaceria at Travessera de Gràcia, 186. It has countless selections of local cheeses, meats, wines, seafood and much more.
Gràcia is also home to beautiful art and architecture, such as Gaudí's Casa Vicens. But Modernisme aside, this area is also the perfect place to discover some of Barcelona's famous street art. Look closely on the walls, alleys and doors and you'll notice that Gràcia is one big contemporary art gallery.
Gràcia's narrow streets and sunny squares are filled with locals sipping coffee on the terraces or simply enjoying the sun. Later at night, the casual eateries are packed with residents looking to grab a bite, while cozy bars are jammed with groups of friends, and students. Sometimes you can even catch some traditional Catalan 'sardana' dancing in the squares, or even the 'castellers' or human towers!
At dinner time, we recommend you go to l'Anxoveta at Carrer de Sant Domenec, 14-16. This is a hidden little restaurant near Gràcia's main square, known in the neighbourhood for its family-like service and the tapas, made with ingredients fresh from Gràcia's own markets.
Do you want to experience real Catalan specialties? Head up to La Panxa del Bisbe at Carrer de Rabassa, 37, and get way off the beaten path to find this restaurant, a favourite among locals. It is advised to make a reservation beforehand!
El Carmel Bunker
Most likely you'll never want to leave Gràcia, but our next destination is truly worth a visit. If you want to see a beautiful view over Barcelona, forget Montjuïc hill or Tibidabo. Head for the best (and calmest) spot to catch some 360º views of the city at el Turó de la Rovira, otherwise known as the Carmel Bunkers. Originally a strategic site for the defence of Barcelona during the Spanish Civil War, this tranquil place is a favourite for locals looking for some peace and quiet while taking in the astonishing views of this beautiful city. Get there by taking bus 119 or V17.
Sandra Roig is Marketing Director at AB Apartment Barcelona.
If you would like to be a guest blogger on A Luxury Travel Blog in order to raise your profile, please contact us.