Travel forty-five minutes North West of Ljubljana towards the age-old spa town of Bled and a magical world begins to unfold before you. A mesmerising emerald-green lake framed by the towering Karavanke Mountains dwarf the medieval castle cradled upon its slopes. Come the winter and early spring and you are likely to see this landscape blanketed in thick white sheets of snow, while in the summer the same view is carpeted green with pine forests.
For years Bled has appealed to honeymooners and old romantics alike as they arrive in search of the famed romantic ambience and picture-perfect beauty this captivating region has to offer, and in the middle of this Slovenian love affair is Lake Bled.
At the foot of the Julian Alps, clear glacial waters collect to form Lake Bled, one the most timeless and romantic destinations one could hope to visit. Hand in hand with your other half, there is nothing quite like a leisurely stroll around the lake, periodically stopping for hot drinks and nibbles at the lakeside cafes dotted along the way. For a touch of romance, horse-drawn carriages pick you up from the festival hall before whisking you off for an intimate ride around the lake and beyond.
Raising above the mist and the crystalline melt waters of Lake Bled there is a small speck of land dominated by a Baroque style church which you can reach by boarding a gondola style boat or 'pletna'. These traditional wooden boats, adorned with colourful awning, transport visitors to the bottom of the steps that lead up to two churches. For any you looking to plan your honeymoon, you might be interested to know that the climbing of these steps is thought to bestow good luck and blessings on your marriage. This ancient tradition includes the groom sweeping up his bride in his arms before carrying her up the 99 steps that mark the pilgrimage up to the Assumption of Mary church at its summit.
As with any place as old as Bled, it is by no means a surprise that it is not without its fair share of ghostly tales and stories of unrequited love. A local legend speaks of a young widow stricken with grief who decided to honour the memory of her late husband with a specially commissioned bell for the church at the middle of the lake. However, whilst in transit across the lake a terrible storm is said to have struck, sinking the boat, drowning its crew and losing the bell to icy depths of the lake. Locals are adamant that ever since the widow's passing some centuries ago, the bell can still be heard to ring eerily from the bottom of the lake!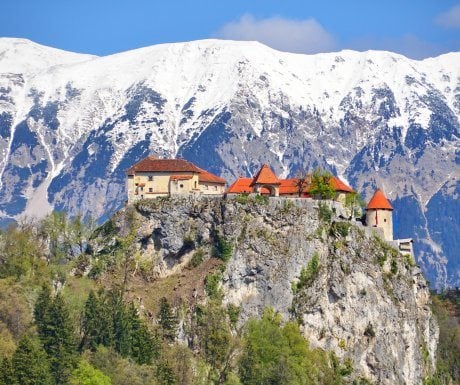 Perched high on the slopes of the mountains overlooking Lake Bled is yet another popular romantic spot, Castle Bled. Unlike other castles, Castle Bled is neither dank nor militaristic and is decidedly homely and appears to have materialised from the pages of a fairy tale with its spiralling turrets and wooden draw-bridge. Fantastic lake and mountain views are afforded from the walls and towers of this charming castle, presenting couples with perfect photographic opportunities. Inside, there is a museum offering a tantalising glimpse into the lives of the castle's former inhabitants whilst in the summer, the castle courtyard hosts medieval events and people dressed as knights and in period dress.
While there are many destinations that are not without their charm, Lake Bled is unique in that you feel totally removed from the bustle and bustle of everyday life in an almost fairy tale setting. Whether you are a couple looking for a Valentines getaway or blissful honeymooners, Lake Bled has to be your next romantic destination.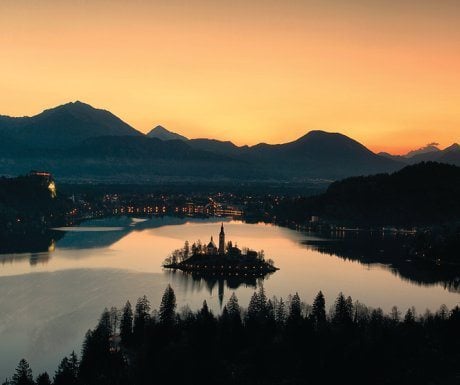 Nick Munday is Managing Director at Classic Collection Holidays.
If you would like to be a guest blogger on A Luxury Travel Blog in order to raise your profile, please contact us.