2017 is the year to move on from conventional, well-trodden holiday ground. As the world appears to shrink, it's time to chase new horizons. And the horizons couldn't get any wider than the impressive open spaces of Canada! However, it's not just sheer size that makes this country awe-inspiring; it is also the variety within. Canada's natural beauty, from mountains and glaciers to secluded lakes and forests, is almost unparalleled worldwide. Few countries could really be said to differ so completely from east to west and north to south as Canada does. So to discover the path less trodden, we're lifting the lid on five of Canada's spell-binding cities – finishing with its capital – to see what's on offer this year.
Prairieland Saskatoon
Surrounded by endless fields of shimmering wheat, Saskatoon is really one of the most vibrant cities that Canada has to offer. Constantly growing, Saskatoon's streets are buzzing with an infusion of new restaurants, breweries and bars.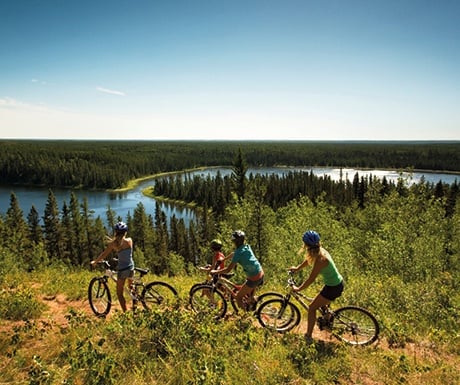 Where should I stay?
The
Delta Bessborough
is the city's most iconic hotel. Positioned overlooking the beautiful Saskatoon river, the Bess's distinctive turrets add credence to a city that is often referred to as the "Paris of the prairies."
What should I do there?
The
Meewasin Valley
 is one to tick off the list! Cycle, jog or cross country ski across this oasis of exceptional beauty in the middle of the Saskatchewan prairies. The Meewasin trail runs along both sides of the river, winding under the bridges and through beautifully landscaped parks and natural areas. Wander around the
Ukrainian Museum of Canada
to learn about Canada's diverse past and add a mesmerising touch of culture to your day at the Ukrainian Museum. The unique museum showcases the influence of Ukrainian heritage on modern Canadian culture. One evening be sure to head to the
Persephone Theatre
to lose yourself in a different time. Food-wise, you should try
Truffles Bistro
. The smooth jazz sets up the classic ambience of this modern French-inspired bistro, perfect for those high-end diners!
Cultured Montreal, Quebec
The sight of Montreal's winding cobbled streets, historic architecture and soaring church spires make it impossible not to fall in love with. The city is a pocket of continental Europe in Eastern Canada, and it truly feels like it could be a country within another country. Quebec has kept a fierce grip of its French-Canadian identity – influencing not only the city's architecture but also its culture and food. As a result you are often met by the constant smell of French baguettes as you wander around the city's old town.
Where should I stay?
The place to stay is
Le Saint Sulpice
which is situated in the heart of Montreal's Old Town, steps away from the Notre-Dame Basilica and the vibrant restaurants and bars of Rue St Paul. There are many things that make this hotel unique, particularly the fact that it houses a permanent exhibition of works by the designer Jean-Claude Poitras. It features 108 authentic suites – many of them with fireplaces or balconies – with fully opening, French-style windows overlooking the courtyard of the historic streets of Old Montreal.
What should I do there? Feeling hungry?
Try out
Le Filet
for some traditional cuisine, or for something different, the Middle Eastern food at
Damas
is delicious. What you must do though is see the
botanical gardens
and wander around the typical French market Jean-Talon, taking in the beautiful architecture throughout the city.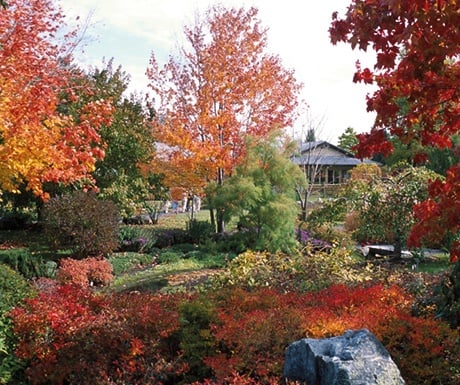 Dawson City, Yukon 
This is one of the most historic and evocative places in Canada, and the heart of the Klondike Gold Rush. Though many of its original buildings have disappeared as victims of fire, flood and weathering, the Dawson community has put much effort into preserving the city's past, making it very easy for you to feel like you are stepping back in time as you meander through the wooden boardwalks.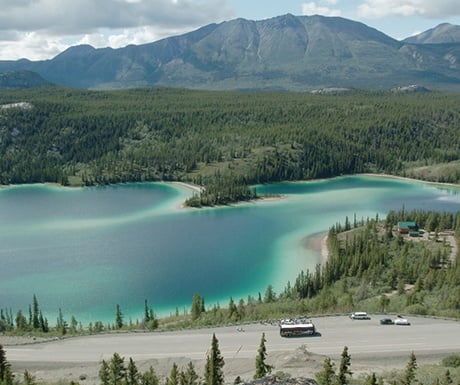 The city is also a centre for arts – with its yearly summer festival attracting thousands, being one of Canada's biggest – and as the last touch of civilisation before the deep wild, it's where hikers share tables with hard-core miners at quirky local restaurants.
What should I do there?
For a small northern town, visitors are always stunned with the variety of activities available in Dawson City. From the
Daenoja Zho Cultural Centre
to the
Fortymile Gold Workshop
, Dawson is bursting with culture for you to explore. If you're more of an adventurer, you couldn't be in a better place! Tombstone Park is right around the corner, where you'll find 2,200 square-kilometres of wilderness pierced by the Dempster Highway. If that's not enough for you, remember you're in Yukon – a region bursting with adventure! For Dawson City's top food spots check out The Drunken Goat Taverna (Greek food and Aegean Music!),
Klondike Kate's
or the
Alchemy Café
(vegetarian food in a very vintage setting). In terms of where you should stay, there is only one place: the
Aurora Inn
!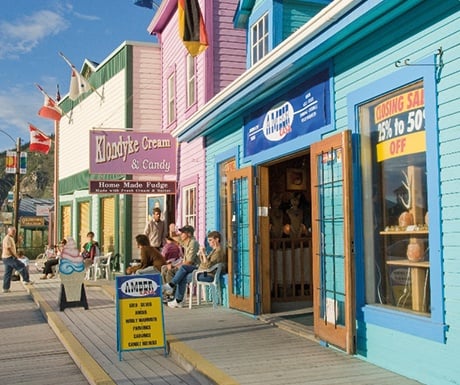 Vancouver, British Columbia
Vancouver is the place where urban meets wilderness. Imagine an island in the middle of a city, and there you have it –
Granville Island
! Granville is a living, breathing urban oasis filled with fine waterfront restaurants, theatres, galleries, cafes and the most spectacular fresh food market you'll ever see. For jaw dropping panoramas, head to
Grouse Mountain
on Vancouver's North Shore, where you will experience the best views of the city. Jump aboard a seaplane for breath-taking views that will leave you astounded.
Whistler
 is also close enough for a day trip, so bear this in mind!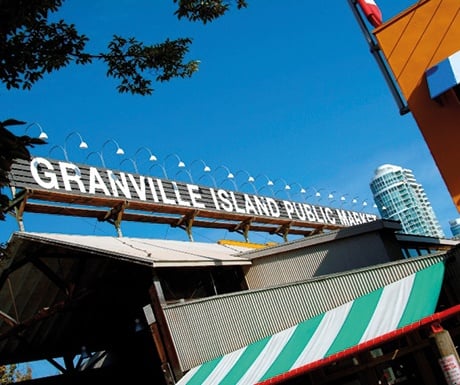 Where should I stay?
The chic
luxury hotel
,
The Loden
, situated in Vancouver's Coal Harbour, is definitely worth a stay. With its signature suites and Halo Penthouse, you can indulge in the luxurious comforts of this modern hotel. Offering a wealth of services, don't miss their Health and Wellness centre. If you fancy popping out of the hotel to mix up your dining experience, try
the
Lupo Restaurant
. This is an Italian gem tucked away in the neighbourhood of trendy Yaletown.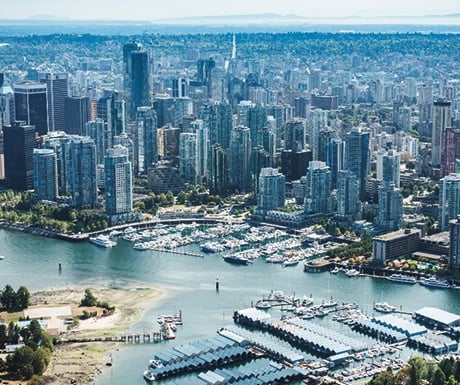 Dynamic Ottawa
Cosmopolitan, classy and cultured as they come, Canada's capital is bursting with things for you to do. This is a city you want to get lost in, as you stroll along its stunning riverside, towered over by its gothic-revival parliament buildings. Located in Onta
rio on the Quebec bo
rder, it's a place you'll hear both English and French spoken on the streets. Discover Canada's proud heritage at the impressive national sites and famous landmarks.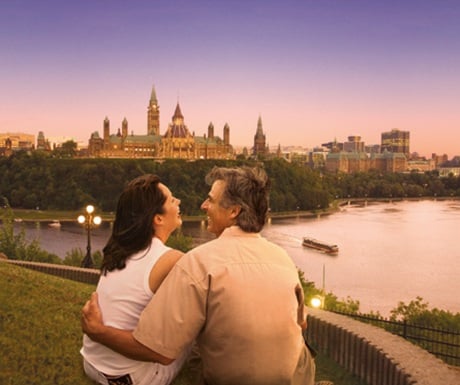 Where should I stay?
We advise staying in the French Chateau-styled
Lord Elgin Hotel
, which overlooks the beautiful Confederation Park. Elegant and full of charm, this is the perfect place to rest in between sightseeing. Relax in guest rooms inspired by the Biedermeier tradition, with sumptuous antique furnishings.
What should I do there?
If you are a seafood lover, head down to The Whalesbone Oyster House or try out MeNa. Wander around the World Heritage Site, The Rideau Canal – deeply prized as one of the lifelines in Canadian history. Other top spots are the National Gallery of Canada, The Peace Tower and the Museum of History. Here you can learn about the country as it reaches its 150 year anniversary of confederation this year.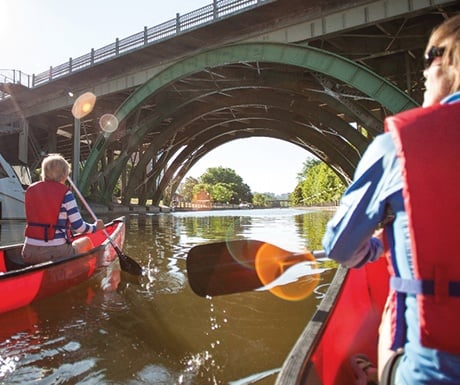 If you want to get off the beaten track or be fully immersed in culture, then Canada is the place for you. And 2017 couldn't be a better time for you to visit, with the country celebrating 150 years since Confederation. Although the biggest party will be on July 1
st
(Canada Day) the country promises yearlong birthday celebrations, so prepare to be welcomed as an international gate crasher!
Kathryn Munro is Managing Director at Canadian Affair.
If you would like to be a guest blogger on A Luxury Travel Blog in order to raise your profile, please contact us.
Did you enjoy this article?
Receive similar content direct to your inbox.