By
Craig Burkinshaw
on Mar 10, 2017 in
Africa
,
Asia
,
Attractions
,
Australia
,
Chile
,
China
,
Colombia
,
Europe
,
Events
,
Featured
,
Going Out
,
Italy
,
Japan
,
New Zealand
,
Oceania
,
Pacific Islands
,
Regions
,
Singapore
,
South Africa
,
South America
,
Travel Miscellany
,
Western Europe
The term 'street art' was coined during the 1980s, when graffiti began to transcend spray-can tags, becoming a specialised craft. Much of the artwork is unsanctioned, but communities around the world have begun to see the value in these visual bursts of life. We've compiled some of our best recent street-art discoveries across the globe, where you can see artwork that's regenerating cities, boosting local economies and encouraging creativity.
Melbourne, Australia
In a city of postmodern galleries and innovative public artwork, sculptor Russell Anderson has created an interactive steampunk-inspired piece on the North Bank Wharf. The street art around it is just as inventive: ceramic tiles, stickers and full-blown sculptures have appeared on the streets, as well as work created with stencils, woodblocks and paper.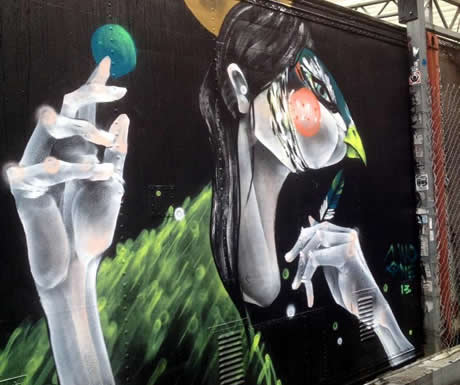 Hosier Lane, just off Federation Square, is the central point for street art, acting as an ever-changing gallery of open-air work. There's an understanding here that work is transient, with artwork regularly painted over to showcase new techniques and new artists. Many of Melbourne's urban artists have been welcomed indoors, showing at galleries across the city — local artist Fred Fowler's semi-abstract oil painting are now sold to private collectors across the world.
Naples, Italy
The word graffiti comes from the Italian graffiato, meaning scratched. Some of the earliest examples of graffiti are Roman, seen in the catacombs of Rome or the streets of Pompeii. In modern Italy, Naples has become the street-art capital, with artwork scattered across the city.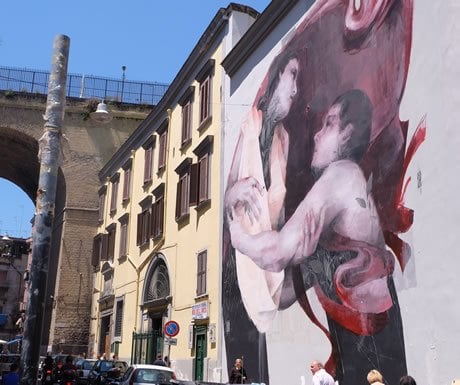 One of the best-known artworks is Banksy's Madonna with the Pistol, in the Piazza Gerolomini which has been painted next to a wall-mounted shrine and has recently been placed under a protective cover. Although sometimes controversial in theme, many locals regard Naples' street-art scene fondly, often offering up their walls, shop-fronts and doors for decoration. It's best to explore with an expert on a guided tour who can translate the Italian phrases and help you find some hidden works.
Haji Lane, Singapore
Tucked below the skyscrapers of Singapore are the bright shophouses of Haji Lane. Located in the city's Muslim quarter of Kampong Glam, these narrow buildings were once owned by Malay immigrants, and offered accommodation for pilgrims heading to Mecca. The lane is now full of vintage stores, cafes and independent boutiques — and artists have been commissioned to paint large murals across the storefronts.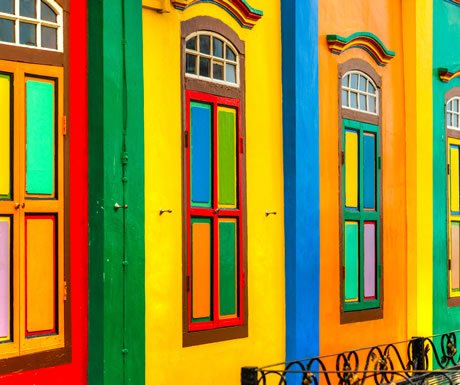 Street artists have focused on Singapore's multiculturalism, painting graphic characters that can't be pinned to any nationality — an Egyptian ankh here, an Aztec shawl there — finished off with a futuristic visor. Among the artworks, you can shop for Scandinavian textiles, sample Persian pastries and dine on a South Indian dosa (pancake).
Valparaíso, Chile
The bohemian port town of Valparaíso has become a mecca for artists around the world. The local government actively supports and promotes street-art culture, a stance which has turned the city into a kaleidoscopic gallery. Each mural has been carefully orchestrated, with some of the largest worked on by 25 artists at a time.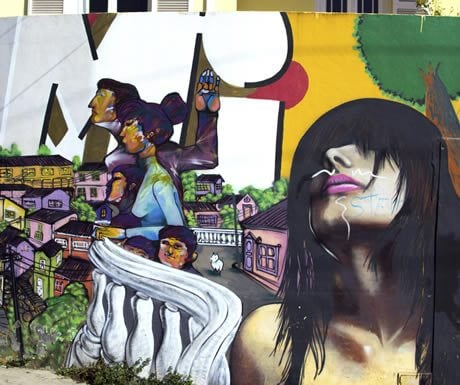 The Museo a Cielo Abierto (Museum of Open Sky), in the Bellavista neighbourhood, is a collection of 20 large murals by Chilean artists. At the upper reaches of the district, you'll also find La Sebastiana, home of Chilean Nobel-prize-winning poet Pablo Neruda, who was inspired by the town's eccentricity. His home is open to visitors and has views across Valparaíso.
Japan's Street Art Festival
Japan's conformist culture doesn't lend itself well to street art, with many Japanese seeing the most painstakingly produced mural as vandalism. In 2015, the street-art festival Pow! Wow! was hosted on a small island in Tokyo Bay to introduce the art form to the Japanese in a legitimate setting.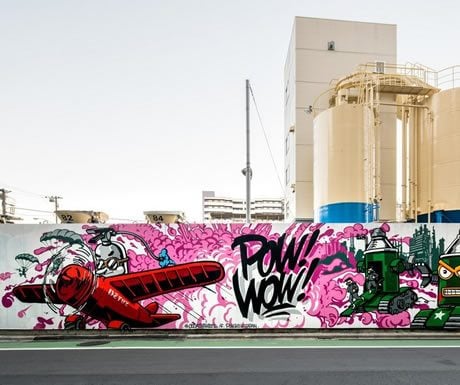 International artists were in attendance, but it was Japan's homegrown talent who drew the most attention, adapting calligraphy-influenced text and ukiyo-e (traditional woodblock) techniques for a large scale.
Growing in popularity, the 2016 festival was held in Kobe, on the southern side of the main island of Honshū, and it's set to continue in a new location each year. The Japanese have made their mark on the art form, with many opting to attend live painting sessions: street artists create work in front of an audience, usually accompanied by music.
Christchurch, New Zealand
When 70% of Christchurch was destroyed by earthquake in 2011, the city was stripped back to its concrete skeleton. After a mass exodus from large parts of the city, artists began to take advantage of the derelict areas. It started with the occasional scrawled tag, but has culminated in carefully planned murals on an epic scale.
The street art has helped ease the transition from rubble to regeneration, with independent art galleries and artisanal cafes popping up between recovering businesses and homes. It's an ideal city to see more conceptual art — artist Ash Keating has created abstract work across the city using a fire extinguisher. You'll happen upon much of the work while wandering the city, and an online community project has been created to map the artwork.
Papeete, Tahiti, French Polynesia
Tahitian social entrepreneurs Sarah Roopinia and Jean Ozonder decided that, in May 2014, they would arrange a street-art festival in the island's capital, Papeete. In a concrete-walled town with few opportunities, they hoped this would in some way lead to regeneration. Artists from around the world began to arrive, and they created huge murals across the city.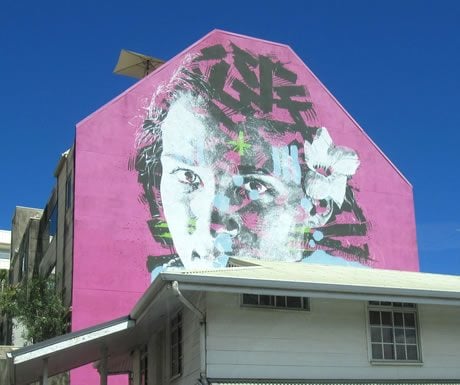 A few years on and the town now resounds with vibrant artworks, and the ONO'U festival runs annually each October. Artists are welcomed on the proviso they incorporate an element of Polynesian culture into their work, which has led to many collaborations with local artists and artisans. A collaborative work by French street artist SETH and Tahitian HJJ became so popular it was reproduced on a postage stamp.
Bogota, Colombia
Street art has been decriminalised in Colombia's cosmopolitan capital, Bogota, with the local government recognising it as a cultural practice. Residents agree and often bring cake and coffee to artists while they're working. With many of the artworks politically charged, the art has led to open discussions about women's rights, climate change and the war on drugs.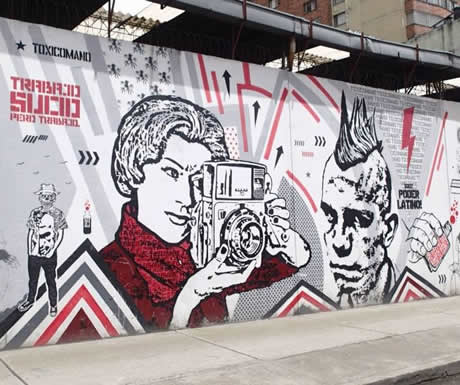 Business owners in La Candelaria district have commissioned artists to decorate the walls, and works range from simple stencils to complex murals by art collectives. Graf writers (urban artists who focus of graphic words and slogans) are prolific, so it's worth taking a tour with a local guide who can translate. As many of the works concentrate on Colombia's sociopolitical conflicts, your guide will also be able to decode the often complex meanings behind the murals.
Buenos Aires, Argentina
Soon after you arrive, you'll begin to notice the murals in between Buenos Aires's Baroque palaces, Art Nouveau apartment blocks and Renaissance churches. Urban artists here have a freedom to paint that's rare — all you need is the permission from the owner of the building — and the local government often pitches in with the cost of materials.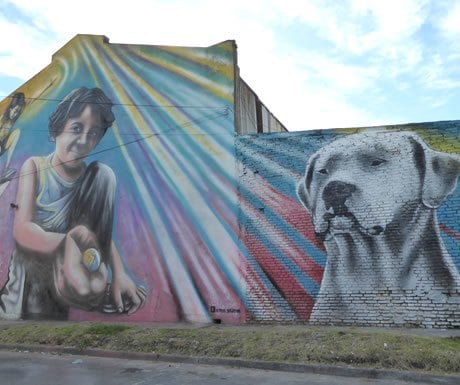 You'll discover murals as you explore the city (the metro stations are a good start), but to see some of the most dynamic, head to Villa Urquiza. The area was demolished to make way for a new motorway that never materialised, creating a derelict wasteland. The abandoned buildings have become a canvas for local and international artists. Argentine Martin Ron's surreal work The Parrots' Tail spans three buildings, while Alfredo Segatori's murals feature portraits of local residents.
Soweto, South Africa
A township southwest of Johannesburg, Soweto was an area of forced habitation during apartheid. The town's residents are fiercely proud of their heritage, and Soweto's walls are painted brightly with musicians, politicians and other black icons. Nelson Mandela, who lived here, features strongly — his former home is now a museum.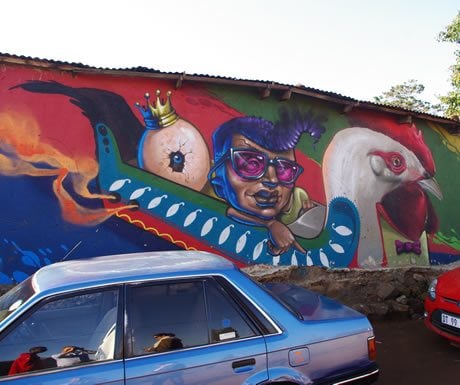 The street art is dynamic and upbeat, often rendered in primary shades on corrugated iron walls. The Orlando district is the focal point. The decommissioned Orlando Cooling Towers dominate the skyline, displaying South Africa's largest murals. The towers are now a thrill-seeker's playground, where you can bungee jump from the top or climb up their sides.
Shanghai, China
China isn't known for its street art, which is what makes Shanghai so fascinating. Art created on the city's walls is often fleeting, as buildings are constantly being demolished and the government is quick to remove unsanctioned work. Despite the challenges, artists here are determined to continue and new works show up regularly. Residents are enthusiastic about the art, which are popular backgrounds for wedding photographs, and are often keen to visit a new artwork.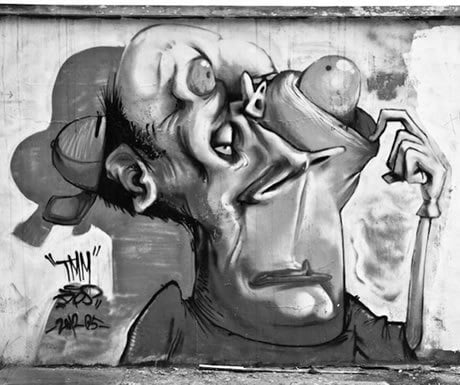 Due to the art's ephemeral nature, it can be tricky to visit a specific work. 50 Moganshan Road, a contemporary art district to the northwest of the city, will give you an insight. Home to many open studios, galleries and workshops, the doors, walls and alleyways are decorated in murals. More than 100 artists work here, from the internationally recognised to students learning their craft.
Craig Burkinshaw is Founder of Audley Travel.
If you would like to be a guest blogger on A Luxury Travel Blog in order to raise your profile, please contact us.