Chiang Mai, in Thailand's lush and hilly north, is a popular destination for cultural and outdoor activities. The city has around 300 Buddhist temples and a rich history spanning 700 years as well as an abundance of options for getting out and enjoying the countryside. What this charming city also has is a idiosyncratic side with some unusual attractions that aren't the run-of-the-mill tourist fare.
Amidst stunning green rice paddies, with views of distant rolling hills, lies a perfectly manicured garden dedicated to eroticism in art and nature. On arrival at this somewhat incongruous garden in the sleepy village of Huay Sai, you will be greeted by the fascinating Katai, the elegant, silk-clad Thai lady behind this playful, and sometimes eye-popping, venture.
Katai will lead you on a tour of the garden which has an abundance of phallic sculptures and carvings from local artists as well and depictions of the female form crafted from tiny hillocks of meticulously trimmed grass.
Somewhere in between the golden buttocks sculpture glinting in the sun, and the surprising abundance of genitalia-shaped shrubbery, you learn of Katai's history in studying erotic art as well as her decades in Australia running a restaurant and popular cooking class. If you're in luck, Katai's garrulous archaeologist husband will also be on hand to regale you with tales from his adventures around the world and particularly in neighbouring Bhutan where phallic symbols are an important part of local culture.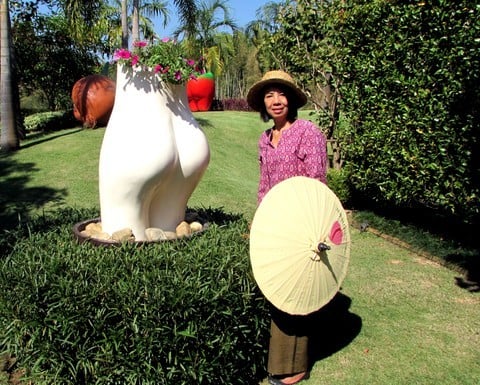 Even the local police are fans of Katai and her garden.   Shortly after opening, and suspecting some less-than-wholesome activities were afoot, the area constabulary raided the garden. After a full guided tour they returned the next day with a bevy of cameras and media to congratulate Katai on promoting new art and bringing tourism to this beautiful area.
A little way north of Chiang Mai, the Erotic Garden and Tea House is in the beautiful Mae Rim area and a trip out this way will give you a chance to see authentic rural Thailand not far from the city.
Stirring a boiling vat of elephant poo may not be the first thing you think of as you dream of your exotic Thai holiday but it's what you may find yourself doing at this environmentally-friendly attraction.
Elephant Poopoo Paper Park features eight pavilions explaining the different stages of paper production starting with overnight soaking of the dried (and completely odour-free!) poop and the six hour boiling process to kill all bacteria. Next is a look at how the now germ-free mush is coloured using natural plant dyes before the hands-on work of spreading the mix out onto fine metal meshes which are dried for a day in the hot Thai sunshine.
Visitors can get hands on experience of the process, helping to spread the mix before carrying the framed mesh out to the sun to dry. You can also personalise notebooks and other souvenirs while watching the artisans at work creating some of the park's eye-catching products.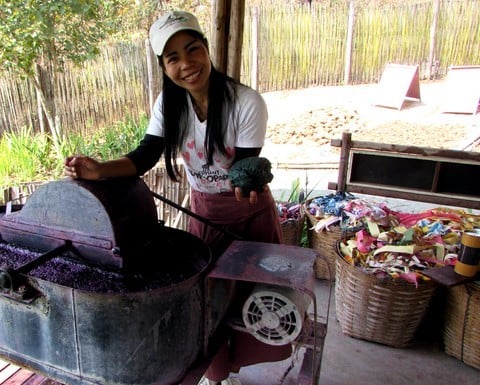 As well as the papermaking displays there's an information section on the fascinating history of paper through the ages, starting with pre-paper materials like bark through papyrus to the invention of paper by the Chinese over 2500 years ago.
Elephant Poopoo Paper Park is a fun attraction that all the family will love and a visit will provide the chance to get unusual gifts for friends back home.
Hell Temple
Be prepared to banish any notions you may have Buddhism being a religion which is entirely gentle and peace-loving. The humble, orange-clad monks you'll see going about their business in Chiang Mai and around Thailand are a world away – literally – from this vision of Buddhist hell.
Wat Mae Kaet Noi, usually called the 'hell temple', is located in an area of unbelievably green rice paddies, sleeping dogs and scruffy, roadside banana palms. The peaceful rural environment does nothing to prepare you for the graphic tableaux in the grounds of the temple.
The garden starts off gently enough but gets more gruesome as you progress through the realms of hell. In Buddhism your sins in this life decide your punishment in the next so a person deemed to have been guilty of gluttony will endure hell in tall, stick-thin form with a tiny mouth and huge belly which can never be filled. It's often hard to work out exactly what the statues are being punished for but there's plenty of gore, disembowelment is particularly popular, and lust-inspired sins have some really grisly payback.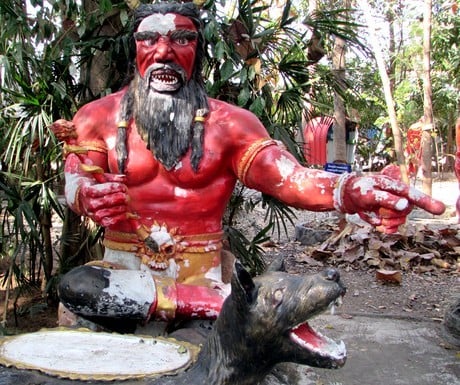 As a respite from the horror there is also a gentle realm, with happier-looking people surrounding a tree statue where babies are cocooned protectively in giant leaves.
There are some explanatory signs and for a few baht you can animate the macabre tableaux with sound and light. Everything is in Thai so if you want a full understanding then it's a good idea to go along with a guide. The temple is popular with Thai families and for school outings but may not be suitable for all children. Parents are advised to look at images online before taking youngsters along.
Prison Massage
The Chiang Mai Women's Correctional Institution Vocational Training Centre, to give it its full title, is a government-run facility housed in an 100 year old Lanna-style wooden building on a quiet street in Chiang Mai's old city. The correctional facility proper has moved from this site to a new location but the massage centre remains, among the many temples, cafes and boutiques that fill the heart of the city.
The admirable objective of the centre is with is to provide female prison inmates with vocational training as they near the end of their sentences.   Selected inmates undertake 300 hours of massage training as well as language skills courses in English and Chinese before spending the last two months of their prison sentence working at the massage centre.  Traditional Thai massage and foot massage are on offer starting at 200 baht, around US$7, for an hour.
Guests are given an outfit of loose trousers and top to wear and directed to a room with a number of mattresses on the floor in the style typical of local massage places. The masseuses generally don't speak much English (despite the course!) but are skilled and will enthusiastically pummel and pull you in all directions, often while exchanging chit chat with their neighbours.
As well as receiving an excellent massage here, you can also enjoy a drink or snack in their garden afterwards safe in the knowledge you've made a worthwhile contribution to future prospects of the soon-to-be released masseuses.
Chiang Mai's first 'illusion art' museum, Art in Paradise, is a popular and innovative attraction designed to make art accessible and lots of fun. The museum's South Korean founder, Jang Kyu Suk, explains illusion art as 'a sensory perception that causes a distorted or altered impression'.
Visitors are invited to pose with the 3D images and take photos which appear to show them actually in the scene.
The 130 paintings are divided into six zones. The Underwater world zone shows various marine 'species' including, of course, mermaids. The Classical art zone contains versions of some of the world's most loved art works, such as the Mona Lisa. There are paintings of several cities in Europe so if you want a gondola photo op without going to Venice, Art in Paradise can oblige.
There are also zones for wildlife paintings; an East zone including Korean, Thai and Khymer style paintings, and an ancient Egypt zone where you can step into a desert scene or sit in a pharaoh's tomb.
Candice Bain is Founder at Desert to Jungle.
If you would like to be a guest blogger on A Luxury Travel Blog in order to raise your profile, please contact us.