By
Rob Stross
on Mar 13, 2017 in
Asia
,
China
,
Featured
,
India
,
Japan
,
Jordan
,
Malaysia
,
Middle East
,
Philippines
,
Regions
,
Thailand
Holiday tastes change with the seasons. Only a month or two ago, we couldn't wait to hit the piste, curl up in-front of a blazing log fire, or sit in an outdoor Jacuzzi surrounded by snow. But now, as the weather starts to show signs of improvement, we're ready for some sun. And no continent in the world does the heart of Spring (April, May) like Asia. Double check you're not hitting rainy season though, which will effect some Asian countries until the end of March.
It's also a sensible time to look outside of Europe and the Americas for holidays, not only is the pound weak against the dollar and the Euro – it's a welcome escape from politics for a few weeks. This list is a selection of breath-taking natural wonders to see and remember forever, cities where opulence can be found (natural or man-made), and Asian island utopias.
Tokyo, Japan
April is cherry blossom season in Tokyo (hanami), the very best time of year to visit Japan's wonderful capital city. Sure, this is rather a mainstream recommendation, but if we're talking about places that will leave you breathless – Tokyo is worthy of a spot amongst such esteemed company. There are several famed locations to see the cherry trees but few are as impressive as Chidorigafuchi. Hundreds of cherry trees decorate the moats of Edo Castle around Kitanomaru Park. Hire a rowing boat and experience this inspiring spectacle from inside the moat.
The Rainbow Mountains of Zhangye Danxia, China
The Rainbow Mountains are not something you look at and ponder where the name came from. You'll struggle to find any words at all upon seeing this geological marvel. The "one for the bucket list" line is overused, but this most certainly is one. It's worth remembering that this is a barren range of mountains so unlike other options, you couldn't spend a holiday, or even longer than a day there. If you've vising China, try and add this to the itinerary. You won't regret it.
Pom Pom Island, Malaysia
Soft white sand, a gentle breeze from the palm trees and cabins on stilts above the warm sea. Imagine paradise and it looks something like this. This is a sleepy resort ripe for unwinding and getting away from it all. One thing that attracts holiday-makers to Pom Pom Island in Malaysia are the giant green and hawksbill marine turtles. Watch them swimming in the sumptuous turquoise waters amongst the vast expanses of coral.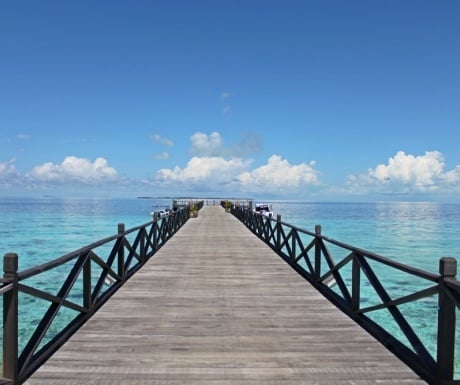 Manila, Philippines
The second capital on our list is just about getting the plaudits it deserves. Manila is not short on glamorous high-stake casinos, luxury hotels, and plush nightclubs. Imagine Las Vegas but brand new, more decadent and without the tack. Special mentions should be given to Marco Polo Ortigas Manila and Solaire Resort and Casino which have raised the bar extremely high. Expect to see Manila take off in a big way over the next few years – make a move now before the crowds begin to flock.
Havelock Island, Andaman Islands, India
A trip to India can be an intensely visceral experience. The sights, the smells and the sounds combine for an all-out attack on your senses. If you're looking for something less intense but still authentically Indian, then the Andaman Islands could be the place for you. You won't find any big hotel chains but you will find jaw-dropping scenery and veritable tranquillity. A lovely balance of adventure and paradise in a rustic island paradise.
Petra, Jordon
Petra is an archaeological site that dates back to around 300 B.C. Incredibly when you've seen the photos, Petra in Jordon one of those places that actually lives up to the hype. It's not a place you would need more than a day in but features on a few luxury cruises which could be just the ticket. The Siq, is a narrow gorge that winds its way to the ruins down a 1km narrow winding path. Walk through the candle siq to the treasury building at night for maximum effect. A truly biblical, awe-inspiring experience.
The Similan Islands, Thailand
The Similan Islands are located in the Andaman Sea on the West Coast of Southern Thailand. If you're into diving you'd be hard-pushed to find a more idyllic spot anywhere in the world. The crystal clear waters offer 20-30 metres visibility with stunning rock formations, spectacular coral reefs and hundreds of species of tropical fish. The clarity makes spotting sharks, barracudas and triggerfish easy. Similan Islands means Nine Islands in Yawi, which is the native tongue of the area. But in 2014 the national park expanded to include two more islands so actually, the name is slightly misleading.
Rob Stross is Chief Marketing Officer at WeSwap.
If you would like to be a guest blogger on A Luxury Travel Blog in order to raise your profile, please contact us.