Laos flies below the radar for most tourists – and perhaps that's a good thing. This little-known, landlocked country is a beautiful land of ancient Buddhist temples, tropical jungle, beautiful river cruises and softly spoken, laid-back people. It the kind of place the phrase 'hidden gem' was coined for, so shhhh – don't tell!
1. Luang Prabang
Luang Prabang is probably the most beautiful city in Asia. Wander streets lined with golden-roofed temples and colonial-style buildings, take a tuk-tuk to jaw-droppingly beautiful Kuang Si Waterfall, get stuck into a traditional weaving experience at the local workshop, or simply relax with a cold Beerlao and watch the Mekong drift on by. With some fantastic food and excellent luxury hotels to boot, Luang Prabang is hard to beat!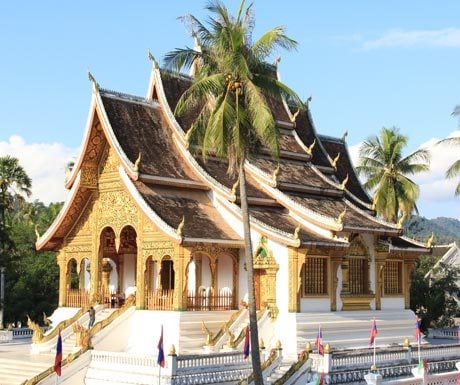 2. The Plain of Jars
Covering an area of hundreds of kilometres, the Plain of Jars is home to over 2,500 giant stone jars ranging in height and diameter from around one to three metres. Local legend holds that the jars were used by giants to store rice wine, while another theory suggests that they were huge water butts designed to store rainwater for travellers. Now, it's thought that they in fact played a role in prehistoric burial practices. Whatever their uses, these vast relics are a fascinating link to an unknown civilisation, and an impressive sight to behold.
3. Champasak
Life moves at a slow pace in Champasak – even by Lao standards. This town, which lies in southern Laos in a province of the same name, consists of no more than a few roads on the banks of the Mekong, and is the perfect base to explore the surrounding countryside, which includes idyllic riverside resorts and the World Heritage ruins of Wat Phou.
4. Vang Vieng
Once a notorious mecca for backpacker parties, Vang Vieng has shaken off its wild child reputation and is fast transforming into one of the best adventure travel destinations in Laos. Go rock climbing, kayaking, mountain biking, tubing and walking – all in some of the most spectacularly beautiful limestone hills in all Southeast Asia.
5. Nong Khiaw
Take the slow boat north from Luang Prabang and you'll come to Nong Khiaw, the gateway to the stunning scenery of northern Laos. Surrounded by jungle-covered mountains dotted with minority villages and threaded with trekking routes, this is the place to don your walking shoes and explore the forests and communities of the north – all whilst taking advantage of the excellent local accommodation and restaurants.
6. Sayaboury
If there's one reason to visit Sayaboury, it's elephants. The local Elephant Conservation Centre is one of the best and most responsible in the country, giving ex-working elephants a comfortable retirement. Tourists aren't allowed to ride the elephants, but are encouraged to appreciate these gentle giants as they go about their business in peace, making for a relaxed experience in which the elephants' happiness is clearly the top priority.
7. Kong Lor
Vietnam is feted for its spectacular caves, but few people realise that Laos has its own underground treasure troves too. Kong Lor Caves, in the centre of the country, is just one of them, and at 7.5 kilometres it's one of the world's longest navigable caves. Visitors reach the cave through a landscape of forests and rice paddies, then travel along its length by boat, admiring huge formations of stalactites and stalagmites in chambers up to 90 metres wide and 100 metres high.
8. 4,000 Islands
Laos may be landlocked, but if you're looking for laid-back, waterfront culture you can do little better than the 4,000 Islands! In this southerly region, the Mekong widens to encompass hundreds of little islands dotted with riverside resorts, making the perfect place to relax among coconut groves and sugar cane farms. Bliss!
Alastair Donnelly is Director at InsideAsia Tours.
If you would like to be a guest blogger on A Luxury Travel Blog in order to raise your profile, please contact us.