Spring in the Lake District is a time of transition and awakening. And it's a particularly good time of year to enjoy its world-class cuisine. Yes! Cumbria has become quite the foodie mecca and is now home to 4 Michelin-starred restaurants and a vast array of award-winning, artisan foodie products.
Recently nominated for World Heritage status, at this time of year the ancient mountain and lake scenery of the UK's largest National Park is quiet and idyllic, with all the hope and optimism of Spring around the corner, and less of the crowds. And what better thing to do than while away an afternoon or see the evening out, in some of the finest restaurants in the UK. We take a look at 5 of the region's best eateries.
L'Enclume, Cartmel
The unassuming medieval village of Cartmel in the South Lake District is home to 2 Michelin star restaurant L'Enclume, which is currently number one in Britain and has been for 4 years. Continuing to win local as well as national hearts, we cannot fail to mention it here, even though chef and creator Simon Rogan is not strictly a 'Cumbrian lad'. Although Rogan's French training is evident, not least in the meticulous attention to detail and the restaurant's namesake (meaning Anvil), open since 2002 the chef's commitment to regional and largely foraged produce means this is a celebration of the very best of Cumbria's bounty. White-washed interior walls and stone flag flooring, everything is locally sourced, from the tables and crockery to the staff. In fact, most of what you eat has been gathered that day from Rogan's own farm in the same village. No air miles here, except for the wide-ranging customers who flock to this magical riverside hideaway.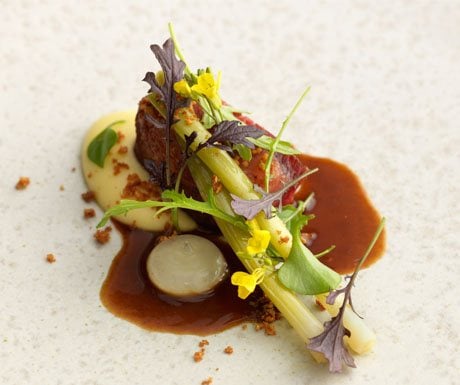 A tasting menu serves up either 8 or 12 extremely unique and very experimental dishes, clearly designed around the produce rather than a pre-planned menu budget. If your pocket can handle it, we'd recommend visiting L'Enclume at different times of year to experience the breadth of the team's creativity. The fresh and bright colours of precisely cubed gels and fastidiously organised stacks, with gravity defying foams, whisks you away to a world of passion and dedication to exceptional food.
A dining experience at L'Enclume is a memorable journey to go on, hopefully when poor weather makes Cartmel Fell or Witherslack less appealing! On the other side of the River Eea, a more informal experience can be enjoyed in L'Enclume's sister restaurant, Rogan and Company, set in a more stylised ambiance, with relaxed open fire and warm interior design. Don't forget to pop into Unsworth's Yard to complete your culinary mecca to Cartmel!
The Forest Side, Grasmere
Secondly, we thought we'd add a relative newbie on the block. Open in 2016, The Forest Side restaurant, which despite its tender age, was awarded a Michelin star within a year of opening. Just outside Grasmere, in the Central Lakes, this is where head chef Kevin Tickle has brought his love of turning foraged goodies into gastronomical delights which, incidentally, he cultured from his time at L'Enclume and Rogan and Co., to this £4 million pound refurbished mansion.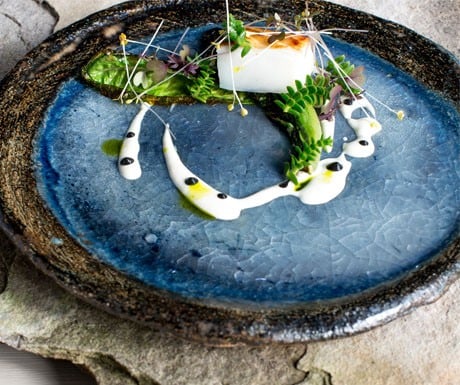 Grasmere is the Lake District's chocolate-box hamlet and attracts tourists by the droves during busy Summer months. Winter and early Spring is a great time to visit to avoid the understandable pull that is the village's star tourist attraction, Dove Cottage, former home of our country's best-loved poet, William Wordsworth. Tickle is a local and in fact has not worked outside of Cumbria. Such is the standard of dining in the Lake District today, cookery apprentices no longer have the pull of London and Paris to enable them to join the ranks of the Le Rouxs and Pierre Whites.
The dining experience at The Forest Side is every bit as grand as the stunningly renovated mansion house and grounds and one to try before word of its opening spreads like wild mushrooms. We'd also recommend sister restaurants Hipping Hall in Kirby Lonsdale and The Ryebeck in Bowness-on-Windermere.
The Old Stamp House, Ambleside
Located centrally in the Lake District, in the market town of Ambleside, The Old Stamp House is a newly opened restaurant that doesn't necessarily try to whisk you away on a culinary journey, but very much wants you to pull up a chair and celebrate all things great about Cumbrian food – its heritage, people and landscape. A similar look and feel as L'Enclume, sparse and unpretentious, white-washed walls and stone floor. You enter down steep steps, passing by the board declaring the restaurant's philosophy, 'Food Inspired by Cumbria', and into a series of unassuming, but welcoming, chambers.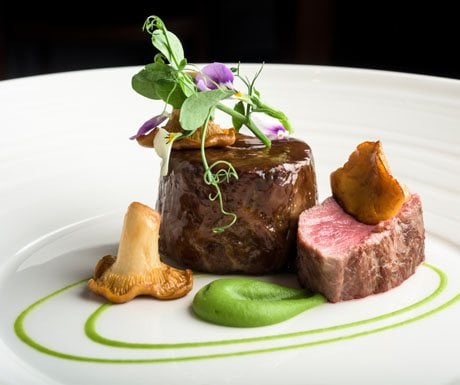 Serving produce from local suppliers and with provenance as the raison d'être, we'd recommend trying their Herdwick Hogget, from Yew Tree Farm (formerly owned by Beatrix Potter). Hogget, in case you hadn't yet had the pleasure of sampling, is older than lamb, so more flavoursome, yet younger than mutton, and thus extremely tender. Indeed, Hugh Fearnley-Whittingstall claims Yew Tree Hogget to be "the finest he has ever tasted".
For the reasonable price of £35 you can choose a faultless 5 course tasting menu, seamless experience and all the creative flair and finesse of young, highly experienced chef and owner, Ryan Blackburn. It is well worth visiting this relatively new restaurant, set purposefully in the very heart of the Lake District and within the very building where the Lake Poet William Wordsworth held a positon as 'Distributor of Stamps', to fund his own creative passions.
Holbeck Ghyll, Windermere
An old-timer, Holbeck Ghyll's traditional country manor bar and restaurant has been welcoming diners since the 70s and has gained an international reputation for a classical French menu using quality Cumbrian produce with a contemporary and clean finish. In 1888 Holbeck Ghyll, outside the chocolate-box village of Troutbeck, was bought by one of the richest men in the country, Lord Lonsdale, who had very fine tastes indeed. And today it still has its fair share of glitterati, with Renee Zellweger taking up residency during the filming of 'Miss Potter' and comedian's Steve Coogan and Rob Brydon enjoying lunch for BBC comedy series 'The Trip'.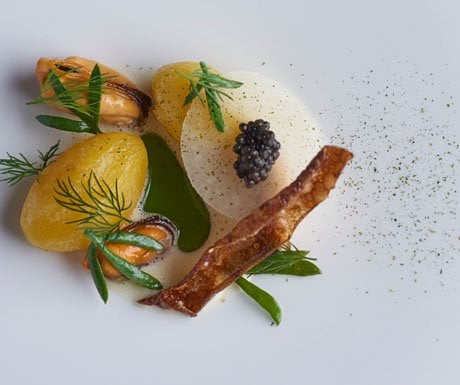 Step into the 'Oak Room' and find yourself sat at a formally laid-out oak table, in an arts and crafts dining room, complete with oak panelling and gold-tasselled, heavy curtains framing one of the very best views in the Lake District. Lord Lonsdale certainly knew what he was looking for when he bought this as his hunting lodge. Set above Windermere, looking down onto the sparkling lake, green countryside and craggy mountain backdrop of the Langdale Fells, the Holbeck Ghyll commands one of the finest views in the Lake District. It is this view and the exceptional food that makes the Holbeck such a timeless classic on a foodie trip to the Lakes. The exceptional £68 table d'hote is an exciting offering and includes a pretty 'Hillside' starter, clearly inspired by the local scenery and hearty Shorthorn main.
This is an exclusive residency where guests can arrive by helicopter or a short journey in the hotel car from a nearby train station links this restaurant easily with Manchester airport and London. Yet still you feel like you're being welcomed into a gentleman's home. The dining experience is elegant but intimate and relaxed. Lord Lonsdale was quite the character, with a very gregarious taste for the finer things in life including cars, horses, sport and cigars but with it he was also very generous.
Early this year Holbeck welcomed 26 year old head chef Jake Jones into their new state of the art kitchen, combining the very best of 'inspired food and inspired views' and we think now is a good time to see if the restaurant can get its former Michelin-starred status back. With promises like the 7 course tasting menu, £88, delivering 'an adventure through Lakeland's finest produce' plus a new bar and restaurant in April 2017, we're very excited to see what is to come following the great legacy that is Holbeck Ghyll.
The Drunken Duck, Ambleside
The Drunken Duck is where you'll find yourself if you're looking for food in a good pub and we mean a seriously good pub. Set above Ambleside, the reputation of The Duck's kitchen is what draws most people. You enter through the bar and immediately you know that this pub is serious about food, drink and hospitality. Passing the welcoming open fire, at the bar large blackboards offer insight into the very best wines, which are showcased high in the shelves behind the bar rather than tucked away. Several bottles of Champagne are generally to hand, often in a giant silver plated ice bucket and from the polished hand-pumps, of which there is always a choice, you will find ales from their onsite and meticulous microbrewery, Barngates. Cracker Ale and Tag Lag are both excellent!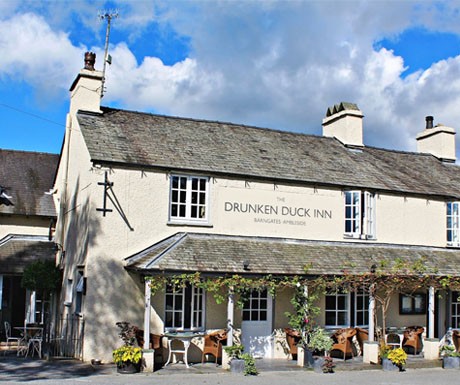 This pub, with more formal restaurant through the bar, is less than a 10 minute drive from the bustling town of Ambleside. The superb walking country of Tarn Howes, Coniston Old Man and Langdale Pikes is only a few minutes drive away and it is raised up within 60 acres of private countryside high above Lake Windermere – the enviable setting matches this superb Lake District inn.
So slick is the dining experience here, you can book evening meals online. Lunchtime is a more relaxed affair, and of course you can choose from the kitchen's sophisticated take on 'pub grub' classics, which are fulfilling after a morning's ramble. Whilst provenance is of course part of the culture in the Duck's restaurant menu, a visit to the Drunken Duck is about feeling thoroughly satisfied. A tantalising menu, with starters, mains, and desserts that you cannot resist, a very friendly and highly polished service team and relaxed setting. The whole experience is irresistibly high. The consistently high standards at The Drunken Duck mean you always come away with a 'Spring' in your step, regardless of the season.
Paul Liddell is the Managing Director at Lakelovers.
If you would like to be a guest blogger on A Luxury Travel Blog in order to raise your profile, please contact us.