Rio de Janeiro, "a cidade Maravilhosa", latest host to the Fifa World Cup and the 2016 Olympic Games, is home to some of the world's best restaurants, serving up local Brazilian dishes, exotic tropical foods, and gastronomic fusions that will blow your tastebuds' mind. Some of the most delicious foods on offer are the Brazilian staple, Feijoada, a dish prepared with black beans, salted pork, smoked ribs and smoked sausage, as well as another national dish, Moqueca, a stew made with fresh fish or shrimp, onions, garlic, tomatoes, cilantro, and oftentimes, coconut milk. Both of these dishes go perfectly with an ice cold beer – we recommend the local artisan cold beers, the favorite of the good Cariocas.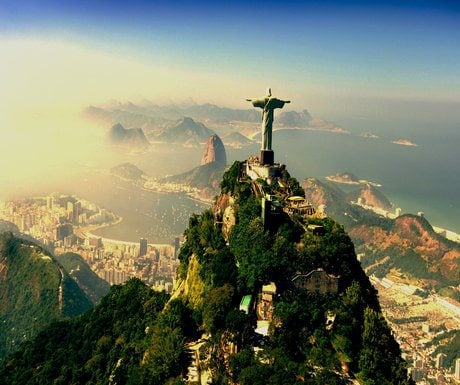 Many of the country's renowned chefs moved to the city looking to show off their gastronomical talents. Below, we've listed the best places to have an awesome cuisine experience in Rio de Janeiro.
Restaurant Oro
O Oro Restaurant, an winner of the famous Michelin Star, specializes in fine Brazilian contemporary cuisine. The renowned chef, Felipe Super, author of the award-winning book "Cozinha Brasileira da Vanguard", one of the top five Gourmet Gastronomy books in the world in 2013, is truly a gastronomical magician. Since 2010, the restaurant has prepared new, and oftentimes revolutionary, dishes which have changed the restaurant scene in Rio. The restaurant serves select regional dishes which vary according to the season. The restaurant's wine list is equally world renowned, Cecilia Aldaz, famous wine connoisseur from Mendoza, Argentina, stated that O Oro is a primer local for the excellent pairing of fresh, local, innovative, Brazilian food with award-winning wines.
Fasano Al Mare Restaurant
Fasano Al Mare, a restaurant located in the Lobby of the Luxury boutique Hotel Fasano, right in front of Ipanema Beach. This restaurant serves up the best Italian food in the city. It serves up select dishes based on freshly caught seafood, which earned the surname "Al Mare" to honor the Ipanema sea, right in front of the restaurant.The renowned Chef, Paolo Lavezzini from Enoteca Pinchiorri in Florence runs the house. The menu contains some of the most diverse aspects of Mediterranean cuisine, with a special focus on fish and seafood. Breakfast, lunch and dinner are served daily in the lounge and on the pleasant terrace. The restaurant also offers a private setting, surrounded by white linen drapes.
Restaurante Aprazivel
Restaurante Aprazivel is one of those charming places that everyone wants to go to. Aprazivel is naturally decorated, with native plants and flowers, and a beautiful rustic roof. Located in a neighborhood of artists, the restaurant is very Bohemian, and frequented by tourists and locals alike. Local and relaxed, Aprazivel serves up fine Brazilian food, with local Brazilian drinks of high quality, such as the award-winning homemade Cachacas.
Do not be surprised if you see some famous celebrity enjoying the cuisine of Aprazivel.
If you want to impress your love, book "The tree house" for a special, romantic dinner. The menu is a feast of classic traditional dishes presented by Mineira Ana Castilho, combining Brazilian and international cuisine. For a real treat, taste the moqueca with roasted palm heart.
Sawasdee Thai restaurante
An excellent dining option in the city of Rio. Originally a small boutique restaurant in Búzios, Sawasdee has expanded to two other locations in Rio de Janeiro. Since 2007, it has been conquering the hearts and tastebuds of locals and tourists alike. The reason for Sawasdee's monumental success is the perfect blend of Thailand's complex flavors with Rio's charm. Serving up delicious asian dishes, in particular Thai, com with fresh, local Brazilian ingredients, such as their famous pork ribs, which are smoked and caramelized with honey, then sprinkled with sesame seeds, or the delicious shrimp with tamarind.The menu composed by the award-winning chef, Marcos Sodré, is dynamic and always has new features up his sleeve. With every season, new dishes enter the menu, in addition to the classics of Thai gastronomy, it is easy to find recipes from countries like India, Vietnam and China. Sawasdee is the perfect place to enjoy a good oriental food with a Brazilian flare.
Confeitaria Colombo
Founded in 1894 by Portuguese immigrants, Joaquim Borges de Meireles and Manuel José Lebrão, Confeitaria Colombo is a part of fabric of Rio's history. It's architecture and environment allow you to have an idea of what Belle Époque would have been like in the then capital of the Republic of Brazil. Belgian mirrors. Italian marble countertops. Confeitaria Colombo enchants everyone that visits it, including famous writers, poets, politicians, celebrities and the upper class of Rio. Famous for their delicious Portuguese sweets, varieties of tea, and one of the most sought after places for a luxurious breakfast. Ten years ago under new leadership, Colombo contracted to "command" its kitchen the talented chef Renato Freire with all the experience in pâtisserie and gastronomy in general, acquired in the seven years in which he worked in Europe. With all the good restaurants to enjoy in Rio, one can't miss Confeitaria Colombo.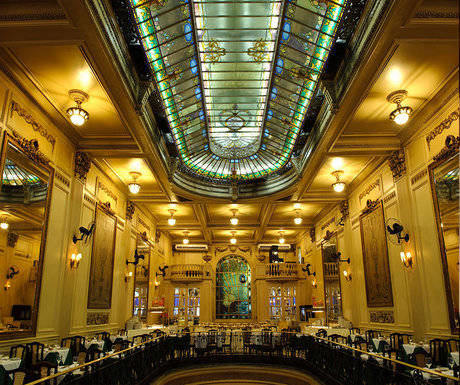 Luiz Alegre Silva is the Founder at See You in Brazil.
If you would like to be a guest blogger on A Luxury Travel Blog in order to raise your profile, please contact us.