Après ski, those magical hours when a day to remember on the slopes comes to a close and morphs into an evening of inebriation, suitably complimented by the social activities and entertainment that follows. You have waited all year for the afternoon to roll into the evening when you can indulge in your favourite après ski drink. It's probably automatic to order a lager, beer or a short but there's a world of exotic flavour combinations to sample. It's probably a good idea to kick the session off with a warming mug of something special, don't worry, these all contain alcohol, so you won't fall behind. Why not do something a little out of the ordinary and treat yourself to a taste sensation before the serious stuff get underway. Here are five of my favourites:
Spiced hot apple cider
The smell of spiced hot apple cider wafting out of your favourite après bar is enough to get your ski legs fired back up for just one more run. The frustrating thing about this drink is the fact that it's too hot to immediately down, it's so tasty. I know the polite thing is to sip but I'd happily drown in this stuff. With a basis of fruit juice, you can count this as one of your five. Add a little splash of rum and this tipple warms the cockles of your heart in short order.
Espresso Martini
Created as a Vodka Espresso in 1983, this firm après ski favourite was renamed Espresso Martini in the early 1990s. Originally created at London's Soho Brasserie for a customer requesting a drink to perk her up and perk her up it most certainly did. Check out the ingredients which include vodka, add freshly brewed coffee, coffee liqueur, sugar syrup, Vittoria coffee beans, this mix will give you an instant buzz and have you skiing uphill. It will also give you the energy to get out of your comfy chair and head to the bar for another.


Vin Chaud
Doesn't Vin Chaud just sound so much more exotic than mulled wine? Those two little words will transport any alpine lover straight back to the pistes. You can smell the spices rising from the glass of hot red wine divineness. Take those gloves off, loosen the ski boots and sink into that sheepskin adorned chair and feel the warmth radiate from within. A simple drink maybe, but very effective.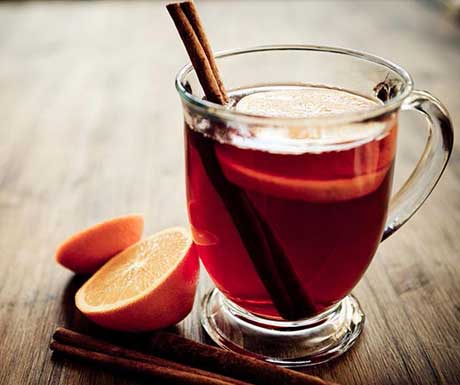 Powderhound
After an exhilarating day of skiing, there is nothing more satisfying than that last run down to après. Nothing beats being surrounded by your closest friends, trading stories of the days' thrills and spills whilst sat around a flickering fire pit. Here's a combo that will warm you from the insides too. Irish cream, Grand Marnier or orange liqueur and coffee all serve in a mug topped off with whipped cream. Yummy!


Hot buttered rum
When the days' sun starts to sink below the horizon and you start to feel the Alpine chill, this particular concoction will light a fire inside. Hot buttered rum is a mixed drink containing rum, butter, hot water or cider, a sweetener, and various spices. It is especially popular in winter and is traditionally associated with the holiday season. Cup your hands around the mug and feel it's comforting warmth.


So, Cheers. Santé. Prost, Bottoms Up, Let's raise a glass to our favourite evenings of the year and how about this appropriate toast for the evening to come; 'Here's to the nights we'll never remember with the friends we'll never forget'.
Rebecca Taylor is Director at SkiBoutique.
If you would like to be a guest blogger on A Luxury Travel Blog in order to raise your profile, please contact us.