Most African game parks and reserves have a rainy season. This term has started to get a negative connotation, so much so that tour operators and lodges have started calling it the green or emerald season! I'm here to dispel some of those negative vibes and highlight some great reasons why the rainy season is an ideal time to go on safari.
Rainy season safaris are easier on the pocketbook
An African safari isn't cheap and, for many, it's the prohibiting factor for them otherwise doing something that is often at the top of their wish list. I've gone on quite a few rainy season safaris.
Quite often, high end lodges that normally charge a single supplement will waive that fee in the emerald season. If you're not traveling alone, you'll still enjoy reduced lodging prices and, often airfare costs, which can mean a significant reduction on the overall price of the trip.
Animal babies galore!
The rains often coincide with animal births, particularly non-predatory animals, as the grass is green and aplenty.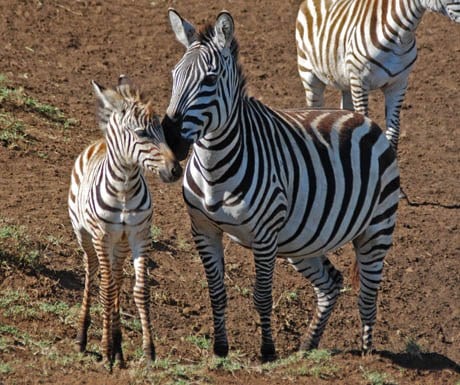 If you're keen on baby zebra and gnu, you may want to schedule your safari during or at the end of the green season.
Flowers and lush foliage abound
During the dry season, the landscapes are brown, yellow and brittle. The air can be dusty on game drives. On one safari, I was fortunate enough to do half during the end of a very long and hot dry season.
I'll never forget the first day the rains came. The next morning I was overwhelmed by what seemed to be an explosion of colors. Thousands of flowers emerged overnight, making for an excellent backdrop in my photos. Aim for the start of the rainy season if that's your cup of tea.
Migrant birds follow the weather patterns
If you're a birder, then you'll not want to miss the rainy season. As the migration and species varies from park to park, you'll want to do a bit of research first to find out when nesting and breeding occurs.
Rainy season safaris are still less-crowded
Although if people continue to write blog posts like this one, that may not always be the case. For me, the biggest lure is an empty safari game drive. I love feeling like I've got a park to myself and being able to watch wildlife without another vehicle in sight.
You stand a much better chance of having this experience if you travel in the green season.
If you're flexible on travel dates and are after a more 'intimate' safari experience, especially if you're a solo traveler, I highly encourage you to consider going off-season. You'll get to see things at a slower pace and, if you don't mind getting a little wet, will probably have a more authentic safari experience.
Javier Luque is a Co-Founder and Director of Your African Safari.
If you would like to be a guest blogger on A Luxury Travel Blog in order to raise your profile, please contact us.