The Austrian Danube's 7 most charming hotels
It has been mostly bikers and river cruisers who explored the Austrian Danube, if only en passant. However, once you figure out where to stay, take back a few gears to connect more deeply with history, culture – and wine – of Austria's Danube valleys.
Feldkirchen an der Donau: Hotel Schloss Mühldorf
A beacon of history and charm, the castle hotel is a good 1,000 years old. Located close to the village of Feldkirchen along the Danube upstream from Linz, Mühldorf unites everything you would expect from a romantic castle: turrets, a (disused) water ditch, a little port, a dairy and a chapel. The most characterful of the 35 rooms and suites in the castle and historic side buildings expose bare thick castle walls and wooden beams. You can play golf, swim in the natural pool and relax in the hotel's wellness spa area. As Linz airport is at a 40 min drive, the hotel is a great place to start your journey. For sightseeing, head for the baroque city of Linz at a 20 km drive from the hotel.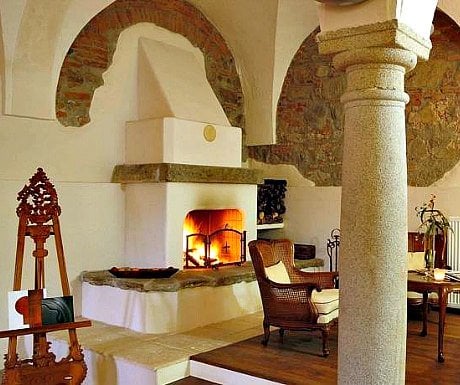 Emmersdorf: Hotel Zum Schwarzen Bären
Long before cruise ships floated down the Danube this 300 year-old tavern and inn traded salt and iron up and down this key waterway. Even today, you can see the original vaulted ceilings from that time in the tavern's taproom. In addition, the four star hotel boasts an old wine cellar, a rooftop terrace, indoor pool and sauna. The rooms themselves could reflect the hotel's historic charms a little better, though they are spacious and friendly. While the village of Emmersdorf itself is picturesque you shouldn't miss nearby UNESCO World Heritage site Melk Abbey and local wineries.
Spitz: Mauritiushof
Not only is Spitz probably the quaintest village along the Austrian Danube, the Gritsch family's historic winery Mauritiushof is hard to beat on charms. Imagine a 13-th century wine estate with arcades and courtyards located on the cobble stoned main square of Spitz village and you won't be far from planning a trip there. If you aren't a wine lover you will likely convert during one of Mauritiushof's wine tastings. Best time to visit is during the summer solstice in June or the local apricot festival in July. Other than that, take a short boat ride to Duernstein or Melk Abbey, and hike through lush vineyards with perfect vistas of Wachau valley.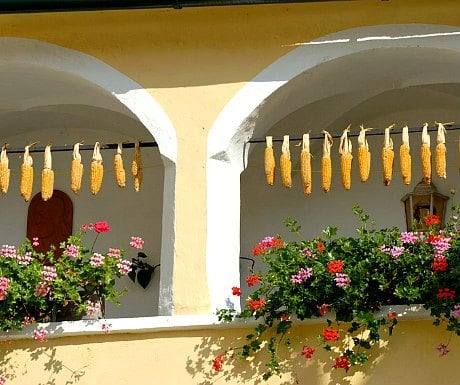 Weissenkirchen: Renaissance Hotel Raffelsberger Hof
Another charming history lesson in brick and mortar is Raffelsberger Hof a few kilometres from Spitz on the Danube's Northern shore. Owned by a local shipmaster in the 16th century, boasts arcades, antiques and original craftsmanship. The 15 double rooms and suites are spacious and held in local Wachau style while the main lobby and breakfast rooms exude castle atmosphere. Don't miss the emerald green natural swimming pool in the historic walled courtyard. As for local experiences, you will be right in the middle of winery paradise. On top, local cruise boats regularly stop at Weissenkirchen's pier.
Dürnstein: Schlosshotel Dürnstein
Eventually, the only five star hotel along the Austrian Danube emerges in Wachau Valley's tiny village of Dürnstein. A member of Relais & Chateau, Hotel Schloss Dürnstein takes its historic origins consistently and tastefully throughout the building and grounds. From the lobby and bar to the suites and rooms to the private walled garden with natural pond: this is the epicentre of luxury along the Donau. The castle sits right on the shores of the Danube in Wachau Valley's romantic village of Dürnstein. From the hotel you can visit Richard the Lionheart's former prison – Dürnstein ruin – and explore local wineries. Since the hotel is the number one spot for weddings in the wider area it's wise to book early.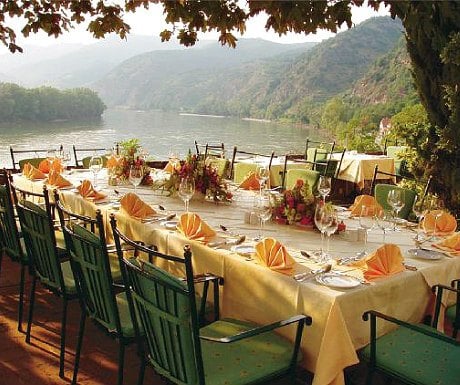 Hainburg: Hotel Altes Kloster
Just before you cross the Austrian border into Slovakia a monastery from the 17th century stretches out on the Southern shores along a tranquil stretch of the Donau. More than anything, the Altes Kloster blends traditional and modern styles in elegant simplicity in a tranquil setting, with an an almost 1,000 year old castle ruin towering above the hotel. Because the Danube is rather quiet in that area, you can take a ride in one of the charming little Danube boats and visit Slovak Devin Castle and even Bratislava. If you are interested in Roman excavations, visit the Archeological Park of Carnuntum a few kilometres from Altes Kloster.
Transport tip: Rent a car at Linz airport and enjoy a scenic drive right down to Hainburg/Bratislava.
Barbara Grüll-Cação is the Founder of Vienna Unwrapped.
If you would like to be a guest blogger on A Luxury Travel Blog in order to raise your profile, please contact us.
Did you enjoy this article?
Receive similar content direct to your inbox.