One highly enjoyable aspect of a luxury ski holiday is the outstanding food and drink on offer across the Alps. From local sweet delicacies to fiery shots designed to warm your bones at the end of the day, there's something for every taste. Starting with a trilogy of cheesy delights, here's our top ten alpine treats and tipples to enjoy whilst skiing in the French Alps.
1. Raclette
Originating from Switzerland, Raclette is now a popular dish across the Alps. Actually a semi-hard cow's milk cheese that is usually fashioned into a wheel, Raclette is also the name for the popular dish featuring the raclette cheese melted by fire or by a special machine, then scraped onto diners' plates and served with tasty accompaniments such as small potatoes, gherkins and sliced meats.
An extremely social dish, a Raclette is best enjoyed round a busy table with plenty of Fendant wine from Switzerland!
2. Tartiflette
One of the ultimate comfort foods, yet also served in established restaurants across the French Alps, Tartiflette is a one-dish delight made with potatoes, lardons, reblochon cheese and onions. Perfect for a large evening feast or after a morning hitting the slopes, this bubbling dish of joy is as pure an Alpine experience as they come (despite being fully developed in the 1980s to promote reblochon sales!)
3. Fondue
Completing the sacred trilogy of cheesy mountain fare, Fondue is the ultimate in social dining. Sitting around a steaming pot of melted cheese, garlic and wine, diners enjoy dipping cubes of bread, cornichons, pickles, onions and potatoes whilst sipping on small glasses of kirsch (white wine also optional!)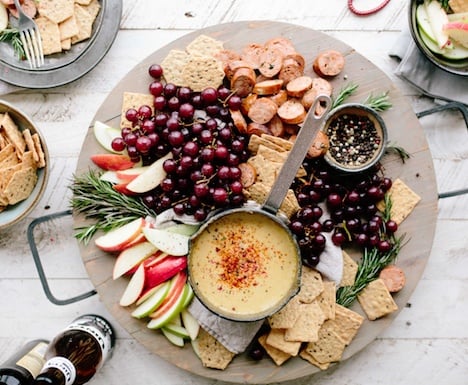 Originally a Swiss creation, one of the most popular cheese fondues in the French Alps is the Savoyarde, including Comté, Beaufort and Reblochon cheeses. For those who don't enjoy cheese or are looking for a different fondue experience, try a chocolate fondue for dessert or dip slices of fresh beef into a Fondue Bourguignonne (hot oil) or a Fondue Vigneronne (boiled, seasoned red or white wine).
4. Savoy (Savoie) wine
Wine of the Savoie is characterised by a number of grapes that are very rare elsewhere; these include the Jacquère, Altesse and Mondeuse varieties. As with many food and wine pairings, the wines of the region just seem right when served alongside the local food. Enjoy the richly perfumed flavours of the Chignin-Bergeron cru, made with the more widely planted Roussanne grape, known locally as Bergeron, or glass of the lighter Chignin cru as an aperitif.
5. Bugnes
Enjoyed in many countries, 'Angel Wings' are sweet crisp dough pastries, shaped into thin twisted ribbons then deep-fried and sprinkled with powdered sugar. The French versions, known as bugnes lyonnaises, were traditionally made in bakeries just prior to Lent. Whether in the village or on the side of the slope, these small, cripsy treats are perfect in the middle of a sunny alpine morning, alongside a strong coffee.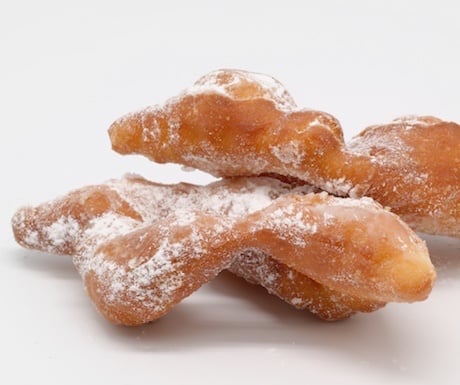 6. Schnapps
More a group of strong drinks than one specific example, 'Schnapps' includes many distilled fruit brandies, herbal liqueurs and infusions. Most likely originating in Germany, schnapps can be found and enjoyed in almost any alpine bar and restaurant, marking the end of a day on the slopes or of a long evening meal.
7. Mulled wine
Enjoying a warm glass of steaming mulled wine in the cold air is an absolute must when spending time in the Alps. With so many recipes and variations on offer, our advice is to try as many as possible!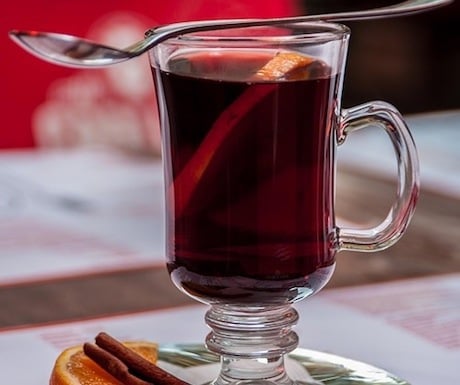 8. Tartes aux Myrtilles
Strictly a dish of the Massif Central, Tartes aux Myrtilles is a delicious sweet tart similar to blueberry pie. In France, the dish is made with bilberries. Ideal for a mid-morning pick-me-up or as a sweet treat after a meal.
9. Le Génépi
Le Génépi is a traditional herbal liqueur popular in the Savoy region of France as well as in Italy's Aosta Valley. An acquired taste, Le Génépi is made by steeping the aromatic flowering tops of alpine plants of the genus Artemisia in a strong, clear alcohol.
Widely drunk as a digestif, Le Génépi is also enjoyed as an aperitif or in cocktails and desserts.
10. Diots
Diots are sausages from the Savoie region of France, served either hot or cold. Traditionally cooked with white wine, they may also be grilled or dried. If you're looking for a quick lunch on the go, cold diots with Dijon mustard in a baguette will keep you fuelled for the rest of your day on the slopes!
Anne Wooley is Owner at Ski Cuisine.
If you would like to be a guest blogger on A Luxury Travel Blog in order to raise your profile, please contact us.